The most important word in this blog post title is Gruyere. Let's be honest…that cheese is heaven.
Anyway.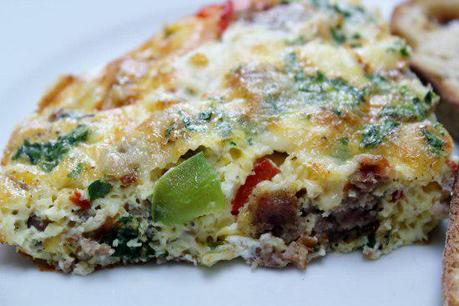 In a second of despiration…I mean, I needed a second to realize that I need to change the usual weekend breakfast.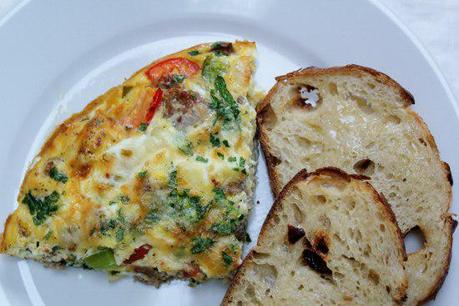 I am sure you have never heard of a frittata.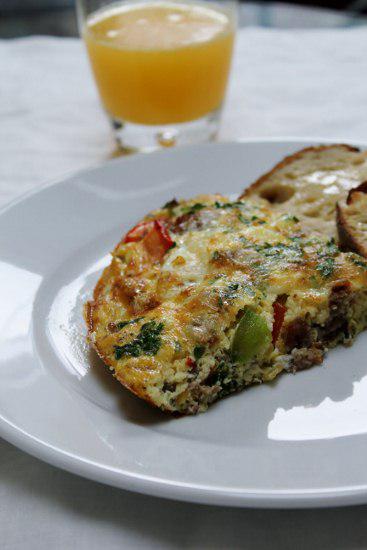 Well this is what it looks like. Looks fancy, huh? It is.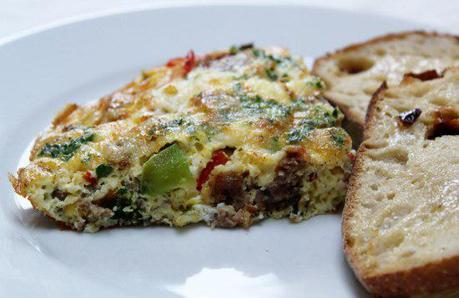 Peppers, sausage, cheese, eggs, parsley…sourdough toast! Yes, please!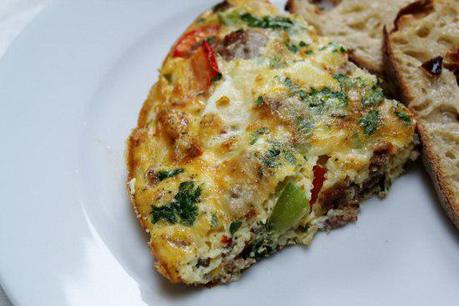 Breakfast Sausage and Pepper Frittata with Guyere
Makes 4 servings
Ingredients:
3/4 breakfast sausage
1/2 red pepper, chopped
1/2 green pepper, chopped
1/2 yellow/orange pepper, chopped
5 eggs, scrambled
1/2 cup milk
salt and pepper
2 pinches of parsley, chopped
1/2 teaspoon red pepper flakes
1/4 cup grated gruyere cheese
Method:
Preheat oven to 400 degrees.
1. In a medium-sized non-stick saucepan (one that can go in the oven), turn heat to medium. Cook sausage for 2-3 minutes, until almost cooked through. Add peppers and saute for 2-3 more minutes.
2. Mix eggs, milk, salt and pepper, parsley and red pepper flakes together. Once combined, add to pan with sausage and peppers. Sprinkle cheese on top. Put into preheated oven. Bake for 15 minutes. Checking half way through. Move the pan slightly to see if egg mixture has set. If it moves, it needs more time. Should puff up and be browned on top. Turn on broiler, if needed to brown the top.
3. Let cool for 1 minute before slicing into. Serve with toast, hot sauce, ketchup or on its own!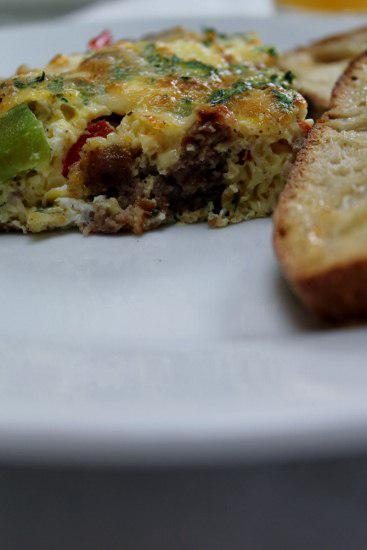 Advertisement