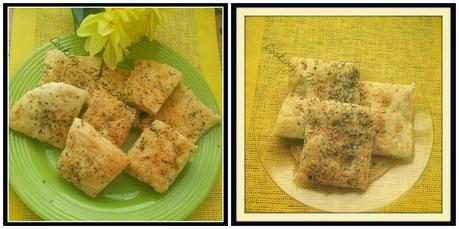 I admit it I'm addicted to making bread :-) This time I tried my hand at Focaccia bread. It was easy super easy :-) I did two kinds. I did a dill garlic Parmesan bread, and a garlic basil Parmesan. So I'll give you recipes for both.
Focaccia Bread1/3 C Warm Water (NOT HOT)2 1/4 tsp Yeast1 Tsp Sugar1 C Water 2 1/2 Cups Flour1/4 Tsp Salt
Seasonings:1 T Dill3 Cups minced Garlic2 Tablespoons ParmesanOlive Oil
Or1 T Basil2 Tablespoons ParmesanGarlic Sea Salt Olive oil
In a mixer bowl put in your 1/3 C Warm Water. Add your yeast and sugar. Mix it up a lil bit.  Let it sit for 5 minutes till it gets foamy. Add your flour, salt and a lil bit of your 1 cup of water. Mix it up. Add more water till it becomes a nice ball of dough.  Put it in in a greased bowl and let it rise till doubled. Get out a cookie sheet and grease the bottom. Take your dough and spread it out to fill the pan. Take your thumb and make dents in the dough. Drizzle olive oil and brush it on. Now add your choice of seasonings. Cover it and let it rise for half hour. Put it in the oven for 350 and bake for 20 minutes or so till it starts to turn golden brown. Take it out and let it cool. Cut into squares.