​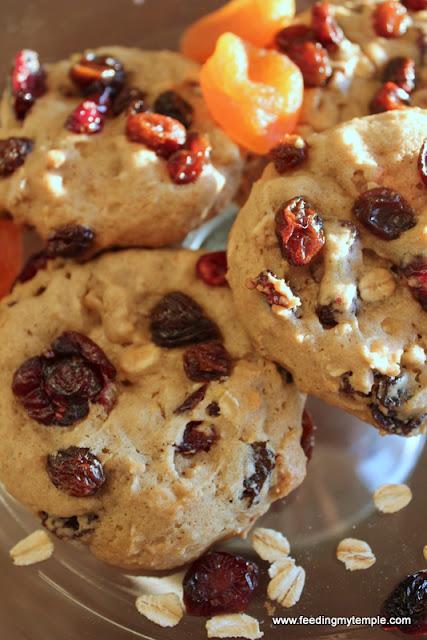 Put down the phone, I didn't find a cure for the flu. I just made some yummy cookies filled with ingredients to help your body battle the flu! 
If you don't follow me on Twitter or Facebook, then you have missed the week long saga of  every member of my family being sick. We even paid the ER a visit on Wednesday! Fun times.  I am just now starting to feel human again (can't you tell? I made cookies) thanks to a LOT of herbal tea with honey and enough Vicks products to make any shareholder happy. 
Let's break down a few of these ingredients!
Cinnamon: anti-inflammatory properties, antibacterial, antifungal, antiparasitic properties.
Nutmeg: helps regulate your GI tract.
Allspice: helps ease digestive symptoms (use your imagination), acts as an anesthetic to numb pain, it is also knows to have string antioxidant properties, and it is used to treat coughs, chills, bronchitis, and depression.
Ginger: widely used to treat colds and the flu.
Honey: helps treat allergies
Cranberries: rich in antioxidants and helps treat infections
Raisins: another concentrated source of antioxidants
Walnuts: 

Eating as few as six to seven average sized nuts a day could help scavenge disease causing free radicals from the body
Apricots: 

enriched with numerous health promoting phyto-chemicals; that helps prevent heart disease, reduce LDL, ("bad cholesterol") levels and offers protection against cancers
You might think they will taste like a spice cookie but the lemon zest adds a lovely freshness and keeps them light!
Have I convinced you yet??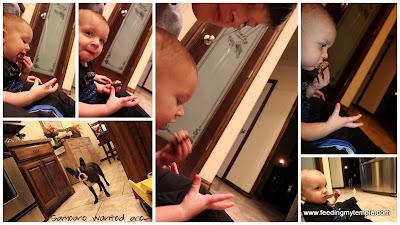 Now go whip up a batch!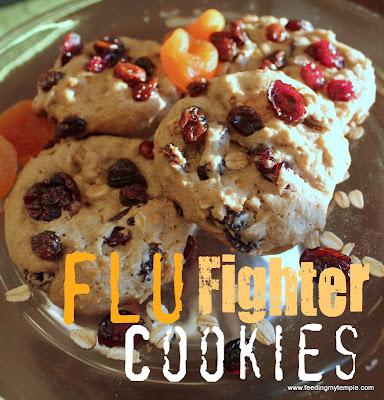 Flu Fighter Cookies
Ingredients
2 1/4 cup all purpose flour 1 1/4 teaspoon baking powder  3/4 teaspoon baking soda 3/4 teaspoon cinnamon 1/2 teaspoon nutmeg 1/4 teaspoon allspice 1/4 teaspoon salt 1 stick unsalted butter, room temperature 1/2 cup packed brown sugar 2 large eggs 1/4 cup honey 1/4 cup Greek yogurt 1/2 teaspoon ginger powder Zest of 1 lemon 1/2 cup old fashioned oats 1 1/4 cup dried cranberries 1 1/4 cup raisins 1/2 cup walnuts 1/4 cup dried apricots, diced
Preparation:
Spray 2-3 baking sheets with non-stick cooking spray. 
In a medium bowl, whisk the flour, baking powder, baking soda, cinnamon, nutmeg, allspice, and salt until well combined.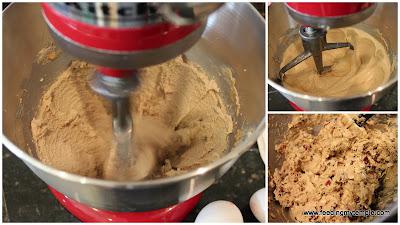 Beat the butter and brown sugar in a large bowl with a mixer on medium speed until light and fluffy, about 3 minutes. Beat in the eggs one at a time, fully incorporating each before adding the next. Add the honey, yogurt, ginger powder and lemon zest and beat until smooth, scraping the sides of the bowl as needed. Reduce the mixer speed to low and beat in the flour mixture to make a sticky batter (do not overmix). Fold in the oats and half of the raisins, cranberries, apricots, and walnuts.
 Mix the remaining dried fruit and nuts in a small bowl and set aside.
Drop 2 tablespoon sized scoops of batter onto the prepared baking sheets. Top each with some of the reserved dried fruit and nut mixture and chill for 30 minutes. Meanwhile, preheat the oven to 375 degrees.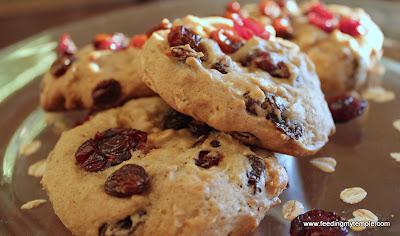 Bake the cookies until dark golden but still soft, 10 to 12 minutes; cool on a rack. Store in an airtight container for up to 1 week.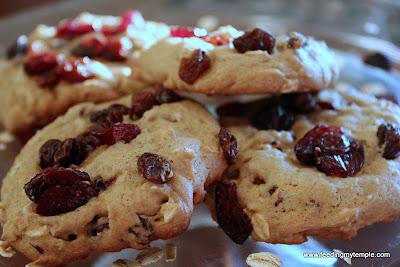 Please visit my 
link parties
 page to see who I linked up with this week!