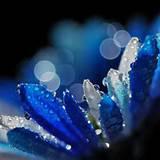 G'morning all....
Welcome to Pt.2 of flowers that heal. These flowers can be found in the countryside and makes a day of searching for them fun and exciting!
Especially wonderful to get your children and grand kids in on the fun of identifying and using flowers to protect and guard your health....
~Peace~
Flowers That Heal Pt. 2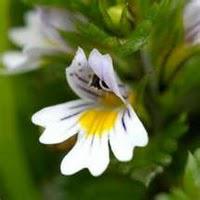 EyeBright (euphrasia officinalis)~The tiny flowers of eyebright are found in temperate meadows and moorlands. The aerial parts of the annual plant, including the flowers, have antiseptic and stringent properties. Eyebright has a long history of healing associated with the eye. An infusion makes an excellent eyewash for relieving sore eyes and will fight infection. Eyebright is a useful treatment for eye conditions such as conjunctivitis and  blepharitis. Eyebright tightens the  mucus membrane and reduces the formation of liquid mucus. A herbal tea relieves eye, ear, and throat infections and counters allergic rhinitis and hay fever.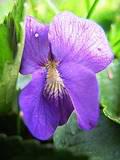 Sweet Violet (viola odorata)~The delicate flowers of violet range in color from deep purple to pure white. Violet flowers feature in alternative therapy treatments for breast and stomach cancers and are believed to reduce the risk of secondary tumors. The flowers also have applications for everyday ailments. Their gentle expectorant properties make an infusion or syrup a soothing treatment for respiratory treatment for respiratory ailments, such as coughs, bronchitis and headaches. Applied externally as a poultice, violets heal pimples, boils and abscesses.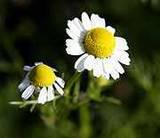 Chamomile (chamomilla recutita)~The familiar, daisy-like flowers of chamomile have remarkable healing properties for both the mind and body. Chamomile is a calming tonic for digestive disorders. It works by relaxing the muscles of the respiratory tract, easing colic, abdominal pain and excess wind. It is rich in plant bitters that stimulate the flow of digestive juices. Chamomile also heals gastric and peptic ulcers, and is useful for treating stress-related digestion problems, its natural sedative effects make it a calming remedy for stress and anxiety. It is gentle enough to apply to over-tired children or elderly people suffering from sleep disorders.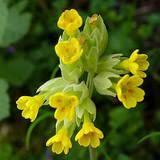 Cowslip (primula veris)~An infusion of fresh cowslip flowers quiets an over-active mind, eases tension and relieves anxiety. The petals calm hyperactivity in children. The apricot-tasting flowers an be incorporated into salads. A flower tincture is helpful for treating allergic reactions, including asthma. Cowslip flowers have been used for centuries as a beauty aid, and added to ointments and creams, they can fade blemishes and soothe mild sunburn. The closely-related primrose flower also shares many of cowslip's properties.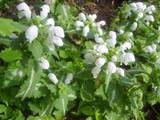 White Deadnettle (lamium album)~This plant, with its nettle-like leaves, bears clusters of double-lipped, white flowers. The flowering tops of the plant are used to prepare healing infusions and tinctures. White deadnettle's astringent action, due to tannins, makes it useful for stemming diarrhea. A poultice gives relief from varicose veins, boils, ulcers and hemorrhoids and ingested internally, it can provide relief for irritable bowel syndrome and piles. White deadnettle has a long history of use in treating gynecological conditions. It reduces excessive menstrual flow, and is used as a douche to treat abnormal vaginal discharges and cystitis.