Best chocolate cake recipe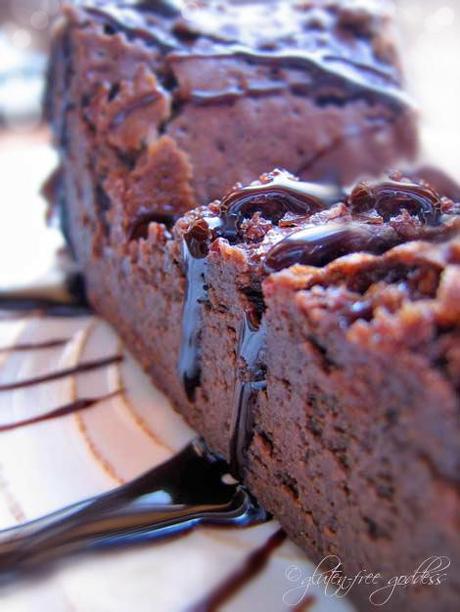 Readers' hands-down favorite: my flourless chocolate cake.
By
Meet Karina
Flourless Chocolate Heaven-
Perfection for a Gluten-Free Diet
This is my go-to dessert whenever I'm having guests. Everyone loves it. And the best part is- the recipe is inherently gluten-free. No substitutions. In fact, this is the same flourless cake I've been making for years. It never contained flour. The only thing I've tweaked post-celiac diagnosis is adding more coffee and vanilla.
Just because.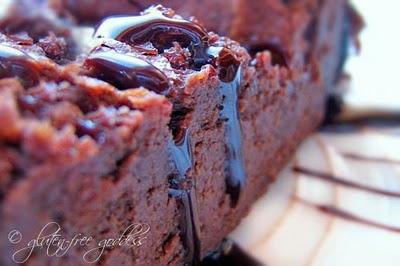 Sexy dense chocolate dessert. Gluten-free.
Flourless Chocolate Cake Recipe
Dense, sexy chocolate deliciousness on a plate. This is such an easy recipe, especially if you use a food processor to do the work. Serve this to non-gluten-free folks with no apologies. None. Zip. Nada. And for gluten-free folks? Hand out seconds (we deserve it, don't we?).
Ingredients:
16 oz. solid dark chocolate (use your favorite GF dark chocolate bars)
1 cup organic light brown sugar, packed
1/2 cup organic white cane sugar
3/4 cup very hot strong coffee (or use espresso powder in very hot water)
2 sticks unsalted butter, room temperature, cut into pieces
2 tablespoons unsweetened organic cocoa powder
8 large organic free-range eggs, at room temperature
1 tablespoon bourbon vanilla extract- yes, a tablespoon!
Instructions:
Preheat the oven to 350ºF. Prepare a 10-cup Springform pan by lining the bottom with a circle of buttered parchment. Wrap the outside of the whole pan (underneath, to catch any leaks) with a big piece of foil.
Break up the dark chocolate into pieces and pour the chocolate into the bowl of the food processor. Pulse until the chocolate breaks up into small bits. Add the sugar. Pulse until the chocolate and sugar turns into an even, sandy grain.
Pour the hot water or coffee slowly into the feed tube as you pulse again. Pulse until the chocolate is melted. Magic!
Add the butter pieces and the cocoa powder, and pulse to combine. Add the eggs and vanilla, and process till smooth. The batter will be liquid and creamy.
*Note for cooks across the pond: One stick of butter here equals 8 tablespoons, or one half cup, 4 oz.
Pour the batter into the lined Springform pan.
Bake at 350º F in the center of the oven, till puffed and cracked and lovely - about 55 to 65 minutes. (Note - it took an hour plus 15 minutes when I baked this at high altitude.) Use a wooden toothpick to check the center of the cake; pick should emerge clean, with maybe a crumb.
Place the cake pan on a wire rack to cool. The cake will deflate. Don't worry! When cooled a bit, press down on it gently with a spatula to make it even, if you wish. Or not.
When the cake is completely cooled, cover, and chill it for at least three hours (best up to eight hours), until serving. Overnight is even better.
Serve thin slices with drizzled chocolate sauce or a sprinkle of sifted powdered sugar. Garnish with a fresh berries or mint leaves.
Yield: 12 to 15 slices
Note: Yes, Darling, this is a rich, sweet treat. We enjoy our sugary treats in moderation- don't we? Gluten-Free Goddess advises consuming no more than 2 tablespoons of sugar a day. xox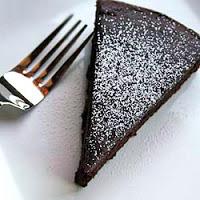 gluten free flourless chocolate cake
Dear Lovely Vegans-
I'm often asked if this recipe can be veganized- made without eggs and butter. While a butter sub might work- I'm sorry to say that the recipe really relies on the eggs for structure and rise- and no vegan egg substitute is going to replace eight eggs.