Y'all know that I've received a package for review from Flawless Beauty Online. Today's the day for the review! After seven days of trial, let's put the Glutathione Soap (Extra Strength) to the final verdict.
Flawless Beauty Glutathione Soap (Extra Strength) is a face and body soap made for women who aspires to get flawless fairer skin through micro-peeling, exfoliation and moisturization.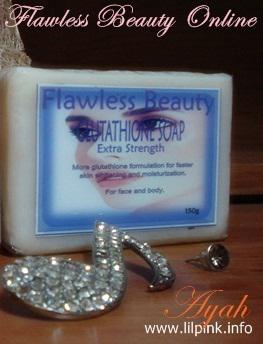 Packaging (3.5/5)
There was nothing fancy about the packaging of the soap itself. However, it's not in the packaging that a product must be judged. It is in the satisfaction of the user.
Features (4/5)
*contains anti-oxidants to nourish skin
*moisturizes and whitens skin
*helps removes dark spots
*has anti-aging properties to reduce wrinkles.
I don't use it on my face because my face seem to unlike whitening products. I use it as a body soap.
I have seen remarkable changes in my skin tone especially in my foot area since that's where the sun usually hits on a hot day. My skin evens out on its own with this soap.
The thing is, it kind of exfoliates dead skin cells that are contributing to your skin's dark pigmentation. It has a micro-peeling effect that allows your skin to be renewed each day. However, you cannot even see the peeling. Amazing! It is!
And while you are micro-peeling, the soap contains moisturizer for a smoother skin. However for an even lovely result, you might want to opt to further use body lotion.

My Hand & Body Lotion by Jason Natural helped a lot too.
The soap also has a mild vanilla scent that seems heaven sent. I have never liked smelling my skin – not until I used the soap. It kind of makes you feel how lovely it is to be feminine.
Price (4/5)
At Php 130 ($3), you can experience the lovely scent of vanilla. You'll love spending each momentous time in your bathroom. No kidding. My Nivea milk bar costs around Php 50. I know, it is a bit pricey for some of us but I sure will spend a lot to achieve better skin.
My Nivea milk bar costs around Php 50. Maybe for some, the Flawless Beauty Soap can be a bit costly.
Safety (4.5/5)
The soap is dermatologically-tested and BFAD approved. That means, it is safe to use the soap.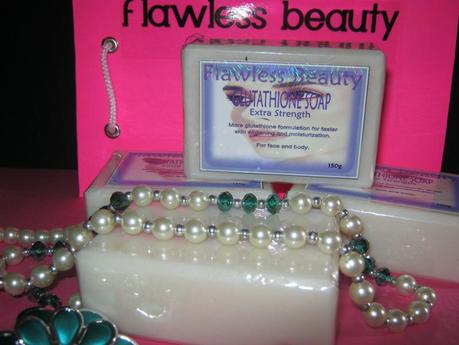 Final Verdict (4/5)
The soap is super love! I am planning to order and buy the soap when it is nearly used up.
The only con I see is that it melts easily. I mean, when you forget to drain a drop of water in the container, it easily melts down. Thus, it kind of will cost you a lot.
Other than that, the soap is super ok. I love the scent. It works. And I am buying it this time.

If you wanna try the soap, you can ask for samples. Go to their facebook page now and get all the soaps!!!!
Flawless Beauty Online FB
PS: I am not paid to do this review. Everything stated here is my own factual opinion about the product.
Stay beautiful. Toodles!