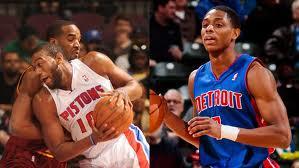 Photo: detroitpistons.com
- Adam Parker
This is part nine of a twelve part-installment of a Beard and Stache special where we'll be breaking down the top things that each lottery team needs to accomplish this offseason in order to improve heading into the 2012-13 campaign.
We'll update the series daily with a new team in advance of our soon-to-be released Beard and Stache NBA Mock Draft.
We covered the Toronto Raptors in yesterday's edition, which can be found here.
Today, we return home to the United States and head to the Motor City, where we'll be discussing the new-look Detroit Pistons.
1. Draft John Henson
The Pistons are in dire need of a shot-blocking big to pair alongside their young center in Greg Monroe. North Carolina's John Henson seems to fit the bill.
He still needs to do some major work on his offensive game once he gets to the next level, but as far as his shot-blocking goes (he blocked 2.9 shots per game at Chapel Hill last season) Henson is exactly what the Pistons are looking for.
Like many incoming rookies in recent seasons, Henson is in desperate need of some quality time in the weight room this summer to hold up against the other NBA big men.
Despite his offensive shortcomings, Henson should be a solid pick for Detroit at No. 9 with his above average athleticism and tenacity on the defensive end.
2. Amnesty Charlie Villanueva
I could be wrong, but I've got to think that most, if not all Detroit fans were utterly baffled when the Pistons' front office inked Charlie V to a ridiculous five-year, $35 million contract back in 2009. Needless to say, he's never really played up to that contract. Last season, Villanueva averaged a mere seven points and 3.4 rebounds per game in only 13 games.
Grab your torches and pitchforks, Detroit. It's time to march on Pistons' headquarters and demand they give Charlie V his walking papers.
3. Look Forward to Having Another Play-maker on Your Roster Next Season in Kyle Singler
The Pistons ranked second-to-last in the league in assists per game last season. Clearly, after finishing with a dismal (25-41) record and ending up in the lottery, something needs to change. Emphasis on improved ball movement should be one of the top priorities for Detroit in training camp before the season starts and having Singler, whom many people say played a great point-forward for Coach K at Duke would certainly help those numbers.
4. Feed Greg Monroe the Ball 
The former Georgetown Hoya seems to have all the necessary tools at his disposal to become the next dominant young big man in the NBA ala DeMarcus Cousins. With great length, solid touch around the rim and a plethora of post moves, the young 22-year-old could easily average 20 points per game in Detroit if given the touches. Memo to Rodney Stuckey and Brandon Knight: Pass the Ball! Stuckey and Knight tied for the team lead last season with 3.8 helpers per game. For this offense to really click and make sure Monroe gets the chances he clearly deserves, those numbers need to double.
5. Bring Back Ben Wallace if He Still Wants to Play
It's obvious that the 37-year-old Wallace isn't exactly the "Big Ben" of old who was the NBA Defensive Player of the Year four times over a five-year stretch from 2002-2006. That being said, the guy is an emotional leader in the locker room and a great teacher, especially for guys like Monroe and could be one as well to whatever big man the Pistons draft on June 28th.
He also has extreme loyalty to the franchise going so far as to say at the end of this season that "I'll never wear another team's jersey."
Maybe you don't pay him the $2.2 million he made this last season. Maybe you pay him half of that. But hell, you have guys like Juwan Howard and Grant Hill still running around out there, so why not bring Wallace back?
If Ben wants to return for his 17th NBA campaign, I say let him, and let it be in Detroit.
Be sure to follow Beard And Stache on Twitter 
@BeardAndStache
, 
and also Adam 
@Adam_Parker43
, Like our Facebook page 
HERE
!