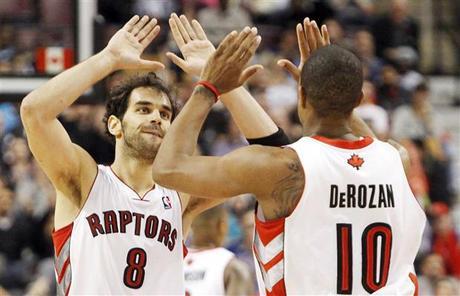 Photo: Reuters
- Adam Parker
This is part eight of a twelve part-installment of a Beard and Stache special where we'll be breaking down the top things that each lottery team needs to accomplish this offseason in order to improve heading into the 2012-13 campaign.
We'll update the series daily with a new team in advance of our soon-to-be released Beard and Stache NBA Mock Draft.
We covered the Golden State Warriors in yesterday's edition, which can be found here.
We now move our spotlight outside of the United States and take it up north to a young team with an extremely bright future -- the Toronto Raptors.
1. Draft Perry Jones III
Okay, I completely understand the hesitation surrounding this pick. However, the fact of the matter is that Toronto is in dire need of an athletic wing with the size to help out defensively. Needless to say, the former Baylor Bear has the length and athleticism in spades. At 6'11" and 230 lbs., Jones is projected as a freakishly athletic 'tweener forward at the NBA level.
I'm sure everyone's heard the whispers by now of Jones' overwhelming unselfishness (some call it passiveness) and liken him to the next Lamar Odom-type player.
After what occurred in Lamar-la-la-land this last season, I could see how that could be cause for pause, but if Raptors' head coach Dwayne Casey can coach up Jones and try to bring out that aggressiveness in his game to complement his playmaking skills, he could be a steal for Toronto at eight.
Rumors are swirling that Toronto would be open to trading this pick, however, which brings us to our second topic.
2. Trade Pick to Acquire Established, Athletic Wing Man
This is option No.2 the Raptors can take with this pick should they choose not to go after Jones or if an offer is put on the table that they simply can't refuse. Like the Warriors, the Raptors are in the market for one of the many acquirable small forwards on the market like Philadelphia's Andre Iguodala and Grizzlies' forward Rudy Gay, Indiana's Danny Granter, etc.
Two factors contribute to this been more likely to occur than our first topic. First, Toronto's pick is only one spot behind Golden State's on the board, which makes it a very viable trade asset. Second, Toronto has no true small forward on the roster, or, at least not one who gives consistent contributions on a nightly basis.
Don't get me wrong, Gary Forbes, James Johnson and Linas Kleiza played admirably in their small forward-by-committee roles; but let's be realistic.
Last but not least, Toronto has other intriguing trade pieces to offer like young big man Ed Davis and veteran point guard Jose Calderon, who will have a desirable expiring contract next season as well as being a fairly decent floor general.
I have to believe that Toronto would gladly cut ties with any number of that group if Raptors President Bryan Colangelo is able to nab Iggy, Gay, or Granger.
3. Rejoice, Toronto! Lithuanian Center Jonas Valanciunas is Set to Join Team for 2012-13 Season
That's right Raptors fans, Lithuanian star Jonas Valanciunas, selected No. 5 overall by Toronto in the 2011 draft, is poised to join the Raptors next season after the young (only 20 years old as of now) seven-footer quickly established himself as one of the most exciting big men in Europe.
Huh.
Valanciunas (Raptors and NBA fans alike might want to stick to calling him JV) and Bargnani in the Raptors' frontcourt. Sounds like an extremely formidable offensive duo to me. Plus, their mere length alone should help them excel in their rebounding and defensive duties. It's a great get for Toronto that the young Lithuanian is making the jump to the NBA so early. Now, let's just hope he doesn't end up as the next Andris Biedrins.
4. Amnesty Amir Johnson
When the Raptors signed Johnson to a five-year, $34 million contract on the very first day of free agency during the 2010 off-season, I about fell out of my chair.
Johnson -- along with Milwaukee Bucks' big man Drew Gooden -- (five-year, $32 million contract) became the luckiest in the NBA that day. Gooden has played okay, including tallying his first two triple-doubles as a professional while wearing a Bucks uniform. Johnson, on the other hand, has proven to be little more than an undersized energy guy off the pine at best as far as talent goes.
With Valanciunas coming over, there's no need for Johnson anymore. Start up that #AmnestyAmir campaign on Twitter, Raptors fans. God only knows your team should
never
 have made that ridiculous deal in the first place. Thankfully, though, you have a way out. I suggest you take it.
5. Make DeMar DeRozan the Focal Point of Your Team
The former USC super-frosh has reached the stage of his career where he's right on the cusp of joining the group of young stars who are dominating the league. DeRozan is ready to be The Man in Toronto, and could be the face of the franchise for the next decade (he's only 22).
Make sure Calderon, Jerryd Bayless (though you may want to find a replacement for the latter seeing as how he's a shooting guard trapped in a point guard's body) and the rest of the playmakers -- like the young, up-and-coming D-League surprise in Ben Uzoh -- get DeRozan all the touches he needs, because as far as I'm concerned, as DeRozan goes, so do the Raptors.
Be sure to follow Beard And Stache on Twitter 
@BeardAndStache
, 
and also Adam 
@Adam_Parker43
, Like our Facebook page 
HERE
!