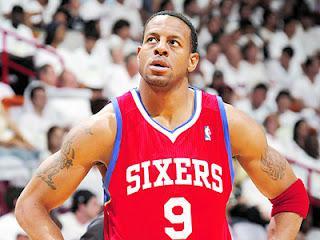 Photo: Getty Images
- Troy Ballard
It was a helluva run, Philadelphia.
To think that this 76ers team managed to sneak by a Derrick Rose-less Chicago Bulls team in the first round, then take a much more talented Boston Celtics team to seven-games and nearly pull the impossible is nothing to scoff at.
Doug Collins totally flipped a team that was lost and without an identity and turned them into a hard to beat, team-basketball minded and defensive savvy squad.
But regardless of the improbable run and improvement the Sixers made -- change is imminent.
Moving forward, Philadelphia is going to have to plan and build for the future while still maintaining the ability to contend. More than half the team is on expiring deals, and Philadelphia likely won't be too spend-happy with re-signings in house. With that being said, expect big changes all around at nearly every position.
Here are five moves the Sixers need to make this off-season:
#5. Use the amnesty clause on Elton Brand
Listen, I love Elton Brand. The guy took on a much needed leadership role in Philadelphia (going as far as to rally the entire group during the lockout to practice together), and for the most part was the very beating heart of the team.
He played through enough alignments to make a doctor cringe, and was a consistent scorer and defender throughout the entire year. Brand carried this team, and for the most part was the key cog in Philadelphia's long-term success this season. The idea of letting him go is nauseating as a fan.
But the blunt reality is that Brand is making an alarming $18 million next season. That's more than any other player on the team, and it's a lot of money that could be spent elsewhere improving the team through free agency.
#4. Find a replacement for Lou Williams
Louis Williams was so solid for Philadelphia this season. He made enough clutch shots in games to make Kobe Bryant green with envy -- and also led the team in scoring off the bench. While leading the team in scoring he found a sweet-spot as the go-to guy for the Sixers, and found decent success.
Unfortunately for Philadelphia, Williams' excellent season likely means he is going to opt out of his contract with a player option and test his value as a free agent.
Saying that Williams does end up bailing for a starting job with another team, it is imperative that Philadelphia replaces him with a comparable player. Although there are few point guards in the NBA that are readily available that can do what Lou does, the Sixers need to find that reliable scorer and facilitator off the bench.
#3. Replace Spencer Hawes
There was a time at the beginning of this season where Spencer Hawes looked like an All-Star center. That quickly faded into mediocrity following an injury, and before the Sixers knew it -- every center in the NBA was better than Hawes.
Aside from the occasional mid-range jump shot, Hawes has little value as his rebounding is inconsistent and he is almost totally useless around the rim. I watched all season as Philadelphia continued to force him the ball, and the end result was usually a miss or a turnover.
Luckily, Hawes is one of many players that has an expiring deal, and chances are, the Sixers are going to let him walk. In terms of finding a replacement, a name that has been floating around is Ersan Illyasova, or as I like to call him -- 
Glass Eater Supreme
.
#2. Re-Sign Lavoy Allen
Steal of the draft? Quite possibly.
Lavoy Allen came up huge for the Sixers with excellent defense and made solid (although minimal) contributions on the offensive end. Considering that he was a totally unknown rookie from Temple (
hometown kid alert
), Philadelphia totally picked up a steal and he was one of the team's more valuable bench players.
Philly only signed him to a one-year deal as a rookie, and re-signing him long-term should happen without any friction in the front office.
#1. Trade Andre Iguodala
Iggy, Iggy, Iggy.
How many times have Philadelphia fans read this exact same bullet point, whether it be before the trade deadline or during another off-season? Trading Andre Iguodala seems to be the one thing that the Sixers have been afraid to do, and following this season, it seems like the most realistic option.
Iguodala played incredibly well this season, and was especially strong in the playoffs, but the issue is that he doesn't fit with the team anymore. Philadelphia needs a go-to scorer in the starting lineup, and because Iggy is the only real star on the team, he usually gets the last shot. The issue is, he isn't that great of a shooter.
The Evan Turner and Iggy marriage was supposed to work seamlessly, but as it turned out, it complicated the flow of the offense. It seemed that when the two were both on the court, one or the other was totally iced out of the offense.
Philadelphia needs to trade away Iguodala for another superstar, someone who can be relied on to score 20+ a night consistently. There are a handful of players that will be available, the most popular being Pau Gasol of the Lakers, and Philly has to pull the trigger. It's time.
Be sure to follow Beard and Stache on Twitter @BeardAndStache, and also Troy @TroyBallards, Like our Facebook page HERE!