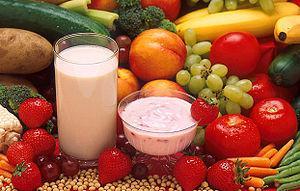 Image via Wikipedia
Obesity is one of the leading health problems nowadays, and this can be attributed to unhealthy lifestyle and diet that we are practicing nowadays. To lose weight, drastic changes must be done and you must prepare yourself for exhausting workout sessions that you need to do regularly. You can start with baby steps and stick with them to achieve a healthy lifestyle and diet. Below are five weight loss tips that you would find useful in achieving your goal.
Cut Back on Calories
One pound is equivalent to 3500 calories meaning, consuming extra 150 calories everyday will make you gain one pound in three weeks. Although it will be hard to cut back on your usual diet, doing so will benefit you in the long run. As much as possible, try to keep track of your meals and the amount if calories that you have consumed within the day.
Eat Less and Avoid Fast Food
Although many fast food restaurants nowadays already offer healthy choices on their menu, most of their foods available are high in calories. Choosing a healthier option will also be a challenge for the kids, since they prefer menu choices that are high in fat and calories. Since this is the case, it will be wiser to feed your kids at home since you can provide them with healthier meals.
Watch What You Drink
The fruit drinks, sport's drinks and sodas that we have learned to live with today contain calories of unimaginable proportion. It will be harder to lose weight if you consume these drinks on a daily basis, especially if you are the type of the person who do not have an active lifestyle. Although diet drinks contain lesser calories than regular ones, the use of artificial sweeteners can also pose risk to our health.
Live a More Active Lifestyle
If you have gotten used to living an idle lifestyle, exercising regularly can be more of a challenge since it will need much of your time and effort to stick on your diet and exercise plan. If you find working out on the gym a bore, you can try playing sports, doing yoga or pilates, using metabolism boosters or try out other activities that will make you sweat.
Be a Smart Shopper
Eating outside can make it harder for you to make healthier choices, especially since most menu choices available are high in fat and calories. To help you lose weight, you can cook healthier recipes frequently at home, to make it easier for you to keep track of your calorie consumption.
The real secret in successfully losing weight is becoming focused on your goals and exerting the needed effort to exercise regularly. You can achieve your weight loss goals easier and faster if you follow healthy diet plans and start living a healthier and more active lifestyle. Although there are many diet fads available, the more effective method in shedding off the extra fat is by controlling your diet, staying away from consuming high calorie foods, as well as exercising regularly to burn off the excess fats and calories you have consumed in the day. If you keep all of these things in mind, you will be on your way to a sexier and healthier body.
Jenny has a keen interest in health and wellness and recently start writing about the protein diet and how it can help you lose weight and gain muscle.