Yoga and rooftops. What a combo. If you've been keeping up with Lashes of Lifestyle recently (no judgement if not, keeping up with writing for you guys can be hard sometimes with so much going on), you'll know I re-found my love for yoga. The feeling of zen-ness and being able to switch off. Listening to my body, connecting with my inner self and the mat. Sessions (not on YouTube which was - and is still when I can't be bothered to leave the house - my trusty source of yoga practices) seem to go so fast. I'm completely in the moment.
But pair that with being able to flow with incredible views of the city of London and you've got a winner. Flow, connect and find a re-appreciation for the beauty. That's exactly what's on offer in the new Skyline Stretch sessions at Sea Containers London. I went along to try out the power yoga practice...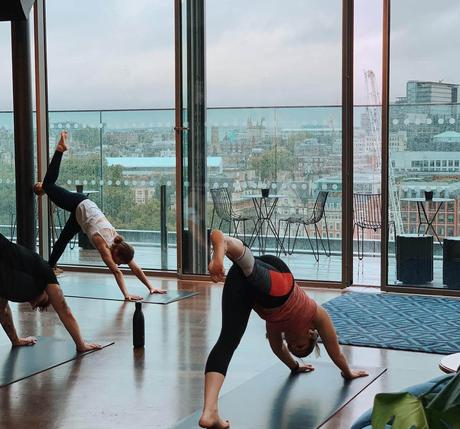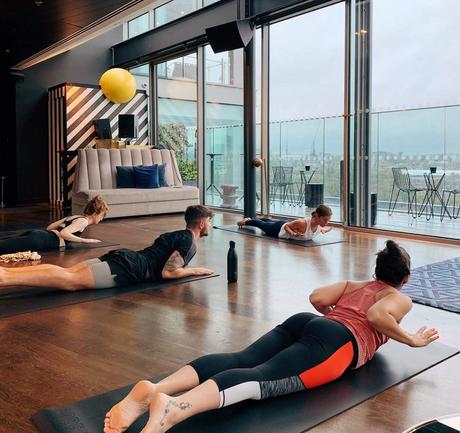 The new Skyline stretch sessions, including power yoga at Sea Containers takes place in the main opening of the 12th Knot bar. If you've been up to 12th Knot you'll know its stunning. The twinkly lights, shiny metallic, mirror above the seating in the middle,plush velvets and the colours all make for a very gorgeous setting. Add that to the views you get from the window, and you can tell why they'd want to hold a yoga class here. A fab spot.
The view from the side of the bar sees you overlooking.. It's stunning. Such a beautiful sight, and treat to have this as the background for an hour session.
The sessions are being run by boutique studio Core Collective. The coach when who took the session when I visited was fab - super soothing in tone, supportive, encouraging and great at guiding the flow. In other words, you always knew what was coming, how we were flowing. Exactly what you need from a yoga class.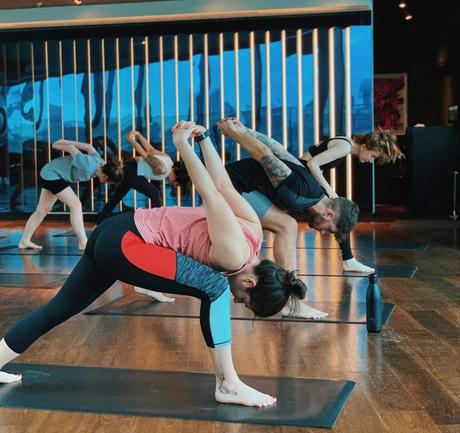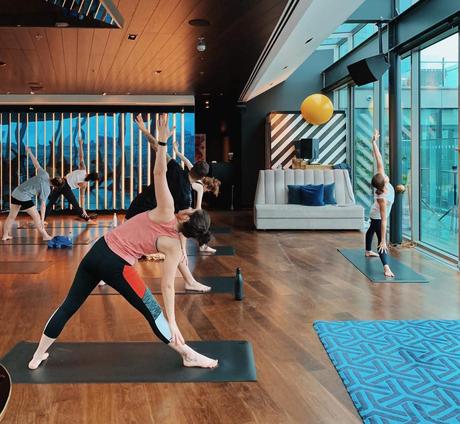 The power yoga itself was awesome. It was a Vinyasa flow which brought plenty of heat to the arms and legs throughout the flows and holds. It was deep and stretchy, well as much as you made it. Yet it was soothing and powerful in getting you to connect to the moment and really get lost in your breath. I felt worked, but not too sweaty, and it went so fast.
When we finished up we got to have a Core Collective vegan protein smoothie to refuel after our awesome session. It had a potent coconut and cocoa flavour, and was creamy and super delicious. A great way to end a class!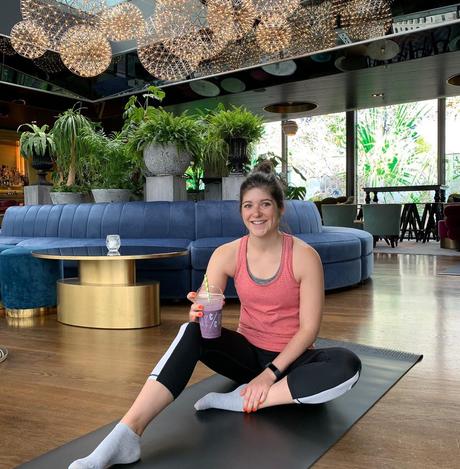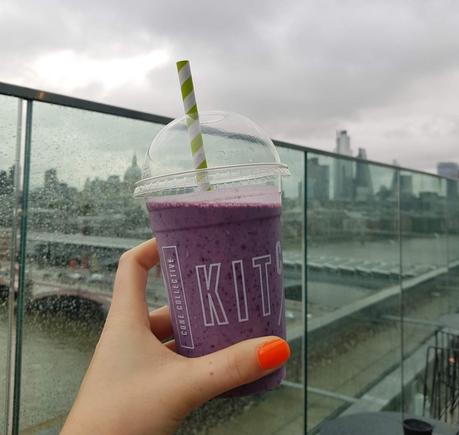 In addition, there will also be a stretch & mobility session which I'm dying to try out too. Both classes will be £20 each and the post-session smoothies will be £5 (definitely worth treating yourself!). They start from 3rd November and it's definitely worth trying out.
Summary - Skyline Power Yoga at Sea Containers:
Price: £20 per class, £5 for a smoothie at the end. A little more pricey but worth treating yourself.
Fun/serious: Powerful stretchy dynamic flow, yet relaxing. Gets you to completely switch off!
Level: All levels. The coach gives variations for you to try, you listen to your body and do what you can do.
Recommend? Yes! The views are insane and the power yoga session was fab.
How to book: Book your spot via eventbrite
Have you done rooftop yoga?
Chloe xx
* I was invited along to the press launch. All views my own.