The times when a photo presented a rectangular image has already become the matter of past. Nowadays, with the help of such technology as fisheye lens, it became possible to shoot circular photos and capture the whole panorama at once. This technique is especially useful for taking photos of street art activities, such as parkour as the wide angle allows to capture a performer and urbane building involved in the process at once.
Fisheye method of taking photos does not require any special skills, so even the beginning photographers can try it and see how much fun it really is. The only thing you should do is to forget about the fear of experimenting with new approaches to the art of photography.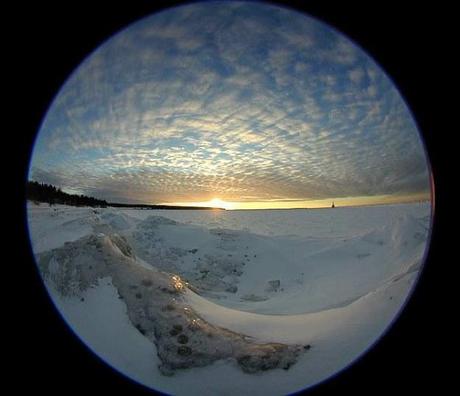 For instance, if the light is deem you can try to use radial blur to make your pictures brighter. You should just slow the speed of the shutter and start shooting standing in the center of a circle and turning your camera clockwise.
Fisheye lens provides you also with an opportunity to exaggerate the natural proportions of the image. This trick is very simple to perform – place the object you are focused on as close to the bottom of the frame as possible to achieve the greatest distortion of the horizon line. However, be aware that there is a danger of seeing your own legs on the bottom of the picture, so be careful when shooting.
Fisheye photography can be used also to capture some massive pieces of architecture or impressive natural phenomena. This method is popular among a number of photographers. My favorite ones are Jon Hanson who specializes in shooting the architecture of London and Philipp Salzgeber with his famous fisheye work presenting Aurora Borealis. Other talented photographers whose works I recommend you to see in this aspect are Rob Deyes, Kevin Dooley and Hugh Mason.