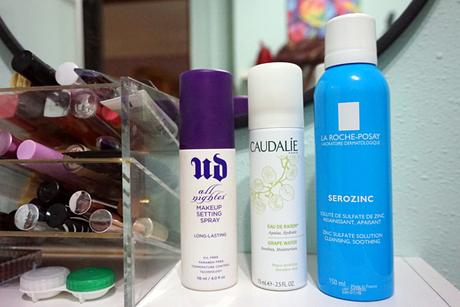 I love mists and sprays. I kept a few at home and at my work place because they are the easiest thing to use to replenish my moisture without disturbance to my make up. Above are what I have on my vanity table: Urban Decay All Nighter Makeup setting spray, Caudalie Grape Water and La Roche Posay Serozinc.
I love using All Nighter Makeup Setting Spray to set my make up and it helps my make up to last throughout the day. I use Caudalie Grape Water to soothe and hydrate the skin.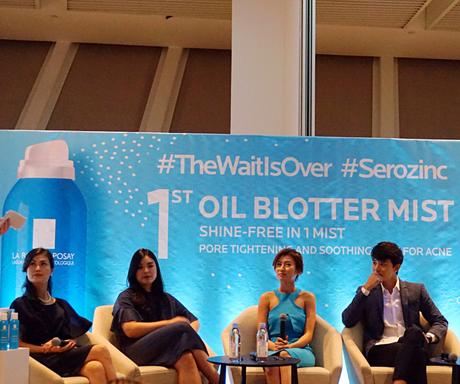 And finally, the wait is over. Serozinc from La Roche Posay is the 1st oil blotter mist for oily and sensitive skin. I attended an event last wednesday to know more about Serozinc. Make up artist Roseanne Tang, celebrities Shine Koh and Aloysius Pang also shared about their oily skin concern. Dr Lynn Chiam shared how Serozinc could help them battle with oily skin concerns.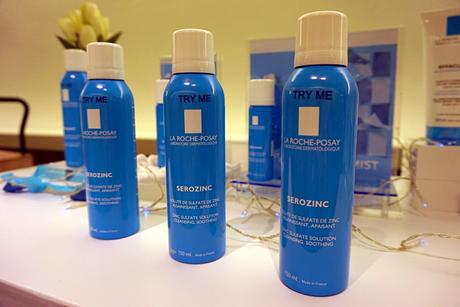 Serozinc contains Zinc, iconic thermal spring water and Sodium Chloride. It helps to regulate sebum, tightened pores and soothe acne inflammations. Its mattifying properties also make it a perfect makeup primer or setting mist.
In Singapore's hot and humid weather, my skin produces a lot of sebum throughout the day. Combine sebum with sweat are acne outbreaks and clogged pores. I used to use oil blotting paper but it did not help to stop sebum production. In fact, the more I blot, the more sebum the skin produces. Acne and oily skin is not an issue faced by teenagers, even up till adulthood, more women are suffering from imperfections and breakouts.
Serozinc can replace our oil blotting paper. Just an easy spray, the skin will become matte due to Zinc. Zinc has anti-inflammatory properties and the ability to reduce the bacteria. Its Anti-androgenic activity also helps suppresses sebum production.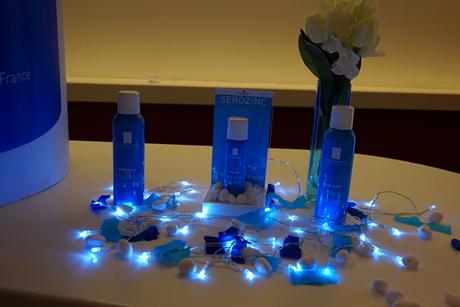 I first started using an oil-blotting spray from Ettusais in the office. It does help to mattify my skin, but it is a little stingy, not suitable for sensitive skin. Serozinc does not contain perfume alcohol, preservatives or other agents that might irritate the skin. A good product to be kept in the office drawers if you have oily and sensitive skin.
Exclusive Pre Launch with Lazada
Get Serozinc at a special introductory price of $9.90 (50ml) and $18.90 (150ml) from 21st Oct to 28 Oct on Lazada.
From 28th october, Serozinc will also be available at major pharmacies like Watsons, Guardian, Unity and selected hospotal pharmacies and Derma Center (Westgate)