Happy Saturday! It's a beautiful day out for me today, albeit a little windy and cold, but still sunny.
Today I'm trying out the new Covergirl Natureluxe Foundation from a sample I received. (Unfortunately the sample's not available anymore :( Sorry :( )
And this is just my first impression of the foundation.
Here's what the sample looks like in case anyone's interested.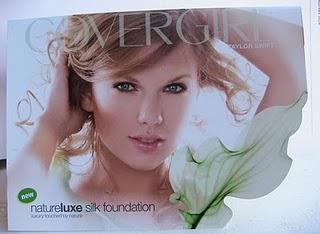 Taylor Swift looking gorgeous as always on the front.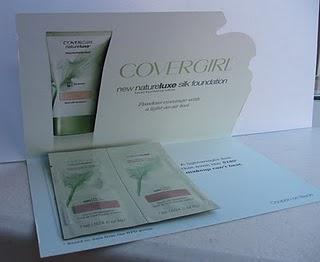 The sample comes with two small packets (1ml each) in two shades. I got the shades Maple and Aspen, though I don't remember actually picking shades when I signed up for this.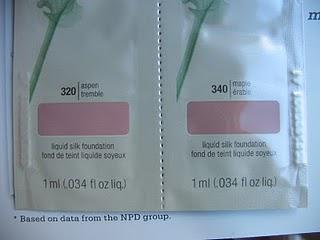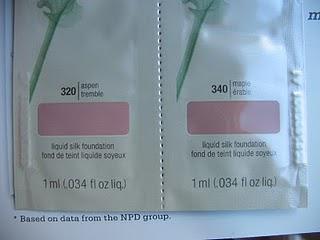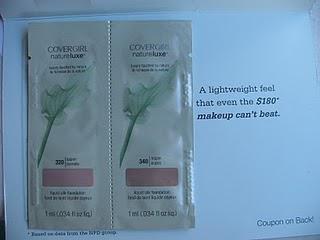 It claims "a lightweight feel that even the $180 makeup can't beat."Hmm...so who's ever tried a $180 foundation before? Not too many, I'm guessing. So how are we supposed to know if Covergirl's got it beat?
So far, I am actually liking this foundation. I didn't think I would, since I don't usually like Covergirl products. But this one surprised me. 
Here's what it says:Redefine natural beauty with our lightweight silk foundation. With a touch of cucumber water and a hint of jojoba and rose hip extracts, our light yet luxurious formula takes heavy weight out of your polished finish.I can't really feel it on my skin, so I think it actually lives up to the lightweight claim. My skin is on the oilier/combination side, and so far this foundation has been holding up well. I've worn it for about 4 hours or so, set with a powder, and still looks pretty fresh. I haven't really done much today other than run some errands though. 
Maple actually turned out to be a pretty close match to my skin, and it blends in like a dream. But, the coverage is rather light, so I still needed a concealer for spots, scars, and undereye. 
This foundation has a refreshing cucumber scent that's actually quite pleasant. I'm a little worried about having scented things on my face, but so far it hasn't irritated my skin.
The formula is oil-free, paraben free, has an SPF 10, and it comes in 14 delightful shades: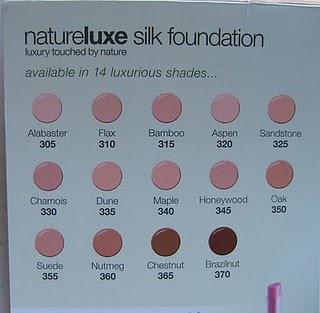 So who would I recommend this for?People with Dry/Normal Skin will probably find this foundation rather moisturizingPeople who don't need a lot of CoveragePeople who like cream foundations
Would I purchase it? I would, if I weren't swamped with a whole bunch of other foundations already lol. I don't really need another, but this one was fun to try nonetheless. I don't love it enough to go out and buy it right now, but maybe in the future.
You can purchase this at just about any drugstore for about $9-$12. 
Let me know what you think of this foundation. Love it? Hate it? Comment below!
Sunny days and new foundations,Belle