About Machete (2010)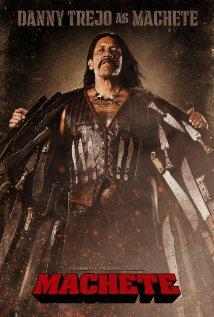 From director Robert Rodriguez (Grindhouse, Sin City) comes an action- packed, cutting-edge serving of carnage asada…with killer deleted scenes that deliver more guns, more girls and more Machete action!
Set up, double-crossed and left for dead, Machete (Danny Trejo) is an ass-kicking ex-Federale who lays waste to anything that gets in his path. As he takes on hitmen, vigilantes and a ruthless drug cartel, bullets fly, blades clash and the body count rises. Any way you slice it, vengeance has a new name–Machete.
Starring: Danny Trejo, Steven Seagal, Robert De Niro, Michelle Rodriguez, Jessica Alba
Directed by: Robert Rodriguez, Ethan Maniquis
Runtime: 105 minutes
Studio: 20th Century Fox
Review: Machete 
A good action film needs lots of explosions and carnage but a decent storyline and acting are always welcome as well. Directed by Robert Rodriguez and Ethan Maniquis, Machete is violent, full of memorable faces, bouncing cars and gun toting femme fatales but is it any good?
The film begins with Machete Cortez (Danny Trejo) on a mission to rescue a kidnapped girl only to be betrayed by his corrupt Federate chief and left at the mercy of drug lord Rogelio Torrez (Steven Seagal). Torrez kills Machete's wife and daughter before leaving his adversary for dead but Machete is alive when the story picks up three years later. He is down and out looking for work in Texas amongst large groups of Mexican immigrants. When Machete is hired by businessman Michael Booth (Jeff Fahey) to kill Senator McLaughlin (Robert DeNiro), Machete is given little choice but to take the contract. However, Booth and McLaughlin are working closely together and Machete's attempts to kill McLaughlin are scuppered. The Senator is left intentionally wounded in the leg while Machete goes on the run as the would be assassin. With McLaughlin gathering support for his election campaign, Booth needs to silence Machete quickly but our hero finds a lot of help amongst the Mexican community who are eager to fight back.
Machete's opening mission is bloody as he wields his trusted machete and dispatches everyone that stands in his way. It sets the tone for the rest of the film which is gory to say the least. After Machete is hired to kill McLaughlin he is wounded by one of Booth's men and goes on the run. Treated in hospital, Machete evades capture and finds support from Luz (Michelle Rodriquez), also known as She, the leader of an aid movement for illegal immigrants. Machete also has to contend with Agent Sartana Rivera (Jessica Alba), an Immigration and Customs Enforcement agent who is eager to capture him.  After recovering from his wounds, Machete seeks revenge against Booth and McLaughlin.
Machete targets Booth's family which includes his daughter April (Lindsay Lohan) and kidnaps and imprisons them at a church where his brother Padre (Cheech Martin) is the resident priest. Machete uncovers corruption that will bring Booth and McLaughlin to justice but will he survive long enough to expose the truth? Before we know it the Mexican immigrants are taking to the streets and fighting McLaughling, Booth and border vigilantes led by the cruel Von Jackson (Don Johnson). We have cars that bounce up and down, Lindsay Lohan wielding a gun while dressed as a nun, many explosions, blood, gore and short-skirted gun toting nurses. Yes, this is that kind of film.
I'll be honest and say that I enjoyed the first half of Machete. Trejo is a great leading man for this kind of film and the story was pretty good as he is set up as an assassin to fuel the campaign of Senator McLaughlin. However, the second of the film became rather silly. The bouncing cars are very strange and as pleasant as scantily clad women are it just seemed they were there to glam up some of the combat at the end and make it more interesting. Machete inevitably takes his revenge against everyone and there are some satisfying death scenes to be fair. The cast are a mixed bunch with Trejo, DeNiro, Fahey and Rodriquez being the most interesting. In the end this is one of those films that you don't take seriously. It's 90+ minutes of high octane action but not much else.
Machete starts well but them deteriorates into absurdity in the end. If you're looking for an action film that isn't too demanding then this one is certainly worth a try. There's a good cast here who do their best but I've seen them in better films.
Verdict: 3/5
(Film source: reviewer's own copy)
Film Review: Machete | Thank you for reading Tweedle Dee and Tweedle Dave