What is the first thought when you think of Christmas? Is it when will you erect the Christmas tree, when will you start buying gifts, what you will be doing Christmas Day, what will you do to get the family into the spirit of Christmas?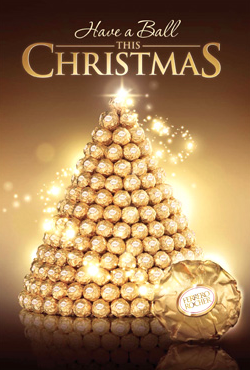 For me it is all of these, and it happens in the first week of November as I like to be very organised, although most of this doesn't happen before December. 
One thing I don't ever want to be caught out with is when the neighbours come over to give their Christmas gifts, and I am left empty handed. So the first thing I do (and it is usually in November) is head into store and grab a few boxes of chocolates and treats for the neighbours. 
It is very rarely I make it to their front door to knock and wish them a Merry Christmas as they always beat me to it, and are more on the ball then myself. 
This year I wanted to steer away from the usual box of Cadbury Favourites and go one above that. So I hit to the drawing board to do some research and find some alternatives. 
So when I can across Ferrero Rocher's new range I knew this is what my neighbours deserved for Christmas for being such great neighbours. 
One of the boxes that took my fancy was the 
Ferror Rocher Golden Gallery T13 is $9.99 and the T34 is $19.99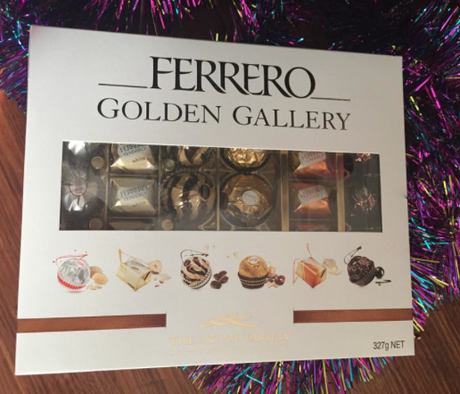 The brand new Golden Gallery chocolate box shows off the very best of the Ferroro Rocher chocolate collection, which I honestly had no idea went beyond just the original hazelnut chocolate.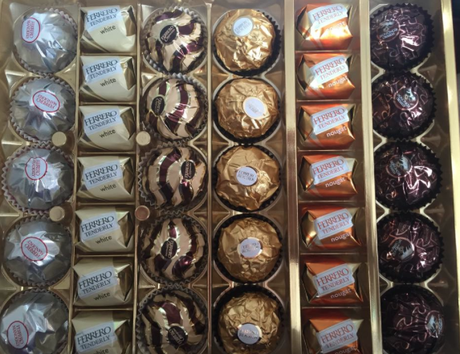 We thought we better road test these chocolates to make sure they were a-ok for our neighbours (any excuse will do, right?!) So here are our thoughts on each of the chocolate from this Golden Gallery Box.
This pack introduces four new additions, including: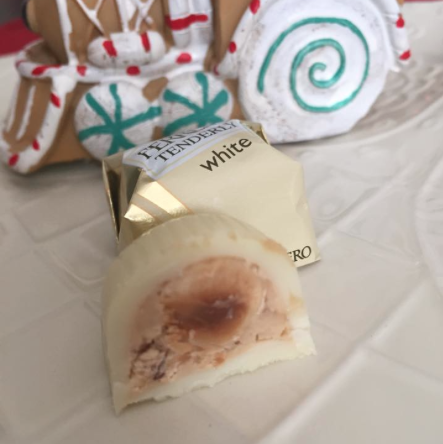 Tenderly White-
 A whole hazelnut surrounded by creamy hazelnut filling and wrapped in a delicate white chocolate coating
I don't like white chocolate so I left it up to Mr. M to try this out and let me know his thoughts. At first he pulled a bad face, but that then turned into a cheeky smile followed by a just joking. He then went mm and reached for the box to get himself another… So I think that is a two thumbs up 
J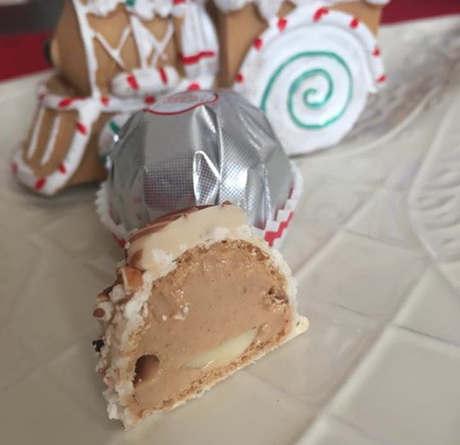 Manderly-
 A crunchy whole almond wrapped in a cream filling and delicately encased in a unique hazelnut and meringue shell. 
Another one I let Matt try as I thought it may have been white chocolate. He did like this one a lot more then the Tenderly white, but that is only because he is a almond nutter- if it's got almonds in it then it has his name all over them. If I were to show you the box, the only ones that have totally disappeared are these ones.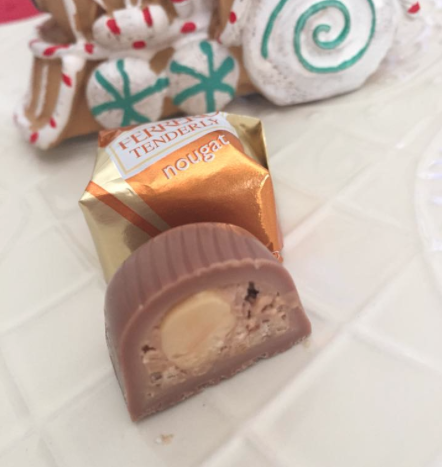 Tenderly Nougat-
 This is a delicious nougat surrounding a crunchy whole hazelnut, wrapped in a milk chocolate coating. 
Nougat is one of my favorite sweets as of late, but before about 2 years I wouldn't go near the stuff. So sorry to Mr.M but he was told to back off from these guys as they are alllllll mine. If you love nougat you will love this little chocolate right here, I wonder if you can just buy a box of these haha.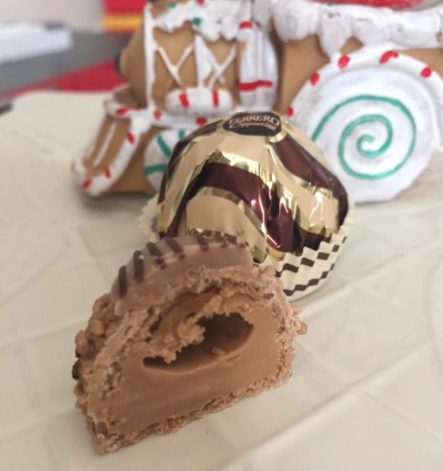 Cappuccino-
 A delicate and unique combination of creamy cappuccino filling, surrounded by crispy wafer shell and coffee and chocolate coating.
I am not a coffee fan and have never ever been the one to drink coffee and don't even like the smell of it. But Matt will drink a coffee in the morning here and there, so again he was the guinea pig here. He approves, and said he would be more then happy to eat them all (as always haha). 
Then there is also the: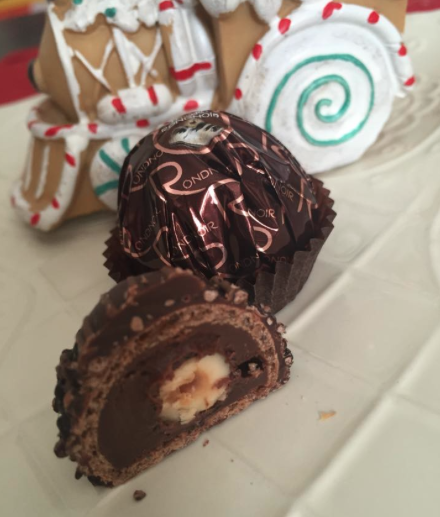 Rondonoir-
 Crisp dark chocolate covered specialty, with a smooth filling and a dark chocolate and hazelnut center. 
I have had these before and love my dark chocolate, and always make sure I have a dark chocolate stash in my home for when I am having sweet cravings. Some dark chocolates can be not so nice though, with a real bitter after taste or they leave a weird coating in your mouth. The Forrero Rocher dark chocolate though has been formulate immaculately and is super, duper delicious.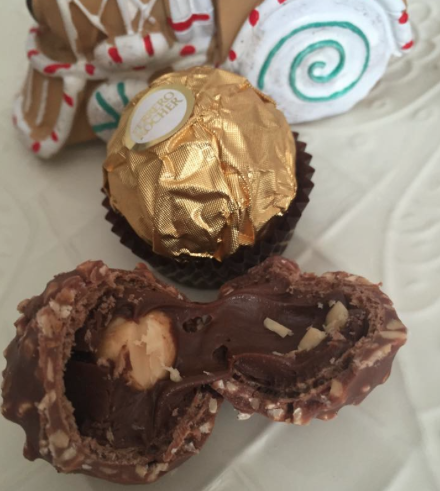 Original Forrero Rocher-
 Crisp hazelnut and milk chocolate covered specialty, with a smooth filling and whole hazelnut.
I am not sure if there is one person on this planet Earth that have not tried the original Forrero Rocher chocolate. And if you haven't get your bottom off the computer or phone and head in store to buy some, I am sure you will never look back after trying them. 
Still my favorite of the lot, and not sure anything could beat it to be honest! A little indulgence at a very affordable price.
Just looking at the chocolates they are a work of art within themselves, and so much effort has gone into making these super delicious chocolates. 
If this isn't in your budget then Forrero Rocher also have that covered. I think the next product would make for a great gift if you are buying for a lot of people- say like an office full, a classroom full or if your like me as an alternative to candy canes hehe. 
This product is:
Ferrero Rocher Star $3.49 (3 pralines)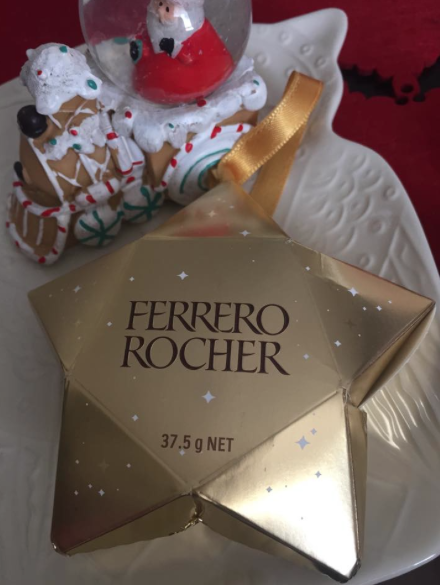 The perfectly formed golden star-shaped casket feature 3 classic Ferroro Rocher pralines and makes an elegant, yet edible addition to any Christmas tree. 
Who needs candy canes anymore? Not us that is for sure. Our tree will be decorated this year with these stars rather then the old shabby candy canes- plus the girls have no idea there are chocolates inside (winning)!! 
Bring a little chocolate indulgence to a loved one this Christmas!
http://www.ferrero.com.au