Woo HOO! It's that time of the month again! That's right! It's BoxyCharm time!! BOXYCHARM is a beauty box subscription service that surprises you each month with the best beauty products from popular and chic brands. From nail care, to the hottest hair products, to the top skin care and cosmetics, each box will have your head-to-toe beauty needs covered! So each month, subscribers like me receive a box filled with full size and luxury size beauty samples from their preferred well-known brands.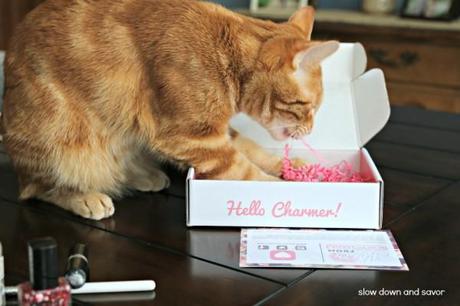 The subscription is $21/month, and that price includes shipping and handling. So while it's a bit more expensive than some of the other $10/month subscriptions out there, it's because this box contains 4-5 full-sized products every month, and sometimes 1 deluxe sample sized item.
If you are interested in subscribing, you can do so HERE. I'll put a link at the bottom too, in case you decide you feel like subscribing AFTER reading all the awesome stuff I'm about to share with you.
Check out my unboxing video here:
Now that you're all caught up, let's get right into it, shall we?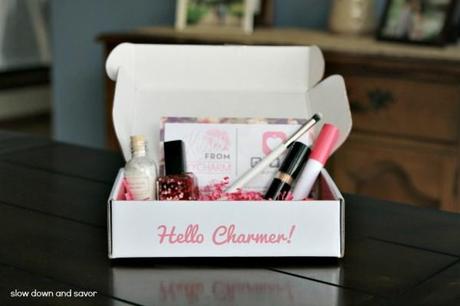 The official February "Kisses from Boxycharm" box arrived on Wednesday, Feb 18th, and I was so fired up. I had seen a few sneak peeks from the BoxyCharm Facebook & Instagram pages, as well as 2 unboxing videos on YouTube, so I pretty much knew what was in store for me, and that was awesomeness.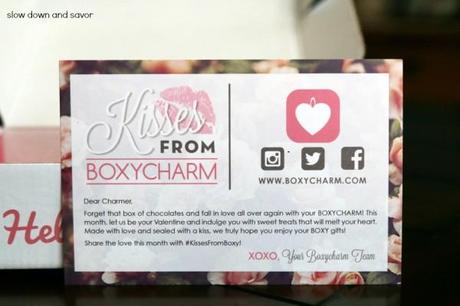 This month's box contains:
Mullein & Sparrow Facial Mask – Deluxe, $15
ncLA Nail Laquer in Heart Attack – Full Size, $16
Jing Ai Velvet Shine Lip Jewel in Pink a Boo – Full Size, $22
Mistura C-2-P Complexion Corrector – Full Size, $36.99
Modern Minerals Duo Fiber Mini Round Brush – Full Size, $15
1) Mullein & Sparrow Facial Mask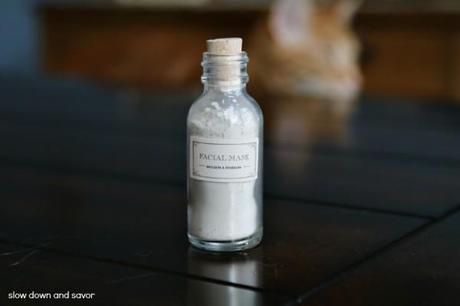 Now, I've never used a powder face mask before, and only recently started hearing more about them, and when I saw the sneak peek of this product, I was really amped. This is the only deluxe sample sized product in the box, and I have to say, it's a hearty sized sample! The best part is that you don't use a whole bunch of the product in order to create the paste with water that you spread over your face to achieve the mask. Plus, the packaging is ADORABLE!!!
I was also impressed with their key ingredients:
Kaolin Clay – Helps to stimulate circulation while gently exfoliating and cleansing skin. As kaolin clay does not draw oils from the skin, it can be used on dry skin types without negative results.
Rhassoul Clay – Contains higher percentages of silica, magnesium, potassium, and calcium, than other clays. This makes rhassoul clay famous for its unmatched ability to absorb impurities from the skin and improve skin texture without overdrying.
Bentonite Clay – Draws excess oils and debris to the surface of the skin, boosts circulation to tighten skin and stimulate blood flow, and whisks away dead skin cells that can clog pores.
Rose Powder – Helps to balance the skin. Rose powder has astringent and antibacterial properties, but does not strip the skin of moisture.
Unfortunately, it doesn't smell as wonderful as I had hoped. I really thought it was going to be a magnificent aroma, full-bodied with fresh herbs, since the description said that it was packed with powerful and aromatic herbs. It didn't smell very herbaceous. At all. In fact, the initial smell sort of turned my stomach. I can't place it, so it's nearly impossible for me to describe. Maybe it's just my pregnant nose not liking it, but I'm just glad that the smell didn't linger much longer after applying it to my skin.
I also found it EXTREMELY messy making the mask in the palm of hand. I'm not sure if there's a better way to go about doing it, so let me know in the comments section if you know of a better way to mix the powder and water together.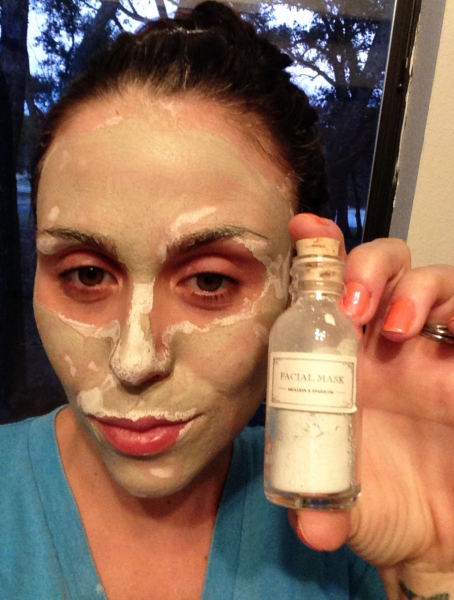 And even though it required a whole heck of a lot more product that I had anticipated in order to create enough paste to cover my whole face, mask-style, I am still happy with the size. I used about 1/3 of the small bottle, so this bottle has about 3 uses, which should translate to 3 weeks. Like I said, that's pretty great considering the size of the sample!
Once dry, the mask got really tight on my face, and turned from a pale green to white, which I liked. Made me feel like I was wearing a traditional mask, letting me know that I did indeed mix the powder and water together correctly.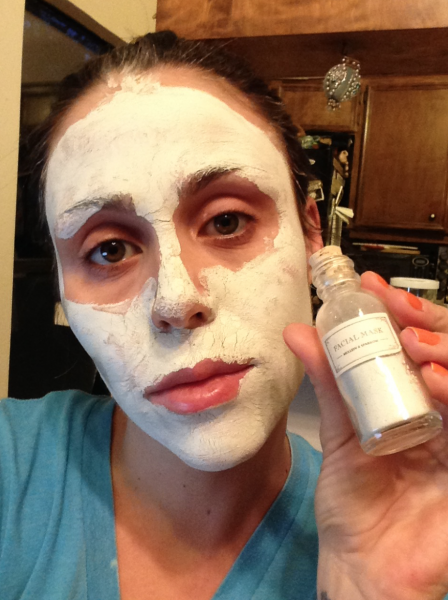 After leaving the mask on for about 20 minutes, and rinsing with warm water and then a cool water rinse as their website suggests, my skin was left feeling tight, in a good way, soft, smooth and refreshed. The clay mask was SUPER gently and pleasantly exfoliating.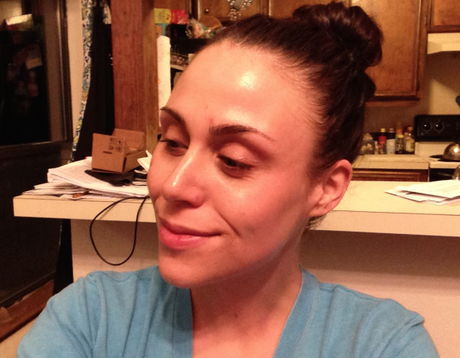 While pores aren't exactly a problem issue for me, the ones that I DO have around my nose area were COMPLETELY annihilated. Gone. My skin didn't feel at all dry, and I had a nice glow. I dig it.
2) ncLA Nail Laquer in Heart Attack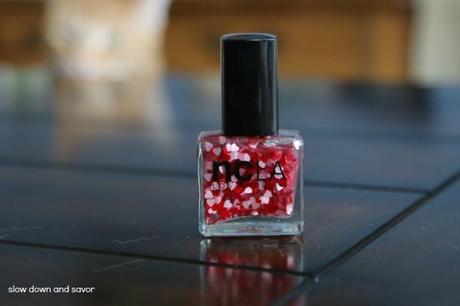 This was another product that was part of their sneak peeks in the weeks before the box shipped out, and was a product that I personally liked. I just LOVE the clear polishes with cute shapes in them that I've been seeing more and more recently, and thought that little pink & red hearts would be super cute! Sadly, this product received a whole lot of flack on the BoxyCharm Facebook page, mostly because people were REALLY upset that they were going to be receiving a Valentine's Day themed polish AFTER Valentine's Day. Boo. Hoo. Hearts are cute all the time, and I can see myself wearing this all year round. Yes, it would have been nice to have it in time for the holiday of hearts, but that doesn't mean that it's now all of a sudden null and void, does it? No. Anyway, it's super cute, and I'm a big fan. I would swatch it for you, but… I just got my pretty orange sherbert mani and I don't want to put hearts on it. Sorry.
3) Jing Ai Velvet Shine Lip Jewel in Pink a Boo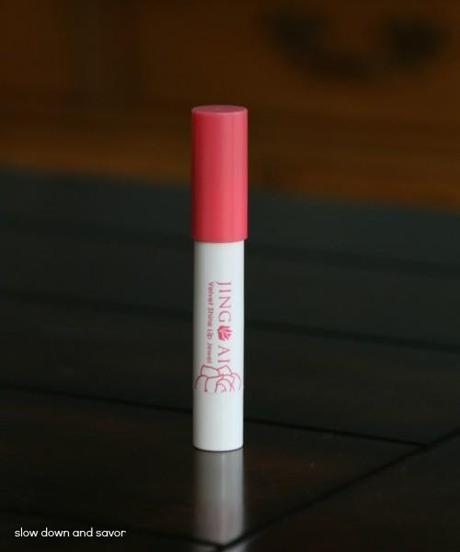 This Velvet Shine Lip Jewel chubby lip crayon really gives your lips a high dose of highly pigmented, long lasting lip color. The formula is infused with 100% natural macadamia seed oil, shea butter and jojoba seed oil for a glamorous and hydrated look.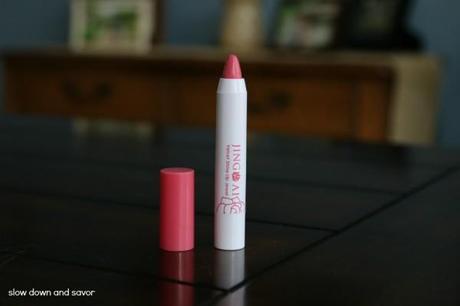 I was REALLY surprised by this product. First, it applied seamlessly, super pigmented, without any skipping or patchiness. Second, it doesn't smell offensive at all, or smell in general. Third, it's shiny AND decently long wearing. I was able to notice it stayed on for a couple hours without needing any touch ups, but that's not to say that you shouldn't throw it in your purse for touching up. You will need it, especially after eating or drinking. So, while the color is a bit bright and not exactly "my" color, I still like it. You can see the color on my lips in the unboxing video I posted above. 
4) Mistura C-2-P Complexion Corrector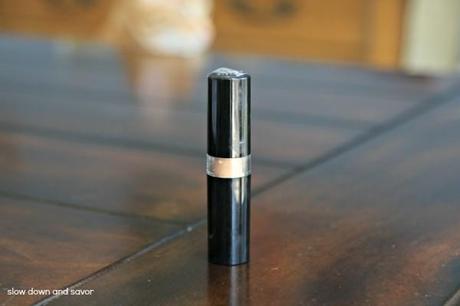 I totally broke this little guy in my unboxing video, but because the formula is so creamy, it was easy to just stick back in the tube, and mold back into shape. With that said, this product confuses me quite a bit. The Mistura website says that the product is a cream-to-powder complexion corrector that blends easily with moisturizing benefits and amazing coverage results. Rich with coconut oil and shea butter, the smooth silky-matte finish leaves your skin hydrated and blemish-free. The super-light formula instantly masks redness and broken capillaries and hides imperfections with one touch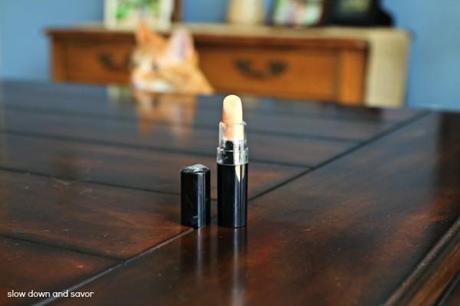 The description also says that it's ONE shade for ALL skin tones. How? I mean, it matches MY skin tone, and it is really cool, and helps with under-eye darkness under foundation, but how does this work for other skin tones? I'd be super interested to hear how it works for you! Please leave your experience down in the comments below!
5) Modern Minerals Duo Fiber Mini Round Brush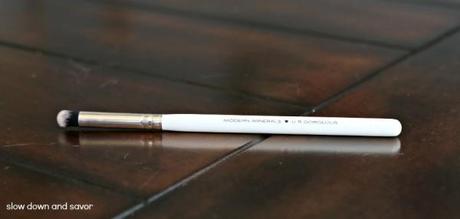 I love getting brushes. A girl can never have too many makeup brushes. I'm serious! And this brush is awesome. First, it's really cute! I didn't notice right away, but on the handle is a little inscription saying, "U R Gorgeous." Aw, thanks!!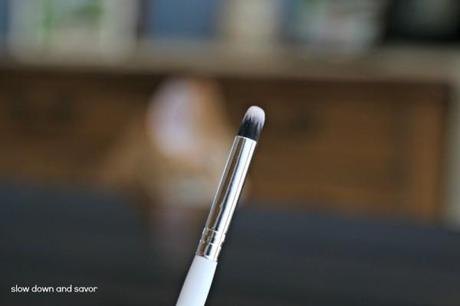 The brush is pretty good. It's dense, soft and really packs on color. I like how the tip is white, so you can actually see how much product you've picked up on your bristles, and it's a great size for getting deeper colors into the outter-V area, as well as in the crease, inner corner and lower lash line. So far, I like it. I wish the handle felt a bit more substantial, but hey, it's not a bad brush!
So all in all, this box was awesome, and I am honestly happy with every item inside! My favorite things have got to be the brush and the nail polish. The mask is pretty cool, even though it requires a bit more product to create enough paste for my whole face, and doesn't smell as awesome as I'd hoped. But the results are pretty amazing. The lip crayon is great, but not so much my color. I DO think it'll be gorgeous for spring, and that Mistura C-2-P Complexion Corrector is still something that I need to play with before really deciding on a verdict. The jury is still out there.
Want to subscribe? You can here!
What's YOUR favorite item from this month's BoxyCharm subscription?