As this is my first beauty box subscription I am going to spend a little extra time talking about the signing up, ordering and delivery process than I normally might in case there are some of you out there still undecided about the whole beauty subscription service idea.
I'll link you to my original post HERE when I signed up to
Lust Have It
. I found the process of signing up very simple, quick and easy. I was sent email confirmation straight away confirming my subscription which I appreciated. It's good to know when your order has successfully been received.
One downside is that there doesn't seem to be the choice you personalise your subscription. I believe other subscription services have this choice. It would be good if Lust Have It could include this in the future.
I am very happy with the correspondence I received. I was kept up to date with dispatch and provided with tracking for my parcel.
Now onto the
February box
....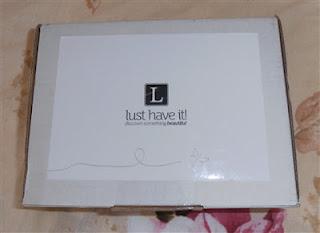 I am somewhat disappointed with the packaging. I was hoping to receive the items in a box I would be able to reuse for storage. In my next photo you can see I can't really re-use this one.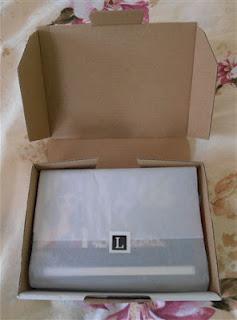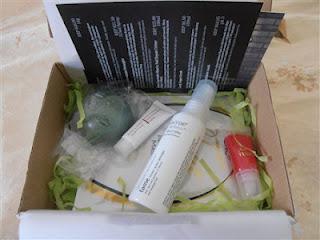 The presentation is very good. This is not the be all or end all for me but presentation DOES go a long way for overall satisfaction. As always there is a card included listing the products you have received, a little bit about each of them and RRP for the full-size version. Also included this month is a card from Skin Solutions detailing the type of skincare you should be looking for in your age bracket (I received 20's).
Onto the
products
...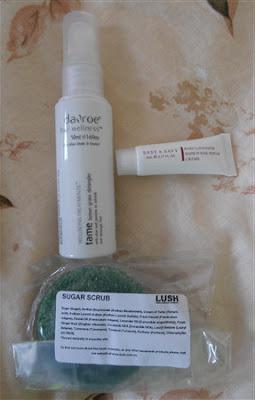 Davroe Lemongrass Detangler 50ml
Sasy n Savy Rose Lavender Hand n Nail Repair Cream 5ml
LUSH Sugar Scrub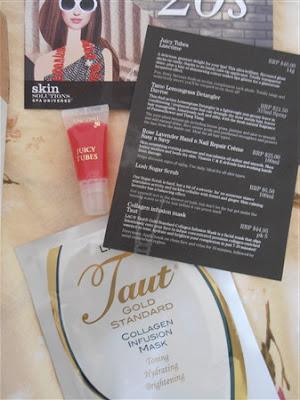 LAC Collagen Infusion Mask x 1
Lancome Juicy Tube 7ml
Information cards detailed as above 
It was a nice little selection of products this month. I will be happy to try all of these products out. If you'd like a review of any of the items please leave a comment below. I wasn't completely wowed by this month's box but I wasn't unhappy with it either. I am going to see how next month's goes before I decide whether to keep up the subscription or not.