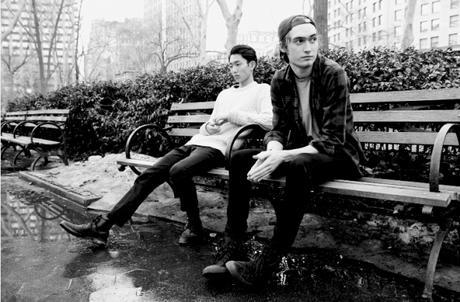 Do you ever hear a song and know instantly that it will be on repeat for the rest of the day (or week)? Well, that's what happened to us with The Ludwigs' "Heavy Hearts," and we couldn't help but share the wealth with this week's Feature Friday.
Although the four-piece group hasn't been together very long, lead singer and guitarist Sam Woods and lead guitarist Jae Kim were fatefully placed with each other as roommates their freshman year of college. Originating from Brooklyn, NY, The Ludwigs effortlessly combine emotional, powerful themes of youth into upbeat indie-pop songs, channeling some The 1975 meets Vampire Weekend vibes.
The Ludwigs immediately had me hooked with their infectious choruses and energetic guitar riffs that left me wanting more. The band is still in the very early stages, but be sure to check out their To Be Continued LP on SoundCloud. The LP only consists of two tracks so far, "Introvert" and "Heavy Hearts," but it's enough to keep us excited for what's to come.
In the meantime, the band is playing a few shows around the NYC area – some are even free! We highly recommend you check them out and be the first of your friends to know this next up and coming band. Who doesn't love bragging rights and unlimited amounts of street cred?
Filed under: feature friday, Features Tagged: bowery boys, feature friday, heavy hearts, introvert, the ludwigs, to be continued LP