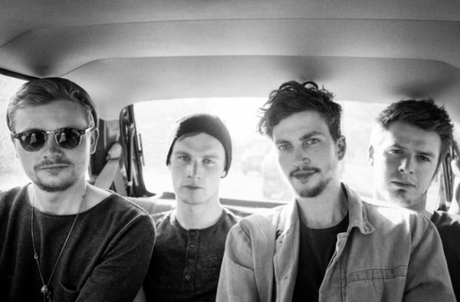 This Friday, we go back to a lovely little place we like to call London, home of The King's Parade, a funky new heart-wrencher of a band.  Fronted by Olly Corpe, the band has made great strides this spring.  The King's Parade released a new single, "Gathering the Pieces of a Broken Heart," as well as an accompanying video, and a few shows to throw into the mix.  But this is hardly new territory for the modern bluesmen.
The King's Parade formed in 2012 and released their debut EP Vagabond last year.  That kicked them off on a sold-out tour, and fueled their popularity even beyond the Hawaiian cruise ship they started playing gigs on.  The band is excited to be moving on up in their career, and the pure emotion behind "Gathering the Pieces of a Broken Heart" seems to be only the beginning for their ride this year.
Corpe describes how music influences every bit of his life, each memory seemingly marked by a specific song–something we at MCU can definitely relate to.  It's with that in mind that The King's Parade's songs become even more powerful, and well worth the listen.  For a taste of a refreshing take on modern blues (in this world of growing synth pop), check out The King's Parade on Spotify today.
Filed under: feature friday Tagged: blues, feature friday, music creates us, new music, the king's parade, vagabond