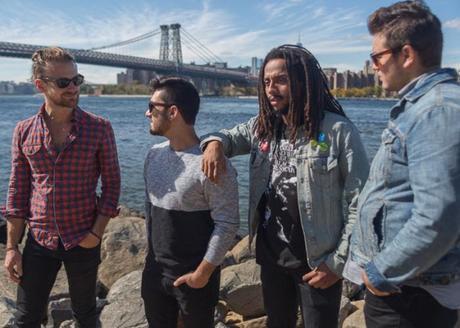 Feature by Sarah Spohn
Thaddeus Anna Greene brings together rock, roll, and soul in a neatly wrapped package with its latest album, Bleed, out September 30 via CONNECT- an invite-only artist development program with ReverbNation.
Formed in 2010 by Tj Maclin (lead vocals, guitar), Ryan Augusta (guitar, vocals), Matt DeRubertis (bass), and Anthony Foti (drums, vocals) in the home of the Rock 'n' Roll Hall of Fame, this foursome holds up to their area's musical landmark.  The Cleveland rock band utilizes blues influences, '60s guitar sounds, keys, and tambourines, buzzing up a unique sound that we haven't heard in decades.
With lyrics of love and loss, Thaddeus Anna Greene is able to combine '60s-sounding guitars with blues melodies and modern-day arrangements. The self-described psych-rock band creates an intersection of old-timey soul in today's accessible and diverse music world.
With the powerful lyrics and a somewhat political subject matter of the title track, the band manages to transport you to the soulful days of the seventies. In a time where today's problems are becoming more evident–with race, inequality, brutality, and politics–bringing back the heavy topics through song seems more important than ever. Thaddeus Anna Greene is there to help us sift through the remains of the days where music meant something. The days when music moved people. The days when we could get lost in textural guitars and emotionally-rich soundscapes.
The group's ability to write and play poetic, passionate, soulful tunes of yesteryear in today's world of chaos is both surprising and inspiring.
Filed under: feature friday Tagged: bleed, feature friday, music creates us, new music, thaddeus anne greene