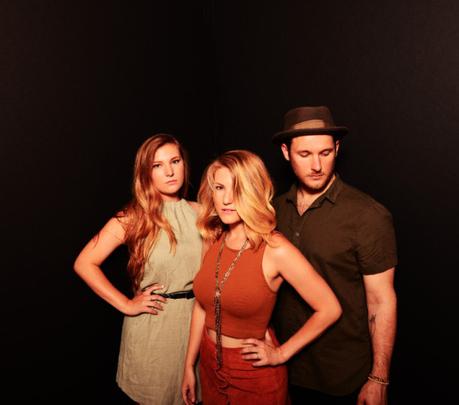 Saint Adeline, a pop/folk group made up of siblings Drew, Kasie, and Chloe Gasparini takes our spotlight today, especially in anticipation of their debut EP.  The San Fran to New York transplants formed their band almost by accident, as the siblings had all been pursuing their own artistic outlets.  But after a fateful night performing together on stage for one of Drew's shows at Webster Hall, Saint Adeline just fell into place.
Perhaps it's their familial bond, but there's no denying these musicians have a harmonious sound that just works.  Their talent is evident not only in obviously well-trained vocals, but also a unique knack for songwriting, and assuredly Drew's composing background.
Their latest release is their third off of the new EP (due out Monday, September 19), entitled "STATUS QUO."  Saint Adeline is quite proud of the song, which highlights the mentality of living for today.  In an exclusive quote, here's what Drew had to say:
"The song was inspired by a subway ride where I overhead a vapid conversation some teenagers were having.  They had this sense of entitlement mixed with apathy that I reacted to, and I got off the train and wrote 'STATUS QUO.'  Once the song was written, we took it into the studio with one goal in mind:  LET LOOSE.  Our producer, Justin Goldner, really has a vision when it comes to playing with sounds–and because of that vision, we went from having a catchy pop tune to having an anthem that slams into you like a truck."
The song is definitely striking, and the background given–especially for someone living in New York–gives it heightened meaning.  You can listen to "STATUS QUO" here, and get excited for the release of the Saint Adeline EP next week!
Filed under: feature friday Tagged: music creates us, new EP, new music, saint adeline, status quo