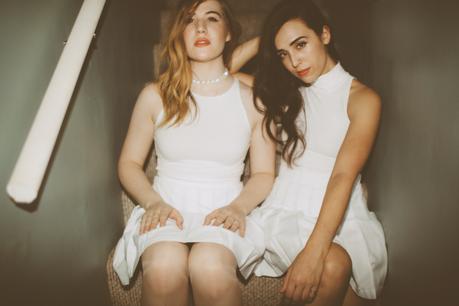 Poema is an innovative sister duo, transplants to Nashville, TN from Albuquerque, NM.  The girls, Elle and Shealeen Puckett, have seen their fair share of ups and downs in the music industry.  They started their passion and career at a young age, and making it in music has always been their dream.  Tooth & Nail Records started them on their path, but after parting with the label in early 2014, Poema was ready for a change.
That change came with the recording of a new EP, Pretty Speeches, in Nashville.  Due out July 10 and produced by Nolan Rossi, the EP is a new direction of music for the sisters. Seeking inspiration from Nashville itself, Poema set aside all distractions and laid down no boundaries as they returned to their poppy undertones on Pretty Speeches.  With a refreshing use of guitar and keys, Elle and Shealeen defy the odds of starting anew.
Beginning with the single "Go Away," released in March, Pretty Speeches is a five-track journey showcasing the highs and lows not only of Poema, but of the music industry itself.  You can download "Go Away" now here, and look for Pretty Speeches July 10.
Filed under: Feature Friday, Features Tagged: feature friday, go away, music creates us, Nashville, new EP, new music, new single, poema, pretty speeches