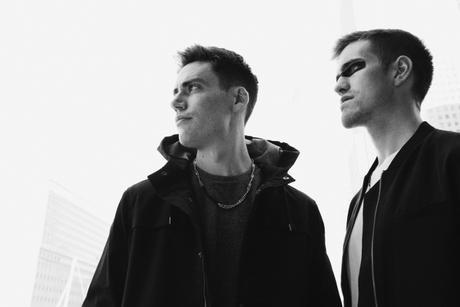 Feature by Ellie Garno
(In)Body recently released the first single "Safe In Your Heart" off their debut album, Becom(in)g, due out this April.  The Los Angeles indie pop duo is made up of Ryan Amador on vocals and Daniel Weidlein on instrumentals.  "Safe In Your Heart" tells the story of Amador and his journey to LA in California soul.  Oh, and it's already earned the 2013 ASCAP Robert Allen Award for Songwriting.
Amador and Weidlein first got together at a gig in Venice Beach, but both saw solo success before: Weidlein, in jazz, alongside the likes of Bob Mintzer, Frank Wess, and Joshua Redman interestingly enough (he was even in Whiplash!); and a director, singer, and songwriter, Amador was featured by Jezebel, Sirius XM, and The Huffington Post.  The range of music that (In)Body comes from can be heard on "Safe In Your Heart," which's filled with everything from a church choir to Imagine Dragons-like percussion.  But these elements are extra compared to the lyrics ("I'll be safe in you," mostly) that the voice of Amador brings to sound.  I'm all for it, (in)body and soul.
Filed under: feature friday Tagged: feature, feature friday, inbody, safe in your heart