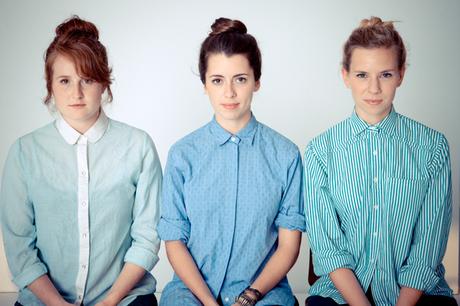 Making waves this summer in New York City is folk band Ember Isles.  The three-woman group is a vision of serenity with their smooth vocals and range of instrumentals.  From ukulele to electric guitar, these ladies encompass the perfect homey but modern sound.
The group consists of Hannah Read, Tamsin Wilson, and Megan Lui, and though they are based in Brooklyn, they draw influence from roots in Scotland, England, and California.  Invoking the classic feel of folk music, Ember Isles creates music that is both calming and at times haunting. Drawing beauty from sadness comes their single, "John James," showcasing their style of lyrical storytelling.  Their latest single, "Love Song," is another tale of its own, tinged with a sense of hope, and described as a kind of song to escape to.  Ember Isles embody the idea of a dreamer, in both their music and in life, surrounding themselves in metaphors and a sense of hazy reality that is quite intriguing.
With a sound similar to The Civil Wars, Ember Isles definitely have a place in the industry, and plan to dive in with their debut EP, Embers, recorded by Dan Knobler of Mason Jar Music.  The trio recently played a show at Rockwood Music Hall in New York to promote "Love Song," and is planning an album release show in August, as well.
You can listen to their current singles on Soundcloud now, and download "John James" on bandcamp.
Filed under: feature friday, Features Tagged: bandcamp, ember isles, feature friday, john james, love song, mason jar music, music creates us, new music, soundcloud