Okay, consider this a cheat post, but actually…not really because I'm primarily fasting from beauty blogging.  The main reason why this could not at all wait 'till next week is simply because almost everyone who is fasting will be done by the end of the month or even next week…which would render this post with food suggestions useless.  I know there are many of you like myself who are anemic and cannot go  on "food-less" or 100% juice fasts.  In fact my doctor, Roberto Salvino (Spanish for "savior"), who actually saved me from my second bout with dengue over a year ago said because of my blood with naturally low hemoglobin I'm required to eat "lean" meat (fat and offal NOT recommended with the exception of liver) at least 3 times a week with iron supplements.  So this January, actually at the beginning of this week I began my "fast" by trimming indulgence and sticking with this more or less balanced diet to detox and lose Christmas weight.  I put on 3 or 4 lbs because of no exercise last Nov/Dec and mainly because we ran out of oatmeal for breakfast and Tipco juice so my morning meals were greasy again, that detail of a different breakfast, plus instant Milo instead of Tipco juice, with no exercise every morning really put on the pounds.  I'd like to call this post "Fast" Food, pun intended, so it's basically just a purer, healthier selection of eats that actually taste good in my opinion (you don't have to agree about V8, I know more than half the world hates tomato juice, but I love it). I originally planned to stick with this lot just for a week but I now plan to extend 'til the end of the month so it will make more of a difference.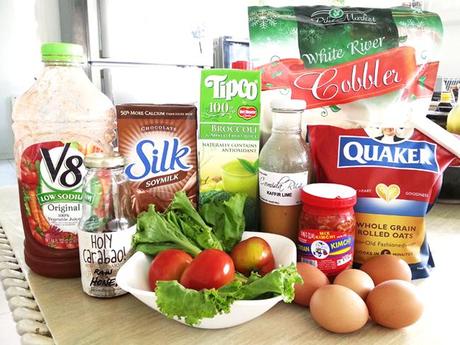 V8 Low Sodium Original vegetable juice  – 8 veggie juices in tomato base, I add Tabasco to spice it up, don't get this unless you like tomato juice.

Silk Chocolate Soy Milk – No GMOs, so I get my chocolate milk fix without actual "dairy", my brother likes the Vanilla flavor in a purple box.  This is so, so yummy and it tastes like the right kind of chocolate.


Tipco Broccoli  juice – This is NOT yucky at all, looks suspiciously green BUT tastes just like apple juice the kids at Brent school love Tipco. 

Comida Rica Kaffir Lime Dressing – THIS makes me eat lots of salad, if you're tired of European vinaigrettes try this Asian inspired one available from Echostore.  I can safely say we've gone through about nearly 10 bottles of this stuff in the past few months.  It's the perfect vinaigrette partner option along with that roasted sesame Asian cream dressing everyone likes.  Now the vinaigrette people can be happy, too.

Quaker Whole Grain Rolled Oats – If you've hated oatmeal all your life it might just be because you were eating the instant variety…that used to make me gag, I had bad memories of being force-fed instant oatmeal by some yaya.  When I tasted REAL oatmeal that wasn't instant I started eating oatmeal everyday and I shed unnecessary flab just by changing my breakfast.  Mix it with honey and fruits if you still can't take oatmeal "neat".

Sweet Spring Country Farm Organic Salad Greens – In case you didn't know my uncle, Kiko Pangilinan leveled up from Senator to Farmer and our family now has regular access to organic salad greens every week.  We buy our fresh salad greens from him, here the tomatoes are also from his farm in Alfonso, Cavite.  Check out their Facebook page here. "farm stall is located at Robinson's Summit Ridge along the Tagyatay Nasugbu National Road in Tagaytay city. We are open Fridays, Saturdays and Sundays from 10am to 8pm." Mobile: 0932 846 1572 Email: [email protected]

Kimchi – Korean kimchi (spicky pickled cabbage) always adds lots of excitement to my meals.  I like anything pickled actually.  This gives added oomph to mealtime especially when seafood is the main.  A simple pickle you can put together that I ALSO love which is more Tagalog is radish ceviche (ensaladang labanos) the thin, shaved or sliced white radish (labanos) slices steeped in white vinegar , salt, a bit of sugar and pepper, together with some sliced red onion and tomatoes to make the dish blush a bit, an added touch would be chopped spring onion, just a little.

White Fish -  You can switch for local fish like boneless bangus (milkfish) which I super love or tilapia.  This one here is River Cobbler filets from S&R, huge double filet in a Php150 frozen pack. 

Free range/organic eggs – In case you have a sudden hankering for meat eggs are the lesser evil. You can whip up something quick with them or use them in vegetable dishes for added body in dishes.  You can go yolk-less and stick to using the white if you'd like to restrict yourself more from dairy.
I've allowed myself mainly seafood and chicken for protein, lots of fruits & vegetables, salad, real (not instant) oatmeal sweetened with organic honey, pure juices, water,  and soy milk.  I am forbidding myself to take heavy red meat dishes, instant noodles, sweet junk (chips I don't really like, anyway, except for Piknik), pastries.  carbonated/softdrinks, and powdered drinks are a complete no-no.  What I've forgotten to include in the picture is Apple Cider Vinegar and Tabasco which I use a lot for seasoning in conjunction with some of these.  For those of us who still need to eat but want a safe detox I think sticking to these is great. For munchies dried fruits and nuts are a good option but I try to drink juice or water instead when I feel the urge to munch, less calories.  Just remember it's much better to consult your doctor if you've never drastically restricted yourself from certain foods and if you have vitamin supplements don't quit those during the fast.  This is pretty much a low sodium balanced selection with no red meat. What do you think?  Have you already jumped on the fasting bandwagon?  Would you much rather stick to a selection of "fast" food as I have rather than go food-less?