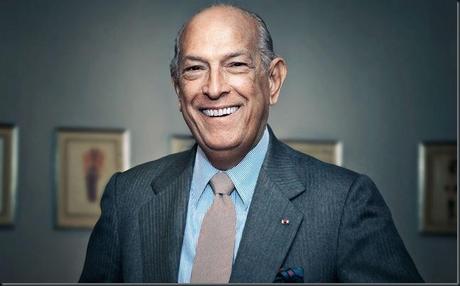 It's a day when men named Oscar are in the news. The Dominican fashion designer Oscar de la Renta has passed away. He was one of the fashion designers of choice for many rich, powerful and influential ladies, his first real well know client being Jackie Kennedy. His creations became a byword for elegance and beauty and many said that he had a knack for making women look and feel beautiful.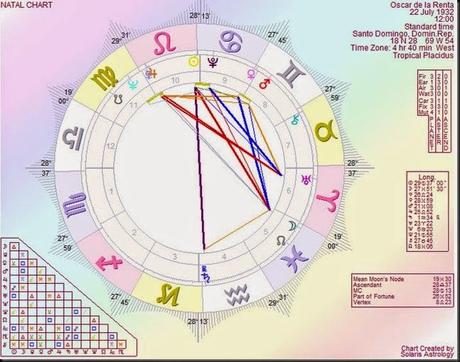 He was either a Sun Cancerian or maybe a Leo if he had been born very late on 22nd July 1932 in Santo Domingo (no birth time). He had a Sun Saturn opposition, showing to be a serious and disciplined man but one with much ambition too. His Jupiter Mercury in flashy Leo and Neptune in careful Virgo conjunction indicates a creative and imaginative mind who wanted to make a worldwide statement through his creative and imaginative ideas that would be seen in the spotlight. This conjunction made a set of trines to Uranus, indicating a man with a lot of talent and innovation at his fingertips.
The Sun probably in Cancer as well as Pluto in this sign trine to the Moon in creative Pisces shows a love for and maybe a bit of an obsessional feeling for women. This is a lovely set of water trines, deep feelings and his emotions in tune with his natural energy. The Moon also makes a sextile to Saturn, showing that the inspiration of women and connections to the public and to females would be part of his work and career.
The very creative Moon is also in conjunction with Venus and Mars in Gemini, the sign of being good with the hands in making things. This is a conjunction that is also excellent for making and creating designs. The squares here from Venus and Mars to the Moon are feisty and fun, always on the go and very flirtatious. This man would have been a real charmer. Venus here is sextile to Jupiter and Mercury emphasizing the accent in this chart for design, beauty and fashion. Suave and sophisticated and in touch with his feelings, he was a very creative man who truly connected with the women of the world.
He passes into spirit very interestingly just before the Solar Eclipse on Thursday at 0 Scorpio which would have made a direct square to his natal Sun at 29 Cancer - did this passing pre-empt the eclipse?