Like any good food-entertainment television junkie, I'm a huge fan of Bravo's Top Chef. One of my favorite seasons was the sixth season, featuring the Voltaggio brothers' face-off for the coveted title of Top Chef. Bryan ended up overtaking his brother Michael, and secured the crown.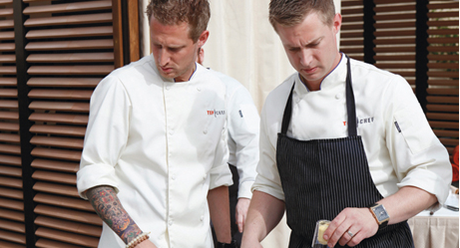 Ever since the season aired, I maintained my fan-ship of the two Voltaggio's, and was excited to be moving to Baltimore, the home of Chef Bryan and a couple of his restaurants. One of which is Family Meal, a (go figure) family-friendly spot serving up comfort food right on the Inner Harbor, just a short 20 minute walk from our home. Hello!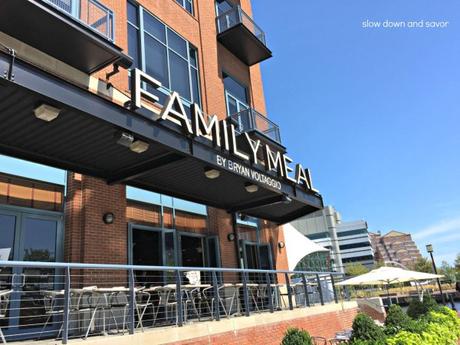 So on a beautiful afternoon last weekend, my family and I decided that it was time to visit Family Meal, for - and please excuse this - a family meal.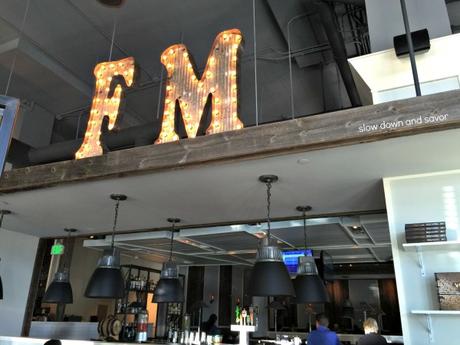 We arrived during brunch, and were told the wait would be 30 minutes. Michael (my husband, not Voltaggio,) Jack and I found a seat on a bench while Major went and played with their giant chalk board.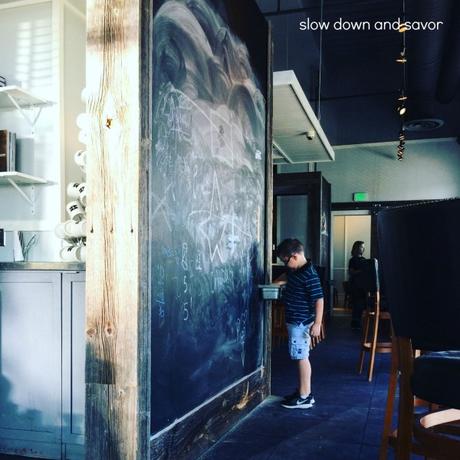 A little less than 30 minutes later, we were lead around an expansive and fully-stocked bar to a comfortable booth.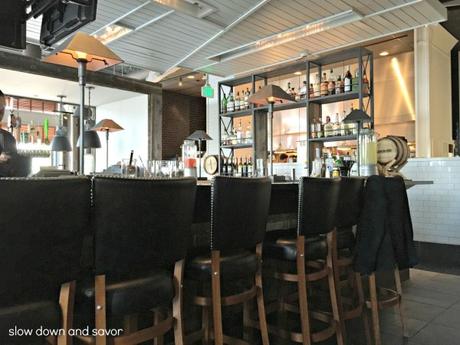 Menus were passed around, and we were left to take it all in.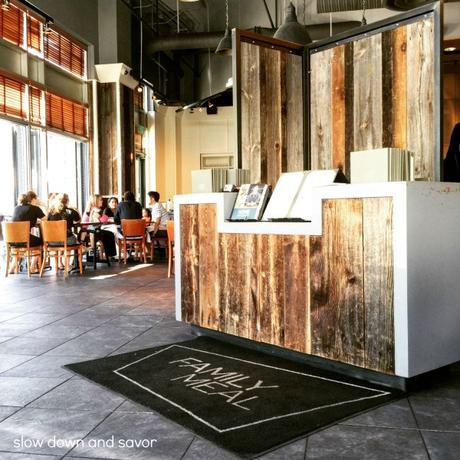 Now, when we made our way from the waiting bench to our booth, I eyed a man eating fried chicken out of a bright yellow chicken-shaped dish. Something made me just WANT that chicken just so I, too, could eat out of a bright yellow chicken dish. It looked fun. And exciting. What can I say? I'm a sucker for that kind of thing.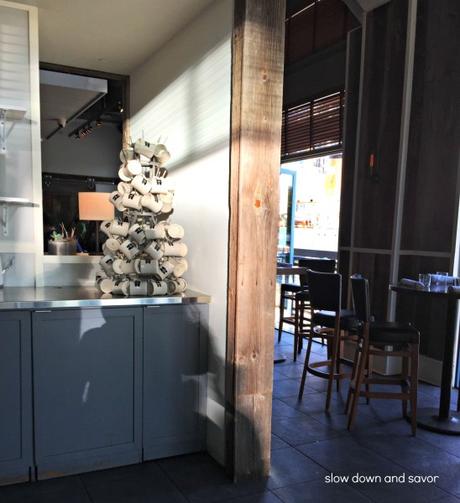 Our waitress was prompt in arriving, explaining the menu and answering any and all of our questions.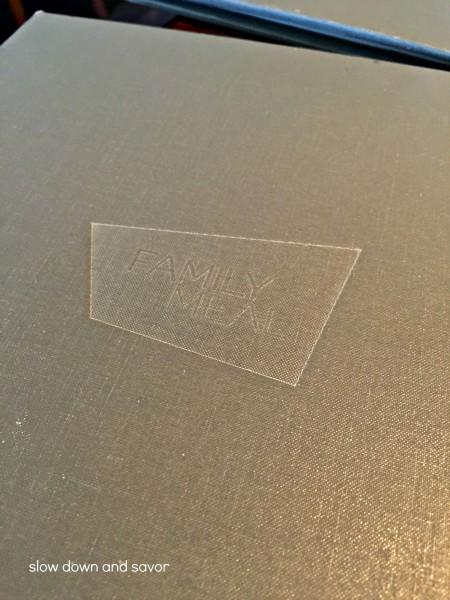 Major ordered a strawberry lemonade, which by the way was awesome since it was made with fresh, real strawberries. Michael went with a draft beer and I decided to try one of their specials, the Chef's Punch. I'm still unclear what all went into the Chef's Punch, but I do know it had some sort of tropical taste and had some rum in it. It was weird. It was thick. I couldn't put my finger on every flavor in there, but it was strangely satisfying.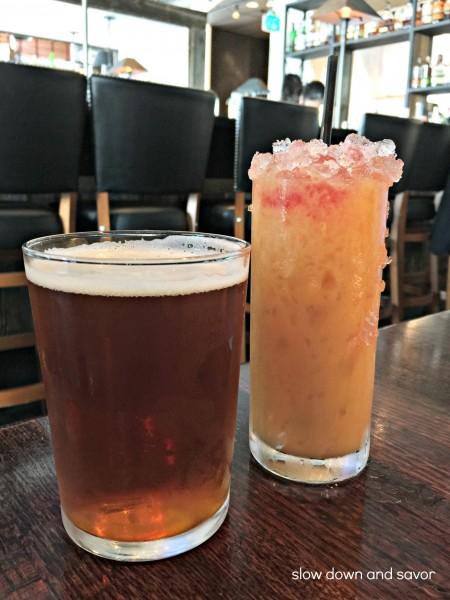 When it came to figure out what we were going to order, we desired to start with the crab dip, but due to an influx of big parties that came in just before us, they had already 86'ed the dip. Our waitress suggested their chicken pot pie fritters, or their onion rings. We chose the rings because someone (me) HATES pot pie.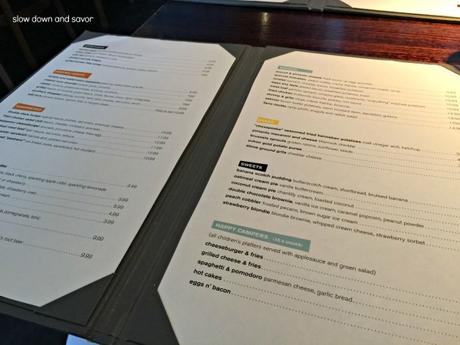 The onion rings are coated in corn flakes and fried to super crunchy perfection, and then served alongside a tangy and slightly spicy horseradish sauce.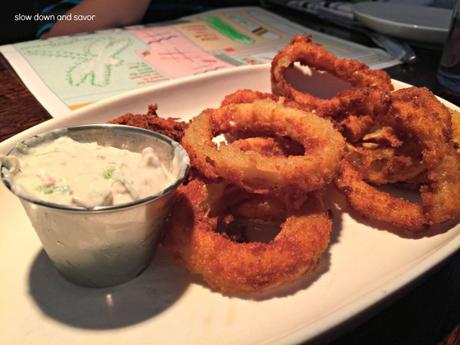 They were SUPER flavorful and ultra crunchy. Like super crunchy. And that sauce was delicious. It was a good start, that's for sure.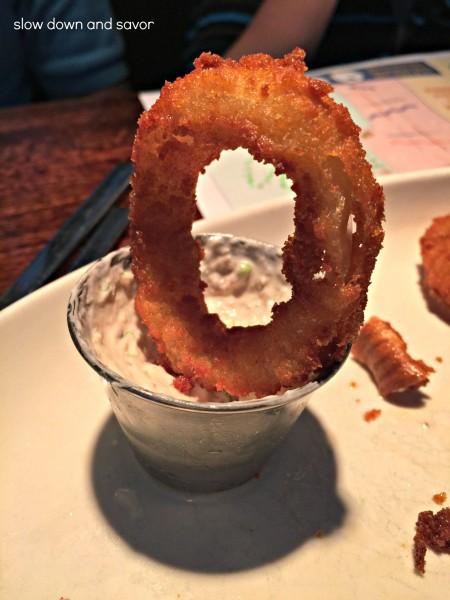 Since it was brunch, Major decided to take the breakfast end of the coin, and when our waitress returned, he ordered the happy camper's plate with hot cakes, syrup, bacon, and home-made apple sauce. Michael decided on another breakfast-y item, featuring their jalapeño-cheddar biscuits, grits, eggs and some added bacon. And as expected, I decided to get the fried chicken, biscuits and hot sauce in that awesome chicken bowl. I don't even like fried chicken. I only ate biscuits when I was pregnant, but that bowl... I had to have that bowl!!!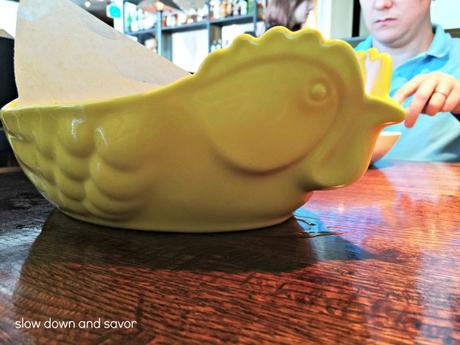 When our food came out, I was so happy to see the bowl. I'm so weird. But everything looked SO good. Not just my chicken, but the kiddo's pancake plate and Michael's biscuits too.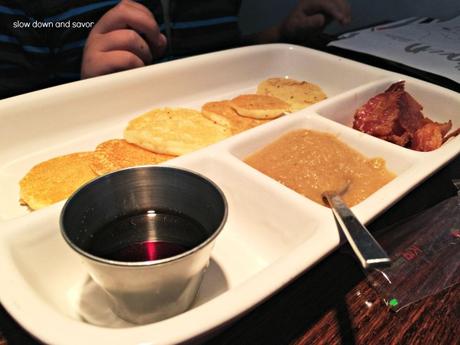 Diving right in, my chicken was heaven. It was juicy, cooked perfectly, flavored beautifully and was everything I'd ever hope for in fried chicken.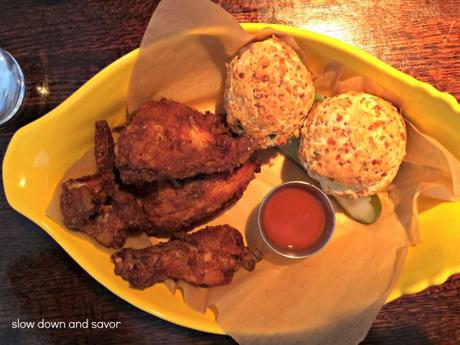 I mean, for someone that doesn't like normal fried chicken, i sure put down a lot. I'm talking a huge thigh, breast and wing, plus a biscuit and pickle. I saved the drumstick and the second biscuit in a to-go box for later, because it was that good.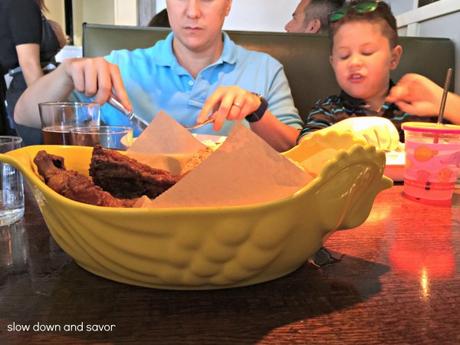 Major loved his hotcakes, and Michael was a huge fan of his pimento and eggs. The bacon was a welcome textural component. Otherwise, it may have been a little one-note in that department. Luckily the kitchen was willing to make that tweak to the original dish and throw it in there. I took a bite and it was rich, creamy and delicious. Yum.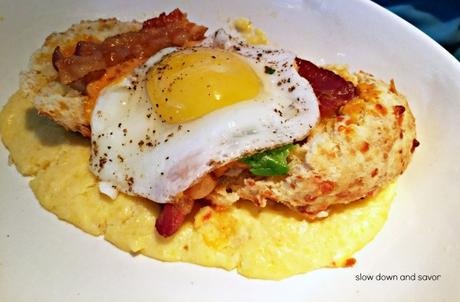 All in all, the three of us really had an excellent experience at Family Meal by Bryan Votaggio. And we'll be back for that crab dip. Mark my words. We will be back.
The Details:
Family Meal
621 East Pratt Street
Baltimore, MD 21202 (End of Pier 4)
(410) 601-3242
HOURS:
Lunch: 11:00am-4:00pm Monday through Friday
Brunch: 9:00am-4:00pm Saturday and Sunday
Dinner: 4:00pm-10:00pm Monday through Sunday
PARKING:
Pier 6 Parking Garage (Pratt Street) $2.00 discount for guests
Harbor Park Garage (Corner of Market Street & Lombard Street) $5.00 discount for guests