Since my husband and I became empty nesters, a few years ago, we have really mastered cooking for two. It was really hard for me to scale down the portion sizes because I was used to cooking for a family of four AND Bobby ate like a family of four himself

…growing boys, I tell you! It has been quite the change since they children moved out and we have made a healthy eating change but I am very proud of it.
My husband and I switch off cooking whoever comes home first or wants to cook that night. I love this because I used to cook every night. We have embraced cooking for two and making healthy and delicious dishes.
Here are some of our favorite two serving's recipes and some that even have leftovers to freeze or keep for lunch the next day.
Chicken Breasts with Mushroom Cream Sauce
Ingredients-
• 2, 5 oz. boneless, skinless chicken breasts
• ½ tsp. ground pepper
• ¼ tsp. salt
• 1 tbsp. canola oil
• 1 medium shallot, minced
• 1 cup sliced shiitake mushroom caps
• 2 tbsp. dry white wine
• ¼ cup reduced-sodium chicken broth
• 2 tbsp. heavy cream
• 2 tbsp. minced fresh chives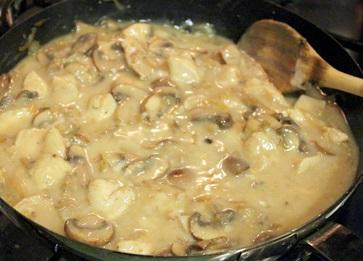 Instructions-
• Heat oil in a skillet and add the chicken breasts seasoned with the pepper and salt and cook until thoroughly cooked, remove and cover to keep warm.
• Add the shallot and mushrooms to the skillet and cook for about 2-3 minutes. Pour the wine in and simmer until almost evaporated. Pour in the broth and cook for about 1-2 minutes.
• Stir in the cream and chives and continue to simmer, add the chicken into the pan and turn to coat with the sauce. Enjoy!
Zesty Shrimp and Black Bean Salad- Super easy and quick
Ingredients-
• 2 tbsp. cider vinegar
• 1 ½ tbsp. extra-virgin olive oil
• 1 ½ tsp. minced chipotle Chile adobo sauce
• ½ tsp. ground cumin
• 1/8 tsp. salt
• 8 oz. peeled and deveined cooked shrimp, cut into small chunks
• ¾ cup canned black beans, rinsed
• ½ cup quartered yellow or orange cherry tomatoes
• 1 small bell pepper, chopped
• 2 tbsp. chopped scallions
• 2 tbsp. chopped fresh cilantro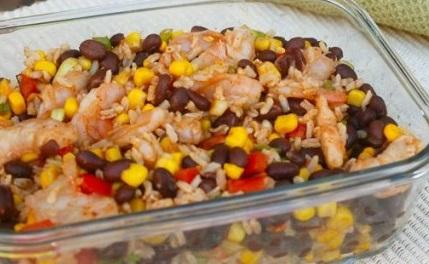 Instructions-
• Whisk the vinegar, oil, chipotle, cumin, and salt in a bowl. Add the shrimp, tomatoes, beans, bell pepper, scallions, and cilantro and mix. Enjoy at room temperature or serve cold.

Pork and Bok Choy Stir-Fry
Ingredients-
• 4 oz. rice noodles
• 6 oz. pork tenderloins, trimmed and sliced into thin rounds
• 3 tbsp. water
• 2 tbsp. rice wine
• 1 tbsp. reduced-sodium soy sauce
• 1 tsp. cornstarch
• 1 ½ tsp. canola oil or peanut oil
• ½ medium onion, thinly sliced
• 8 oz. bok choy, trimmed and cut in thin long slices
• 1 ½ tsp. chopped garlic
• 1 ½ tsp. Chile-garlic sauce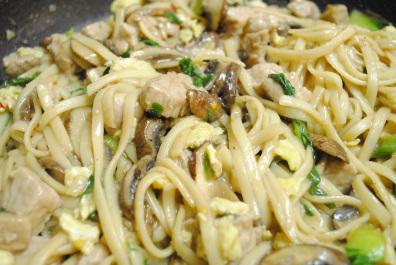 Instructions-
• In a large saucepan bring water to boil and cook the noodles according to the package instructions.
• Whisk water, rice wine, soy sauce, and cornstarch in a small bowl.
• Heat oil in a skillet over medium heat. Cook the onion for about 2-3 minutes and add bok coy and cook stirring occasionally. Add the pork, garlic, and Chile-garlic sauce and cook until the pork is thoroughly cooked.
• Add the cornstarch mixture and bring to a boil. Cook until the sauce is thickened and serve the pork and vegetables over the noodles. Enjoy!
Happy empty nest cooking for two!
Until next time,
Nancy