Fall and winter is all about the darker colors. Hair, makeup and even fashion. I've been wanting to dye my hair the prettiest plum/burgundy shade for a really long time. Its like this deep red with a lot of purple tones but it's really hard to get that shade unless you go to a great salon with a professional colorist. I'm not one to spend a lot on cut and color so I thought I'll look for the next best option: box dye.
I serched a lot on the internet what's the best plum/burgundy shade is out there and I found quite a few but when I actually went into Rite Aid, I instead went for this Garnier Nutrisse Ultra Color Nourishing Creme. It is in the shade BR2 Dark Intense Burgundy and is meant for naturally darker hair color. This box dye claims to lighten hair three times than a normal box dye would. 
I stood there on the aisle pondering if I should really get this box dye since I have been using Revlon Colorsilk box dyes and I have never tried the Garnier ones. I wasn't sure how well the color would do on my hair so I was quite unsure. I was, however, swayed by two things: the promise of it bringing intense color to my hair and the price (it was BOGO 50% off).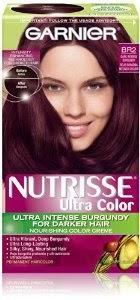 Because my hair is so long, (it's now around 3 inches past my bust and around 4 inches short of my waist on the back), I had to purchase 3 boxes. I usually go for 2 boxes but since it was my first time trying out this particular dye I wasn't sure how much product there was. It's better to have an extra on hand. I didn't end up using the third box and I returned it instead. 
The whole process was easy although a bit messy. I had to make sure there were towels all over the floor and on the sink. I naturally have dark hair but before dyeing it this intense burgundy shade I have a light brown hair, which you can see in my previous photos. I started with the tips of my hair, working in sections and lastly the roots. I wanted something brighter on the length of my hair and darker near the roots anyway so that when my hair grows out the transition from black to red wouldn't look that bad. 
I believe I had the dye on my hair for 45 minutes before rinsing it off. Beware when washing out red hair dye! It almost seemed like there was a murder in our shower when I was rinsing it off. Prepare dark towels for your hair as well. Mind you, rinsing is such a pain because you'll never know when you're done because the color just keeps washing off. You will never get the water to rinse clear. I was fairly surprised how soft my hair was after dyeing it because it usually is a little bit brittle unless I use my L'Oreal Extreme Repair Conditioner, but this time I only used the conditioner that came with the box and it was really good.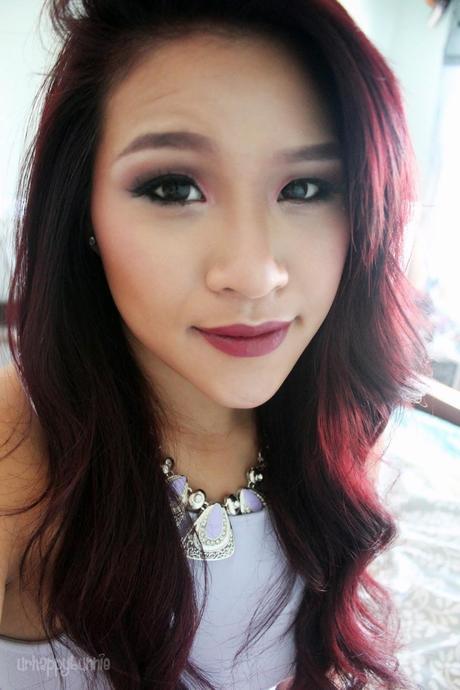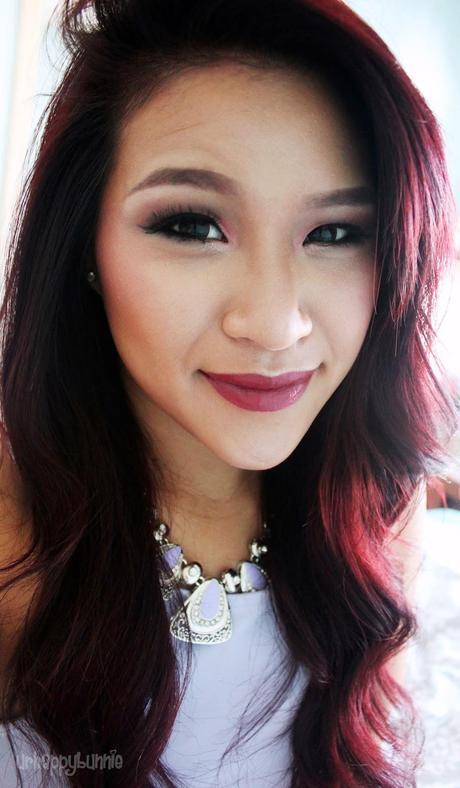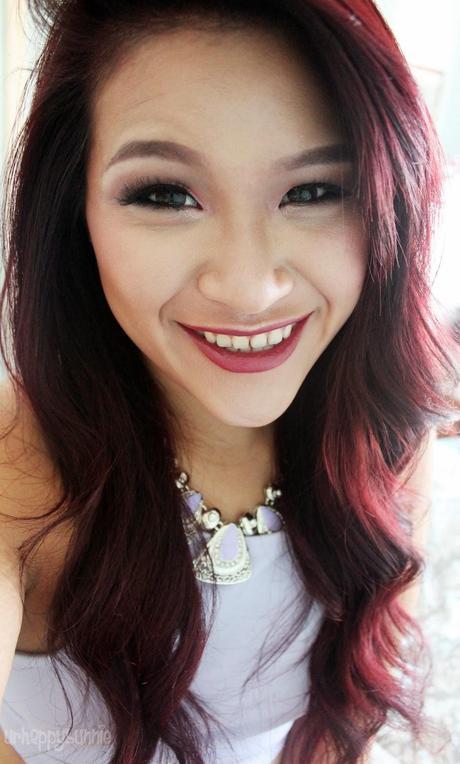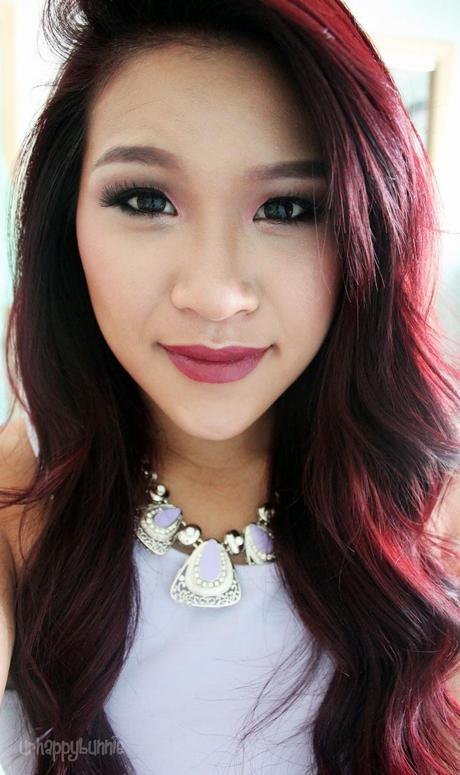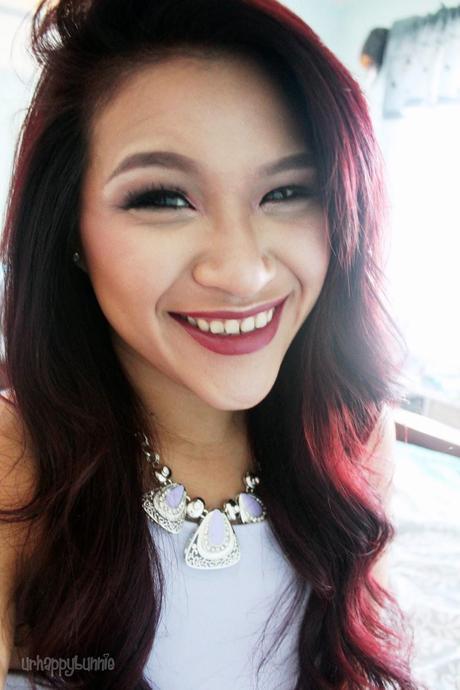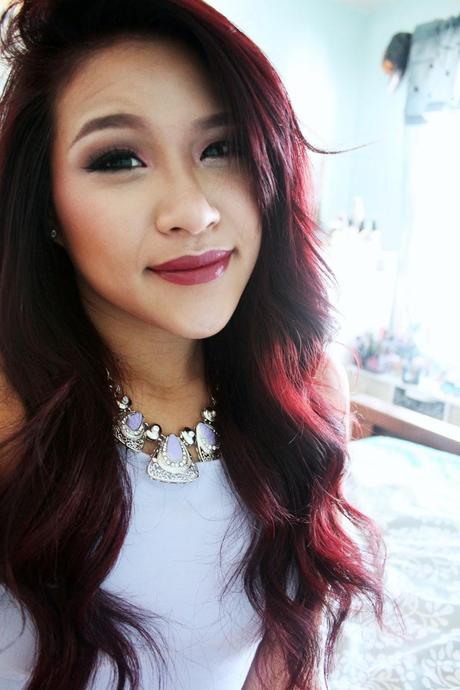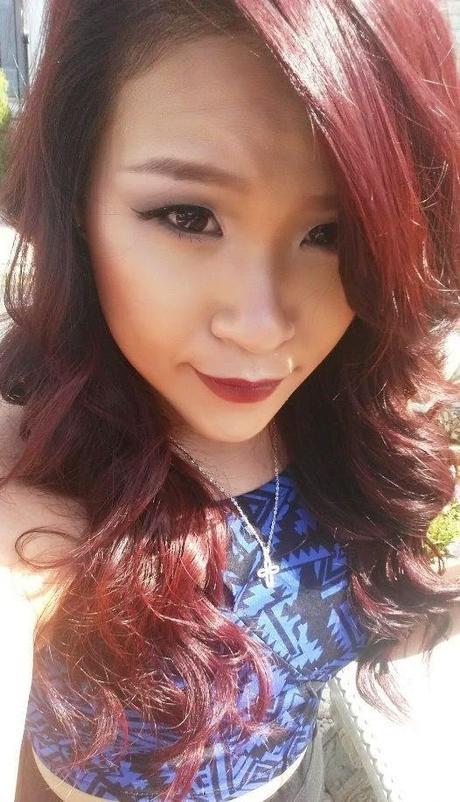 This is how my hair turned out. It is a very pretty and intense red. I wanted something with more purple tones in it but I have grown to love this hair color so much. A lot of people had complimented me on it and have even asked which salon I went to - they were surprised to find out it was from a box dye! 
I've had this hair color for almost a month now and it still is as bright as it was before. Even after a month the hair color still bleeds so I still use a dark towel to dry my hair and I make sure I don['t put any clothes on or lean on anything while my hair is still wet. I can also see a couple of centimeters of roots coming out but it transitions nicely into the red so it's all good. 
So for all you ladies wanting to try out this shade, I highly recommend this Garnier Nutrisse Ultra Color Nourishing Creme line. It is pretty good and it retails for about $7.99 in the drugstore. They always have promos and sales going on and coupons so always watch out for those. 
Makeup in the photos above are the same as the Kylie Jenner / 90's Grunge makeup look. The only difference is that I used Wet n Wild Mega Last Lip Color in 917B Cinnamon Spice and I just darkened the eyes a little bit more with the same shadows.