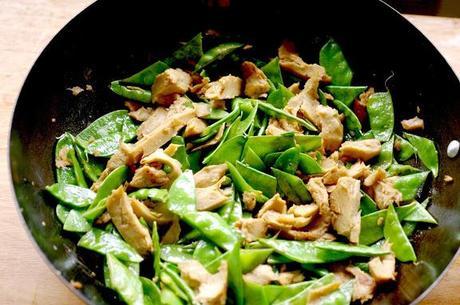 Monkey girl last week decided she wanted to be a vegetarian   She watched this documentary called Food Inc. So we bought some vegetarian items from the grocery store.  This lasted maybe a week. As we are going into Target the smell of chick-fil-a waifs past us. Monkey Girl decides she wants some chicken nuggets. So that went her week of vegetarianism. So what to do with the supposed to taste like chicken soy protein? I made it into a stir fry with snap peas. It was pretty good and perfect for Friday with it being Lent and all.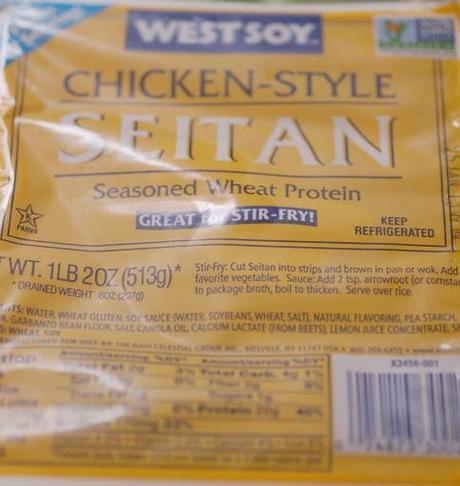 The night I made this, Monkey girl was spending the night over a friends house so the Hubster and I enjoyed this.  We decided it was a keeper and we would definitely enjoy this again.  Although I adore snow peas, I think this would be great with other vegetables. I think next time I will make it with maybe broccoli. I also thought about making a fake chicken cashew dish. The possibilities are endless.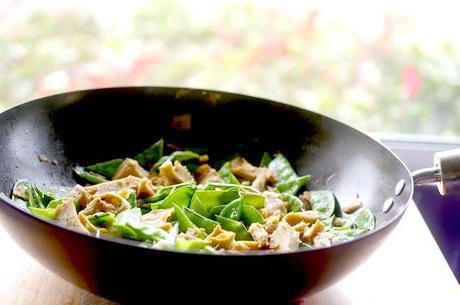 Print Recipe
Fake Chicken and Snow Pea Stir-fry
Ingredients:
4 tablespoons peanut oil
1 tablespoon baking soda
2 tablespoons cornstarch
1/2 tablespoon salt
1 tablespoon oyster sauce
3/4 pound sugar snap peas haled crosswise on the diagonal.
2 cups cooked white rice
1/4 cup soy sauce for serving
Directions:
In a bowl, toss the fake chicken with 2 tablespoons of peanut oil, baking soda and cornstarch. Set in the fridge and marinade for abut an hour. Heat the wok over high heat. Add the rest of the peanut oil. When the wok is hot add the fake chicken. Allow to sear for 1 minute. While searing add salt. Cook another 2-3 minutes. Stir in the oyster sauce and cook another minute. Transfer to a bowl and set aside. Return the wok to high heat, add the peas and stir=-fry for about a minute. Stir in the fake chicken and stir-fry for another minute. Transfer to a platter and serve right away with rice and soy sauce.
Peace be with you,
Veronica