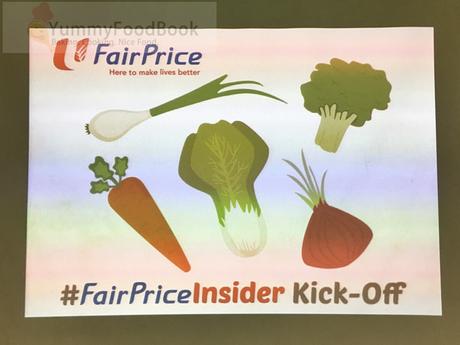 Last Saturday, we had a chance to visit 2 local farms, Sky Greens Vertical Farm and Kok Fah Technology Farm, as part of the Fairprice Insider programme. Yes, YummyFoodBook is very fortunate to be chosen to be Fairprice Insider which we can introduce to you the latest happenings and updates that will be going on over at Fairprice.
Now, why visit the Sky Greens and Kok Fah? This is because these farms produce some of the vegetables you see at Fairprice supermarkets and they are namely known as Sky Greens and Pasar. Here are the vegetables each of these farm produces:
Sky Greens Vertical Farm (Sky Greens)
Naibai
Xiao Bai Cai
Cai Xin
Miao Bai
Purple Cai Xin
Kale
Mizuna
Round Spinach
Kok Fah Technology Farm (Pasar)
Kailan
Red Vegetable
Spinach
Kow Peck Chye
Kang Kong
Endives
Sharp Spinach
Round Spinach
Taiwan Sio Peck Chye
Chye Sim
Let's take a look at how these farms grow their vegetables! Let's start with Sky Greens Vertical Farm.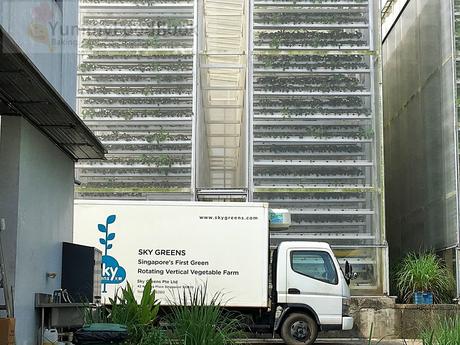 In conventional farming as we all know, the vegetables are grown on the ground in fertilizer and this method takes up a lot of land and in Singapore, land is scarce so a better idea was needed that enable us to grow our own vegetables while at the same time do not take up lots of land. This is when an innovative idea of vertical farming by Sky Greens CEO & Founder, Mr Jack Ng was introduced and his idea won him the MND R&D Award (Merit) in 2011. This led to an improved vegetable production output of up to 10 times compared to conventional farming.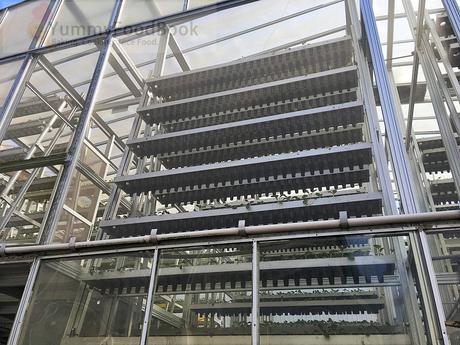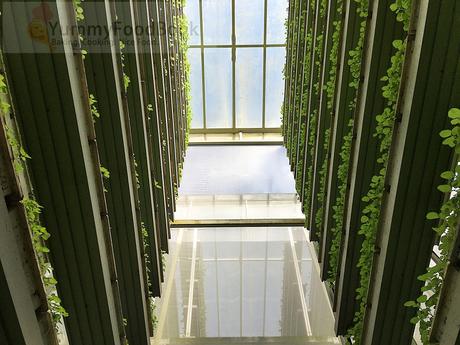 Sky Greens Vertical Farm as the name already explains, the vegetables are grown in vertical structures like HDB flats. Yes, now vegetables live in HDB flats too. Haha! Each structure is 6 metres high holding approximately 1248 plants (or we can say vegetables) per structure. Worried about how each of the trough of vegetables get their daily dose of sunlight?
There is a water pulley module (patented) rotating the structure so each trough of vegetables get equal amount of sunlight daily (up to 4 rotations a day). Water used for irrigation are ensure clean with their water treatment management.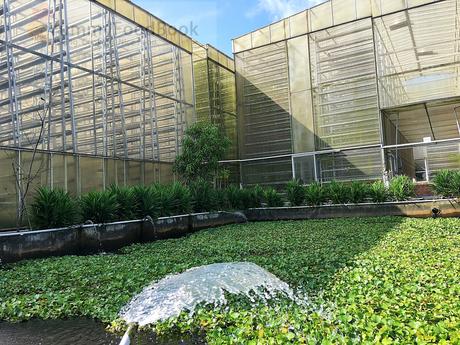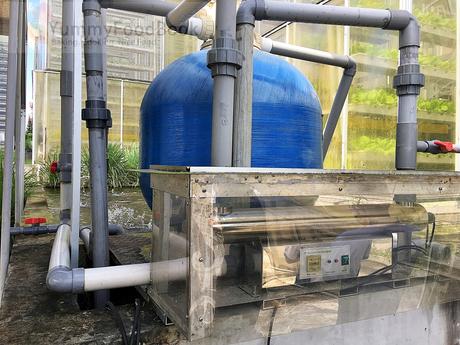 Pest management and monitoring over at Sky Greens Vertical Farms is very stringent (a study conducted by Temasek Polytechnic) and it makes me feel that they make sure every pest will not get their hands on the farms beautiful vegetables. Sticky tapes, lemongrass and flying insect killer lamps…nuff' said. It's maximum security here!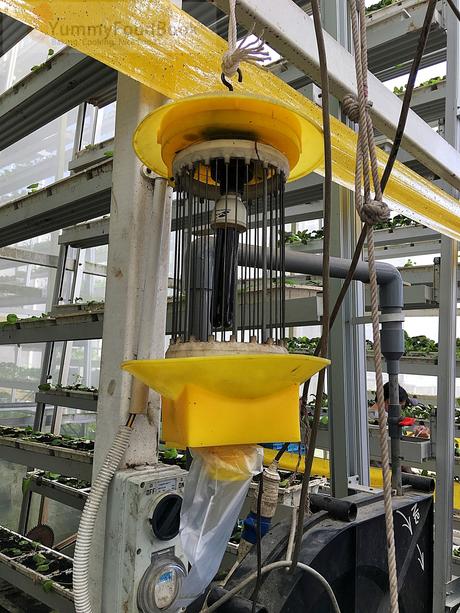 Fly killer lamps & sticky tapes (yellow).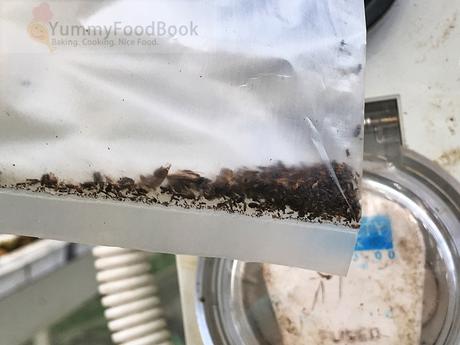 Look at all the dead flies that tried to feast on the vegetables!
Take a look at the vegetables that has grown! They are very beautiful, fresh and looks tasty.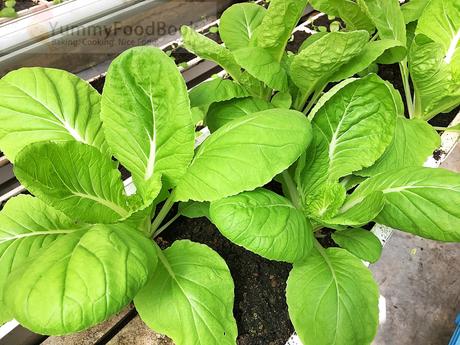 Xiao bai cai.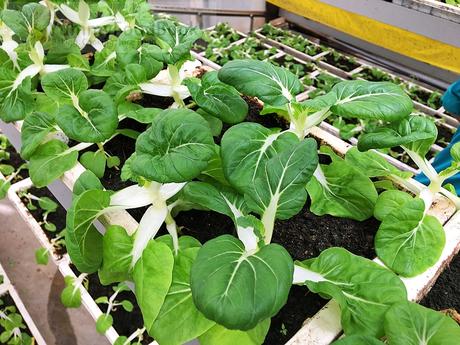 Naibai.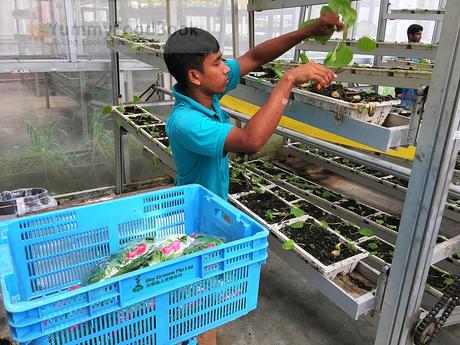 Workers harvesting.
Vegetable harvesting are all done by hand and it is even hand packed too by the farmers themselves! Thanks for the hard work! This goes straight to cold trucks to maintain freshness. We had the chance to try out dishes made from Sky Greens produce and we must say the vegetables tastes as good as it looks – crisp, fresh and best of all, tasty even eating it by itself (the salads!) but ultimately, we like the Kale wrap very much and it is a good example of how to use the Kale leaves to make an easy-to-eat wrap coupled with other simple ingredients, producing a filling dish.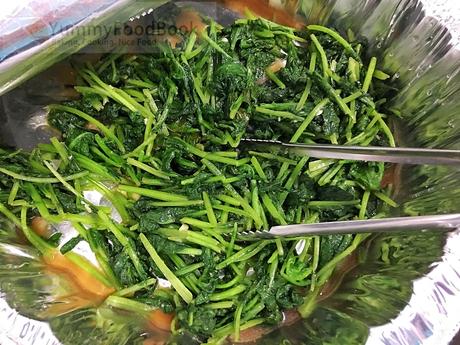 Spinach.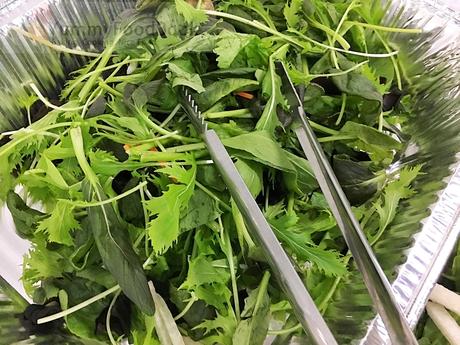 Mizuna.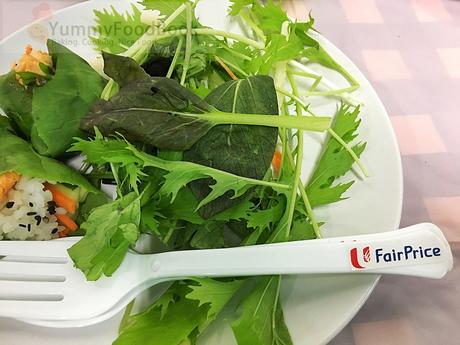 Mizuna salad & Kale wrap.

Sky Greens CEO & Founder, Mr Jack Ng (in dark green) with Fairprice guests.
Next stop, Kok Fah Technology Farm.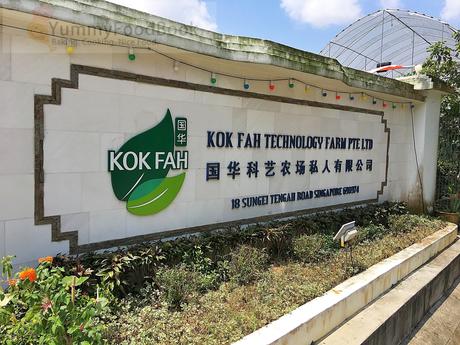 Kok Fah technology farm.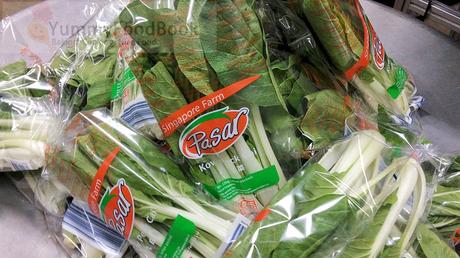 Pasar vegetables.
You may not know about Kok Fah Technology Farm but we are sure you know of the Pasar? It is Fairprice house-brand vegetables. Wait! Before you go all ranting about Fairprice house-brands, how about we take you on a tour at Kok Fah's? We are very sure it will change your mind. It all starts with the seeding process.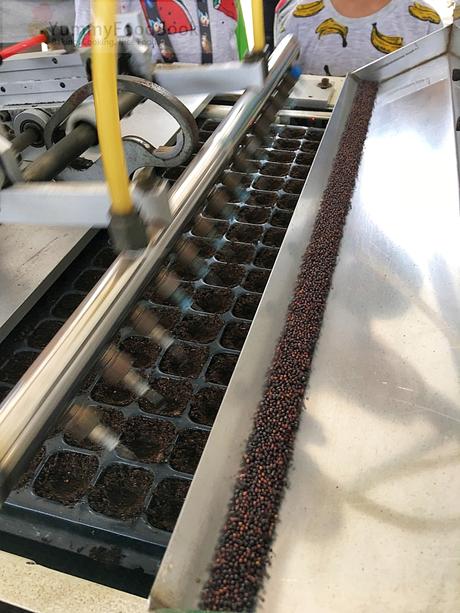 Seeding process.
Seed germination starts with the seeds carefully planted by machines (to reduce wastage) into rich fertilizers in cavities of seed trays. These seed trays will then be taken to the greenhouse where the process of farming will commence. They are then laid out on a huge platform where the maximum amount of sunlight is being harnessed and every cavity of seeds and seedlings in the seed tray will be able to absorb the full energy of the sun empowering it to grow.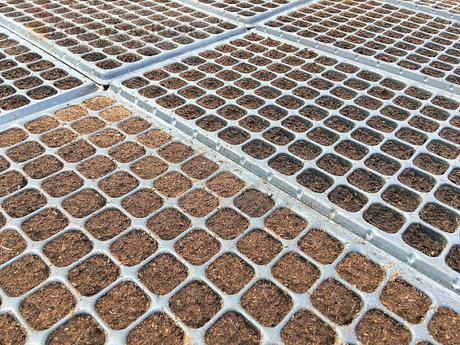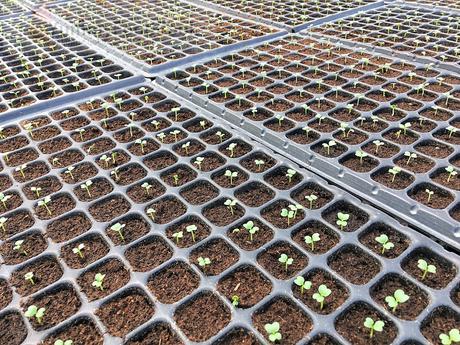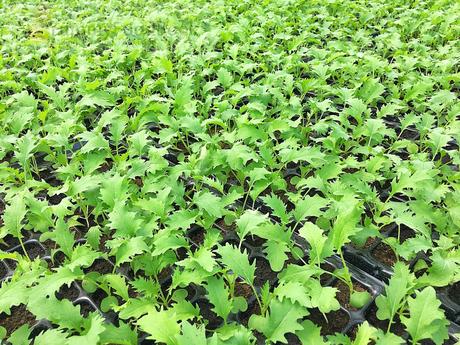 Of course, not forgetting they are watered on schedule (by means of automated drip irrigation) regularly with water, enabling to absorb the nutrients from the rich fertilizers as well as destressing the seedlings from the immense heat during the sun bath.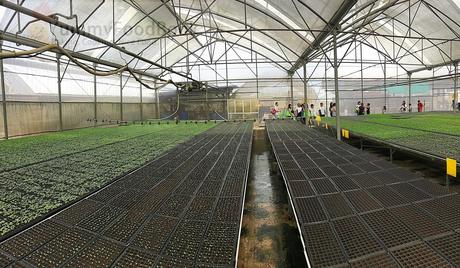 Watering in progress.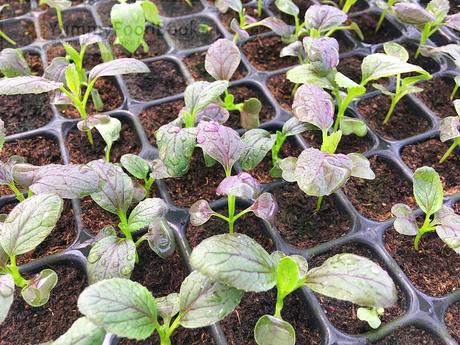 Nicely watered seedlings.
After 2-3 weeks later, these seedlings are removed by hand from the seed trays. They are then transplanted to soil greenhouses where they are grown the conventional way, coupling with enhanced technology such as motor tiller for ploughing, overhead irrigation and rods to punch holes into soil for transplanting. Nets are set up to keep pests at bay from the crops.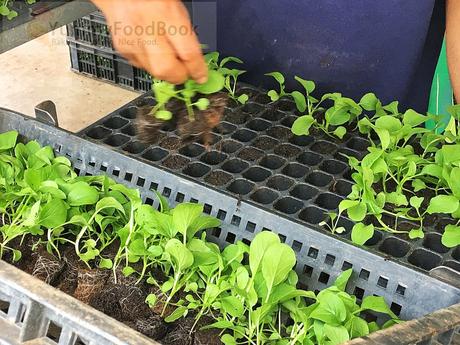 The kids got to experience how the farmers at Kok Fah farm harvest the Kow Peck vegetables. They sure had fun! We got to keep these straight-off from the harvest Kow Peck. Talk about maximum freshness! Aren't they beautiful?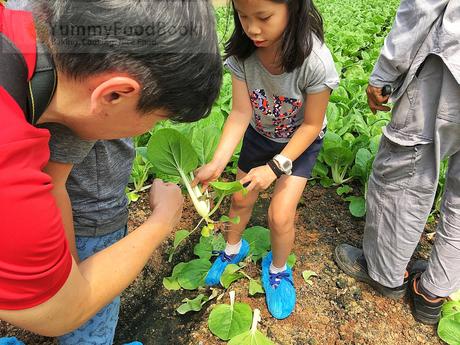 Here's a group photo of Fairprice CEO Seah Kian Peng (far left) and the Wong family of Kok Fah Technology Farm: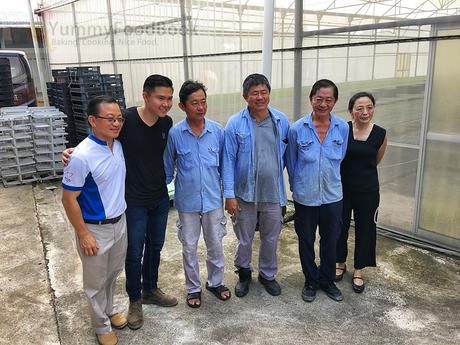 Next we were brought to the vacuum pre-cooling process where pellets of vegetables are vacuum pre-cool to maintain freshness (this evaporates water in and on surface of vegetables to extend storage life and retain quality). A single vacuum pre-cooling process can pre-cool approximately 1 tonne (or 1000kg) of vegetables.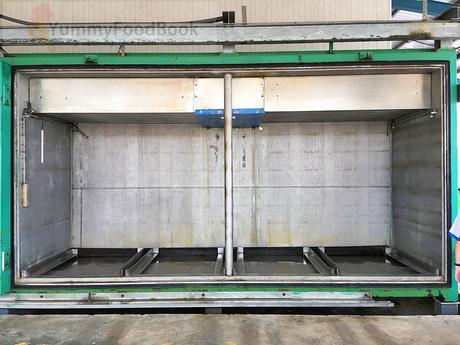 Vacuum pre-cooling chamber.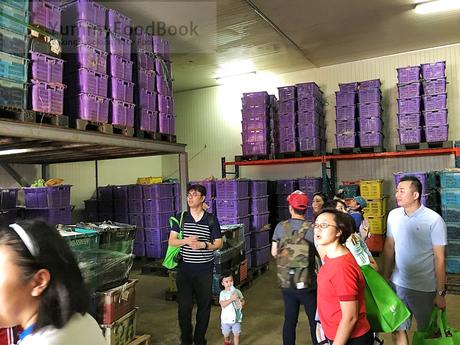 Cold storage room.
This is followed by storing these pre-cooled vegetables in low temperatures in a cold storage room. After which these fresh vegetables are brought to the production floor where the vegetables are weigh by hand individually and packed by machines ready to be delivered to various Fairprice supermarkets. Don't these packets of vegetables look great?

Production floor.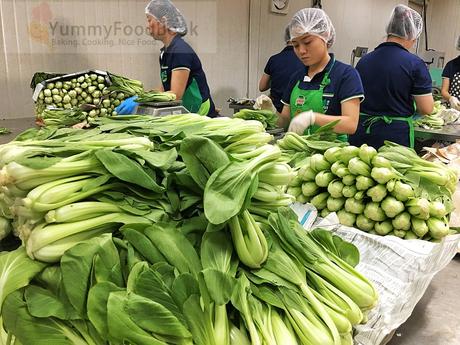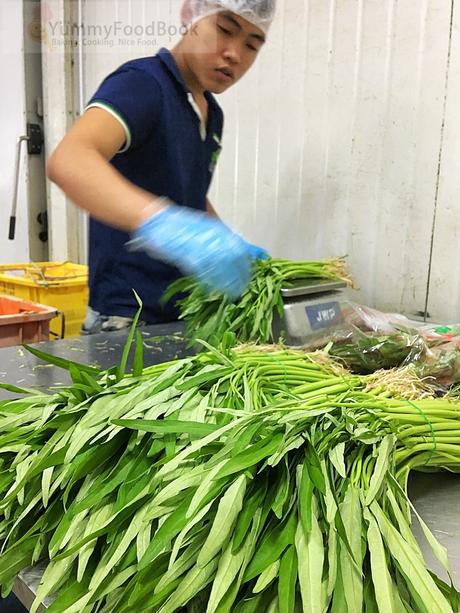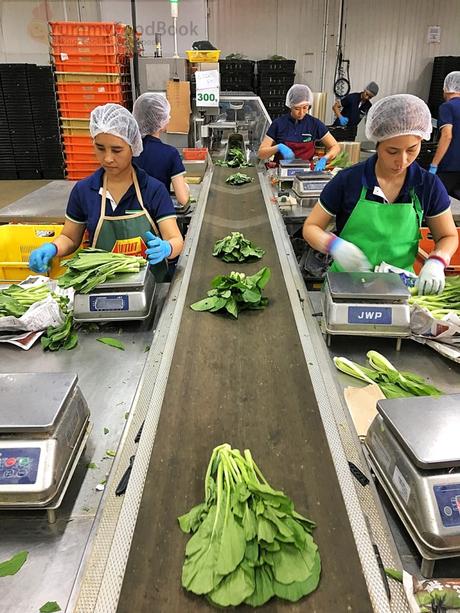 This part of the farm is not open to public however, you can still buy Kok Fah farm's fresh produce from their weekend market. To be honest, they really look beautiful compared to the ones you see elsewhere. Our thoughts confirmed with the people driving in to buy vegetables to cook for their meals.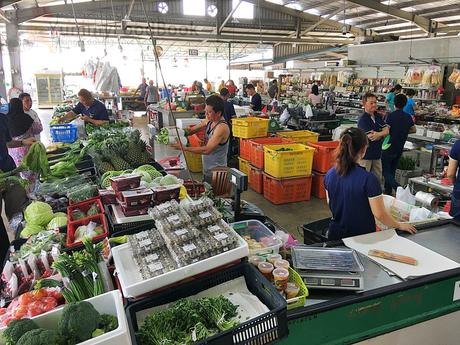 Weekend market in the afternoon.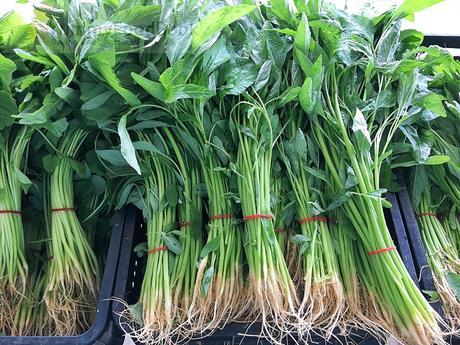 Spinach.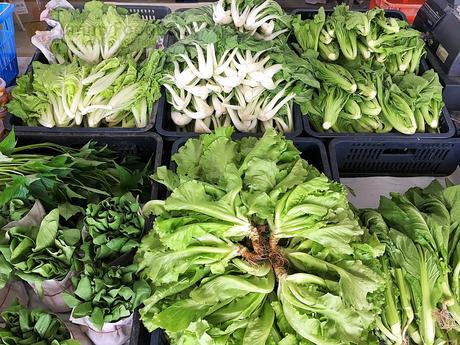 Other variety of vegetables such as Naibai and Chun Cai.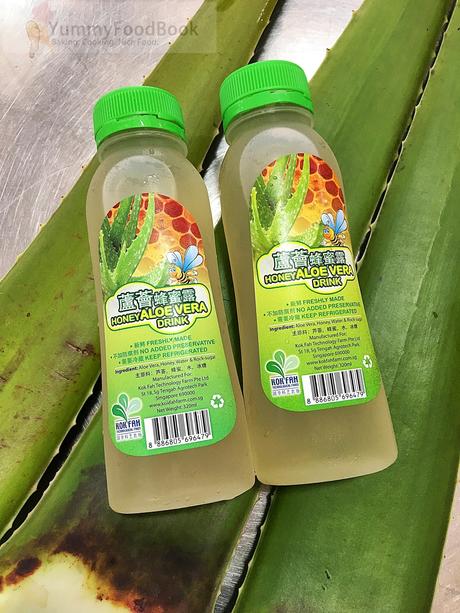 Refreshing aloe vera drink.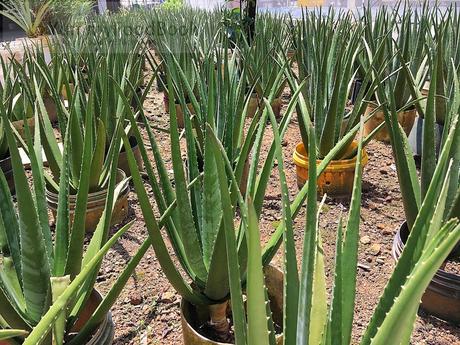 Kok Fah's own grown aloe vera plants.
Oh yes, there is also a stall selling fresh aloe vera (cut on the spot) along with beverages and jelly made from the same aloe vera Kok Fah farm has grown just outside another greenhouse of theirs…wait there's another greenhouse!

Hydroponic greenhouse.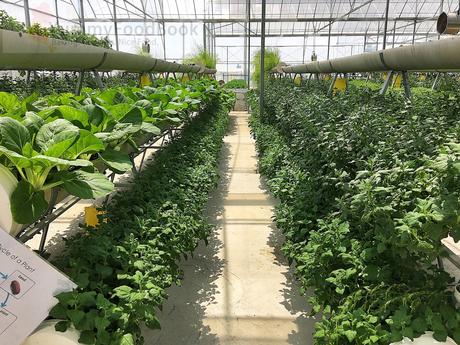 This greenhouse is actually a hydroponics farm and as the name already said, the vegetables are grown using Hydroponics method. Here in this greenhouse, various beautiful vegetables can be seen such as Bai Cai, Spinach and micro-greens.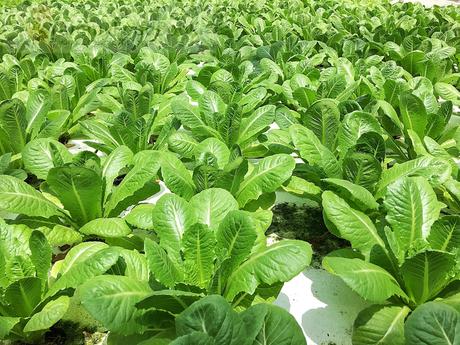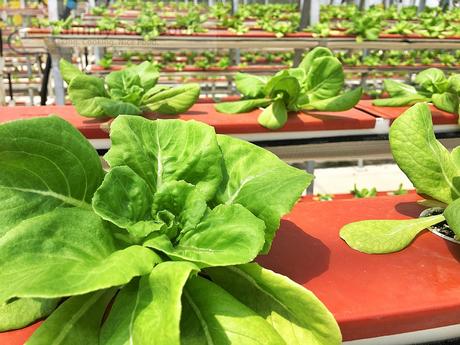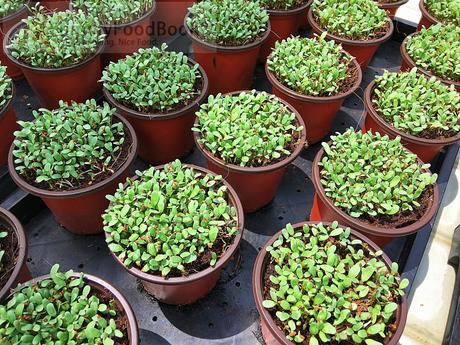 This visit is to create awareness that our local farms also does produce good quality vegetables as compared to anywhere else. Being locally grown, the prices are lower than those that are imported and import prices are gradually increasing and same time we become less dependent on foreign imports for food. This is made possible by means of using innovative ideas such as vertical farming as well as passion for farming the best for the people.
One note: Farming, even though with help of technology, is not easy. Please don't waste food.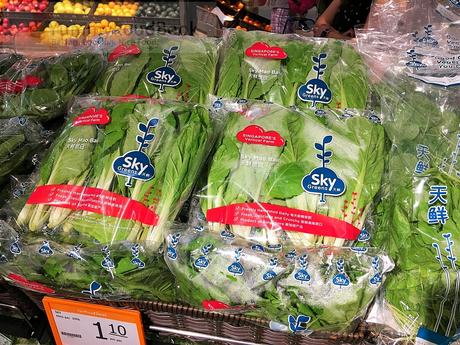 Sky Greens Mao Bai in Fairprice supermarket.
Please do support our local produce after watching this post! Thank you!