Hey everyone, today I am going to be reviewing an eye primer from Faces its called the Metaliglow eye primer. In India we arent really spoiled for choices when it comes to eye primer, so I am really glad that now more and more drugstore brands are coming up with primers for face and eyes. So without much ado lets begin the review.
Price-  INR 699/- when I got it few months back. This product has a shelf life of 3 years which is very good.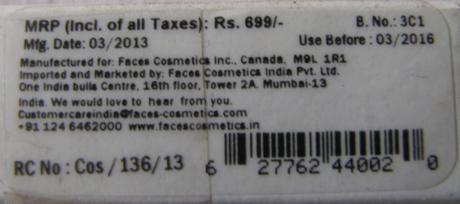 Faces metaliglow eye primer
Faces metaliglow eye primer comes in a lip loss kind of packaging in a clear rectangular tube with twist open cap. If you have pigmented lids I would suggest you first apply a base of concealer on your lids before applying this, it is pigmented enough but applying a base of concealer will ensure for smoother application of this product as it is metallic. The eyeshadow primer is not ideal for matte eyeshadows , though if you want to add the punch to your metallic and satin finish eyeshadows this primer is really really good for that.

Faces metaliglow eye primer review
HOW TO USE IT:
The primer comes with a doe foot applicator, you just dot your eyes with the applicator and smooth it out with your finger your any synthetic brush all over the lids. Its wet when you apply it so you have to give it few seconds for it to dry before you apply your eyeshadow over it. Once it dries you apply your eyehsadow with your eyeshadow brush and you are done.

This eyeshadow primer really adds extra vibrancy to the eyeshadows, and its metallic so its adds some extra sheen and punch to the eyeshadows ,its a perfect base for metallic eyeshadows and will work great with them,this however is not for everyday eye primer. It adds to the staying power of the eyeshadows and prevents the eyeshadows from creasing also.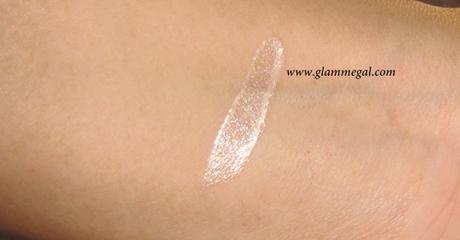 Faces metaliglow eye primer
Final thoughts: This is a wonderful eye primer and works well for most eyeshadows, I just wish they have one primer from matte eyeshadows as well, as I cant possibly use this for my matte eyeshadows or for everyday use. Faces metaliglow eye primer gets a thumbs up from as a little goes a long way and I will surely repurchase this.
Related
You Might Also Like
GIA BATH AND BODY WORKS OATMEAL MILK AND HONEY SOAP REVIEW
COLORBAR VELVET MATTE LIPSTICK HOT HOT HOT REVIEW AND SWATCHES
Four Loreal Caresse Lip Stain Swatches
COVERGIRL LIPSTICK REVIEW : ETERNAL 350
COLORBAR HEARTS AND TARTS LIPSTICK REVIEW
MAYBELLINE EYESHADOW QUAD LILAC MAUVE REVIEW
YSL BLUSH RADIANCE IN NO.1 REVIEW AND SWATCH
COVER GIRL LIPSTICK IN 260 HEAVENLY REVIEW
Tags:
cheap eyeshadow primer, eye primer, faces cananda eye primer, faces eye primer, faces eye primer review, faces metaliglow eye primer price, faces metaliglow eye primer review, glammegal, how to use eye primer, Indian beauty blogger, review of faces eye primer