Good afternoon Beautiful,
Tomorrow is Friday!! It's finally the weekend!! Do you have any fun plans? Tomorrow night C and I and possible some friends are going to The Drinks Show here in Toronto. Apparently (I've never been before so these claims may or may not be accurate) it's a really fun time. Toronto's hottest DJ's and bartenders and tons of samples of cocktails and full sized drinks – I'm SO EXCITED! It runs from 6pm to 1am…. I'll probably be a bit hung over on Saturday… ah well, what can you do?


This week has gone by pretty quickly actually. I've been busy at work which is nice and I've had stuff to do most nights of the week! I really wanted to workout yesterday, but my VP was in the office and had asked me to leave work early to deliver a package for him and so I opted out of the lunchtime workout and figured I'd just go to the condo gym in my building and workout after work. Well, that plan didn't follow through quite as I had expected it to. I got home, and well, sat on the couch and did laundry. Exciting right? I even slept from 7-8 while my clothes were drying!
That makes me think, I got a Facebook message yesterday from a friend telling me about how Louboutins are so worth the money, and that she fully supports my purchase (thanks!) and that she reads my blog and thinks I live an exciting life here in Toronto. Haha Elyse – does my night really sound THAT exciting? The whole comment made me laugh. I don't think I lead an exciting life. I think that there are a lot of fun things to do in Toronto and I like to take advantage of them! We live close to the Rogers Center so we can always check out a ball game when the Jays are in town. We live close to the MTCC (Metro Toronto Convention Center) so when they have shows we can swing by ie. The Wine & Food Show, things like that.
Tonight, C and I went shopping. Well, I went shopping and C bought a tie. Really, the one man that I know that ENJOYS shopping bought a whole tie. I went out with the intentions of buying something for The Drinks Show tomorrow night, really, just 1 thing. Well, I ended up buying 4 things. 3 dresses and 1 tank top (a plain brown one that was $7, not exciting).
I love going downtown and walking around and watching people and seeing what the city has to offer, but it really isn't good for my bank account in the least. Really – I shouldn't have bought anything and wore something that I already own but no, I always need a new outfit for every new event. Thank god for H&M and their affordable (yet disposable) clothing. I bought one dress from Mendocino and the other two from H&M. Here are my purchases: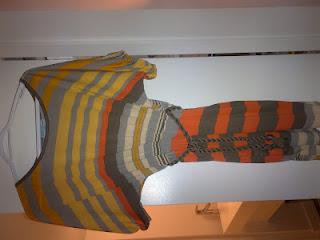 I don't know why this is sideways, but this is my Mendocino dress
that I will be wearing tomorrow!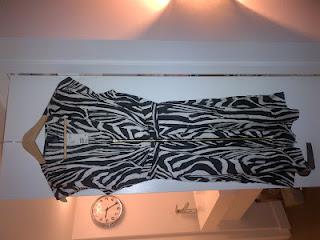 A zebra dress with a gold zipper, cute!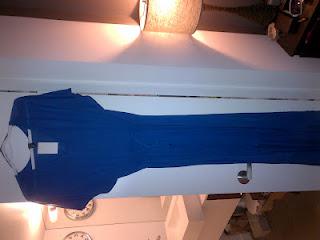 A long dress with an asymetrical hemline at the bottom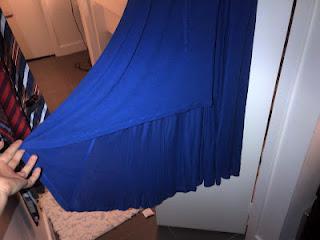 Close up of the bottom - LOVE these!
Aren't they cute? I needed to have these in my closet. I'm wearing the strips tomorrow! I'm hoping it photographs well. I know that horizontal stripes usually make a person look fat in photos, so I'm going to have to test it out before I go out and figure out if I'm in the clear to pose for pictures tomorrow night, or avoid the far end of the lens at all costs.
Speaking of dresses, my workout today was fairly intense. I did the WOD "Nate", but adjusted it to suit my current fitness level, which I thought was good until this workout. The real "Nate" looks like this:
AMRAP (as many rounds as possible) in 20 minutes (I've linked these so you can see what the exercises actually look like):
2 muscle-ups
4 handstand push-ups
8 1.5-pood kettlebell swings
My version of "Nate" looked like this:
AMRAP in 20 minutes:
4 pull-ups, 4 dips (using, at first 75lbs of help so I was pulling/pushing 75lbs, then I made my way up to 90lbs of help as I got tired...) this equals 1 muscle up according to Jason, so I did this twice.
4 push-ups (on my toes the first set, on my knees the rest of the time)
8 18kg kettlebell swings
Before I did this I did 10 sets of 5 overhead squats. This is the first time I've ever attempted an overhead squat so I used a weighted bar instead of a real barbell just to feel it out. I think I succeeded, I mean, tons of people were looking at me even though I tried to hide myself and I kept the bar over my head through all sets. My legs didn't get too tired but it did warm my body up for the coming workout. I ended up doing 11 rounds in the 20 minute time frame plus 2 pull-ups. The best part of my whole workout was when I was in the middle of it and a lovely older woman decided she would just intercept and use the machine I was doing my pull-ups and dips on.
Really.
This is how I set up my workout station…. I basically "claim" the Gravitron machine, or the assisted-pullup machine as others know it. I purposely wait until the gym is less busy at 2pm, and I put my towel and my water bottle and my iPad (yes, I use my iPad to time my workout time/reps… there's an app for that) on the machine, I place my mat on the floor beside the machine and place the kettlebell by the mat. Basically it's my own little "world". So, I had just finished my kettlebell swings and was about to get on the machine again for the 6th time at this point, and this older lady just places her stuff ON TOP of my stuff and proceeds to change the weight and do pull-ups. Fantastic. I stood beside the machine and waited patiently while she finished her pull-ups, and then it was the best part, she proceeded to do, well, attempt what she thought were dips.
So, when you do a dip, you hold onto a bar and let yourself drop down and push yourself back up. Seems easy, right? Especially if you've watched the person before you do it 6 times. This lady placed her entire forearms on the bars and only moved her legs up and down. On an assisted machine, this is doing absolutely nothing for any part of your body. She had no idea what she was doing. Then she decided it would be a good idea to ask me for help after she proceeded to use the machine without asking if I was done. I may be somewhat over reacting, and I do enjoy helping people learn about fitness and exercises, but come on, MANNERS PEOPLE! I was so annoyed I proceeded to finish my workout hard and fast. Thank you ma'am, you made my workout that much better.
After I finished my workout I started sweating so much, like, dripping from my nose, dripping into my eyes, it was awful yet amazing. I felt so good, I sent Jason a text and let him know how much I modified the workout. He said it's a really hard workout in general and when he did it (the real Nate), he only did 8 rounds and that was one of the better times at the CrossFit studio that he goes to. I have room for improvement, I learned that I'm not as fit as I thought I was and now I can work on improving!
On a random fitness side-note, I really miss running. I need my shin splint to heal so I can run again. That and I feel like I'm gaining weight without running 4 times a week and burning a bajillion calories doing it. I can tell my arms are more toned now that I've been focusing on resistance training, but I miss being able to go out and run a 5km 3x/week. I need to do that again to help burn off my excess body fat.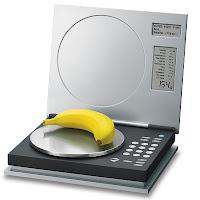 This is the food scale I bought!

I got some news today (private news) that is seriously motivating me to be strict with my diet and workouts for the next three months. Well, there's the awards gala and it's happening around the same time as that, so in general I need to crack down! My food scale came in the mail today (yay!) so now I can weigh every single thing I eat, know how many calories I'm eating and how many carbohydrates are in my fruits and veggies so I can keep better bloog sugar control and get my A1C test down to normal levels (I'm diabetic if you didn't catch onto that). So I think I'm going to go have a small bowl of paleo chocolate coconut ice cream, finish watching Dexter with C (we're still on season 1!) and call it a night.
Stay sweet.
xoxo