Every user knows that the Apple tablet accessories are essential if it is necessary to improve the daily use of the tablet. Cases, sound accessories, stylus, cables & adapters, screen protector, etc. are usually sold separately and it is rarely to find a kit that contains all of these products at a great price, too. The manufacturer Griffin has made you a service by assembling a kit that includes the most necessary and useful accessories – case, stylus, screen protector and tablet stand.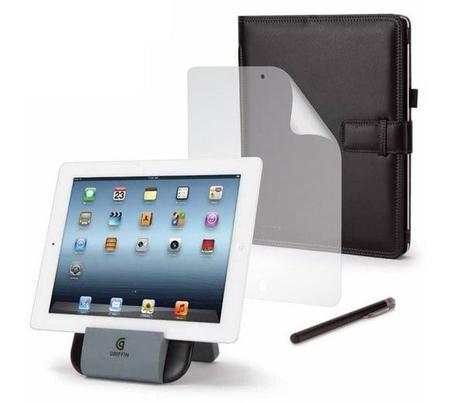 Griffin Essentials Four-in-one Kit
Elan Passport leather case is the iPad 3 case included in this kit that acts as a reliable protection, compatible with iPad 2 also. Its black color adds a touch of elegance and is ideal for all occasions. Protection provided by this case for Pad 2 / iPad 3 will be further strengthened with the iPad 2 and iPad 3 screen protector – Total Guard which really keeps the screen of your tablet safe from scratches and fingerprints but does not diminish the quality of the image.
The stylus and stand for iPad as part of this kit are also two practical iPad 3 accessories, which are also appreciated by users. Support provides the ability to view your media easier and your work improves the stylus on the tablet because its touch screen is sometimes difficult to handle.
To sum up, this is a kit made of the most essential accessories for your iPad 2 or iPad 3 as stated in the name of this product – Griffin Essentials kit.