Unfortunately, no one had found the fountain of youth yet. Today, while I was having my coffee, Clara was "Snap Chatting" me photos of her newly decorated living room. Yes, I said "snap chat". She downloaded this app on my phone where you can send photos back and forth that only last for a couple seconds. I don't really understand it, but she loves it. Anyway, I sent her a photo of me holding my cup of coffee and couldn't get over how "old" my hand looks.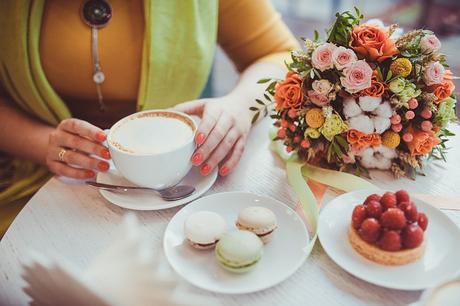 I have never really spent much time looking at my hands, but I understand why they say your hands show all the signs of aging. I couldn't stop looking at them in awe. I know I don't look like I have aged as much as my hands show.  So I jumped on the internet to find some ideas how to get rid of these "aged hands."
I read that hands really do show the signs of aging more than most parts of the body. The years of sun exposure, the exposure to the elements, hard work, and constant washing and scrubbing really take a toll on our hands. The skin on hands thins with all the exposure to daily life and more veins become visible, age spots appear, and it is common for hands to become dry. All of this information was pretty much common sense to me, and I wanted to know how to reverse that aging.
I found this website saying that taking care of aging hands is similar to the skin care during menopause; a subject I am pretty knowledgeable on. It suggested exfoliating your hands to remove all the dry skin before moisturizing. Buffing your nails also helps make your hands look younger. I never really thought about moisturizing my hands specifically, I just put lotion on them when they are dry, so this was a new concept for me.
The site also said the moisturizing and protection are the most important in having beautiful youthful hands. It said to use a good quality hand cream and apply it throughout the day to rejuvenate your hands.
After reading all of these articles I have decided I need to find a good hand cream to reverse aging. Do you use anti-aging hand creams? If so what kind do you use and is it effective?
Until Next Time,
Nancy