Hello everyone. Hope you guys are all embracing the season changes and staying happy.  I am generally a happy person these days since I simplified my life a bit. I also have the day off my day job, so I'm in a great mood today :)
I wanted to tell you all about an etsy shop that is opening for Elevation Polish.  Elevation Polish is a handmade nail polish company about to debut on March 25th.  All links will be provided below, but first let me tell you what I love about Elevation Poish.
I haven't tried any yet, but here are the reasons why I support them:
1.  The owner is an absolute doll.  In today's bitchy nail polish world, it's nice to see someone down to earth and grounded (yep, pun intended).
2.  The colours have deep meaning behind them.  You guys know how much I love Strangebeautiful.  To some, cremes are boring, but cremes are part of our reality, and both Strangebeautiful and Elevation polish bring in a deeper and artistic meaning to their polishes.  This is a mature and sophiscated (but still fun).  That's what I love about it.
3.  Flakies explosions - I can't not deny that I love flakies.  They are my new glitter, new crackle, new holographic - they are my new obsessions, and she has them.
4.  They are handmade - That is what is missing in my life, something substantial and handmade and not mass produced.
Ok, so did I sell you on these? I kid, I kid.  I just really love the sentimental quality about this polish line, and I can't wait to try some out.
Here are few of her polishes....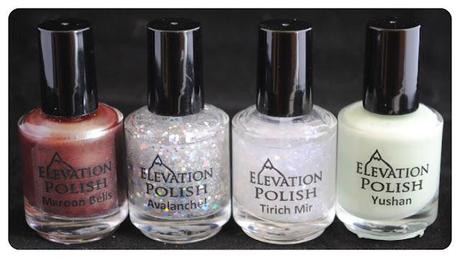 See the two in the middle, yep, that's what is going to make this line mega fun!
So if you are in love, here are the places to order and get more information from...
http://lovebrownnailpolish.wordpress.com/elevation-polish/
Elevation Polish Etsy Shop
and of course you can email them directly at: Elevationpolish (at) gmail (dot) com
Time to save your pennies and buy :)
************************************Tune of the Day
LTJ Bukem - MusicIt's just that kind of day people. I'm feeling great, and just euphoric. This tune just captures that.