Sunscreen are must-haves in everyone's vanity we all know. A good sunscreen in one's daily skincare regime can not only help minimize the appearance of wrinkles and the sagging of the skin, but prevent skin cancer too.
Sunscreens have evolved over the years with a variety of physical and chemical sun-barrier ingredients discovered. Not just the formula of the sunscreen, the options also are varied enough like sunscreen mists, gels, towelettes, etc.
Ethicare Remedies, an Indian pharma brand takes the trophy home for introducing sunscreen in the form of handy towelettes for the first time in the country!
ETHICARE REMEDIES UVMED SUNSCREEN TOWELETTES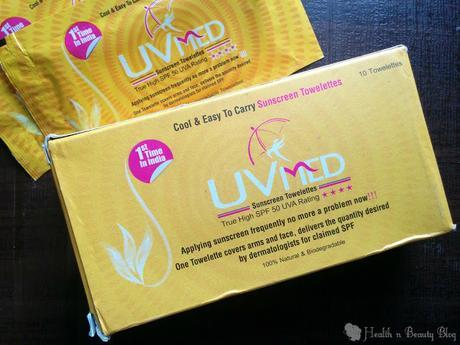 PRICE - INR 160 for 10 towelettes
AVAILABILITY - Local pharmacies
Lazy bugs like me would get easily excited hearing about sunscreen towelettes, owing to the ease of application it comes with... :D
Each UVMED pack consists of 10 sunscreen towelettes that come individually wrapped, so that one can easily pop in couple of them into your purse, handbag or the car.
These sunscreen are just like wet wipes and have a medium strong fragrance that of like a perfume.
These sunscreen wipes can be used both on the face and body. One wipe does good for both the hands, neck and other sun-exposed parts of the body.
I have used these a couple of time on face as well and faced no breakouts. I love my

Neutrogena Dry Touch Helioplex SPF50 Sunblock

&

Lotus Safe Sun Intensive SPF50 Sunblock Spray

so much, that I prefer using these towelettes on the body only.
These wipes are non-sticky and don't leave any layer on the skin since it gets absorbed quickly.
The size of the wipe is also decent for a single use. Per towelette/usage is quite high when comparing to other sunscreen options, but the wipes concept beats that!
Whenever I have stepped out using these towelettes for a sunscreen, I have not had any issue of tanning or skin darkening. Mind you, I tan easily!
You can get more details on this sunscreen from the product pictures below.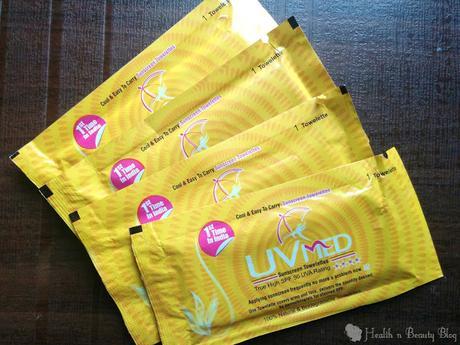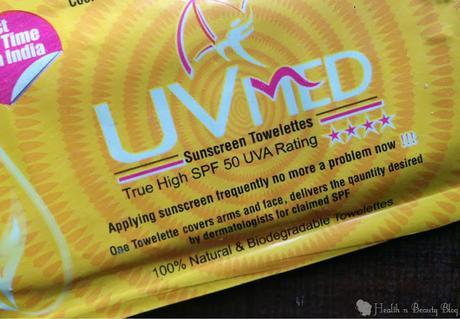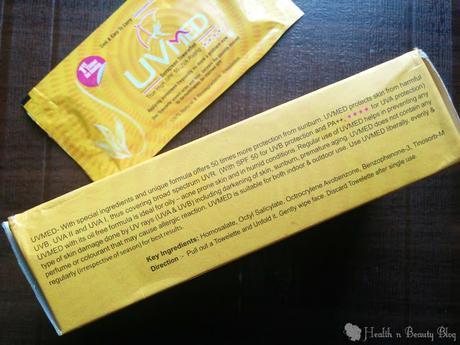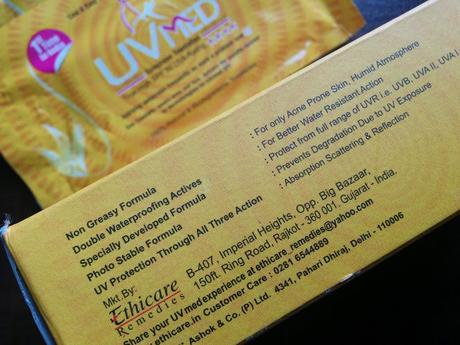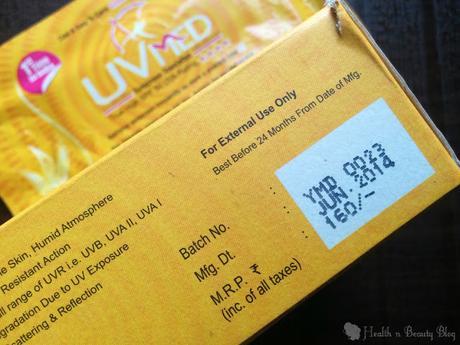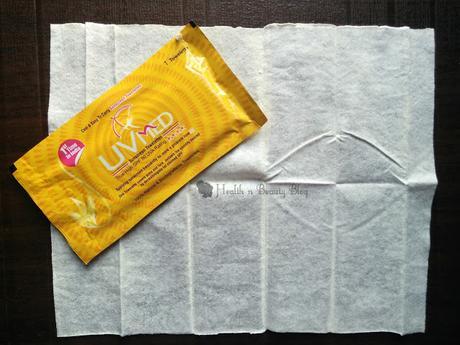 These wipes are high up on my travel checklist - simple because of the sun protection they have to offer and ease of use!
UVMed Sunscreen Towelettes are great travel option and a great value of money! Totally recommended!

PR Sample.