Another product that I used from the Ethicare Remedies brand after their

Seren Extra Mild Shampoo with UV Filters

is the Ethiglo Face Wash. I have been continuously using this face wash twice a day from the last two months and here I am with a thorough review of this good product.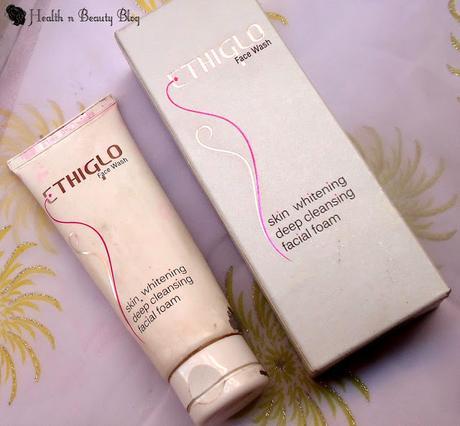 PRICE
- INR 220 for 70 ml
INGREDIENTS 
Kojic Acid - 1%
Vitamin C – 0.5%
Liquorice – 1%
Nicotinamide – 0.5%
Blend of AHA & BHA – 1.5%
Triclosan, Vit E, D-Penthenol – 0.5%
WHAT THE BRAND CLAIMS
First of its kind. Skin whitening creamy face wash with deep cleansing.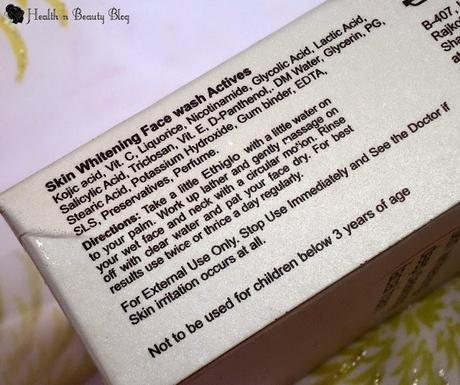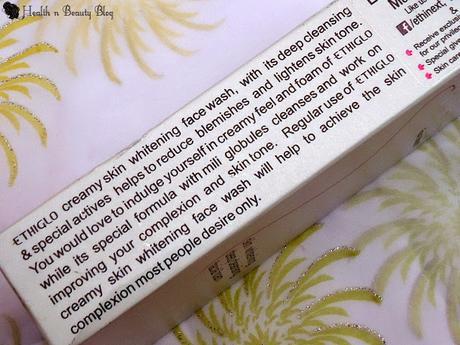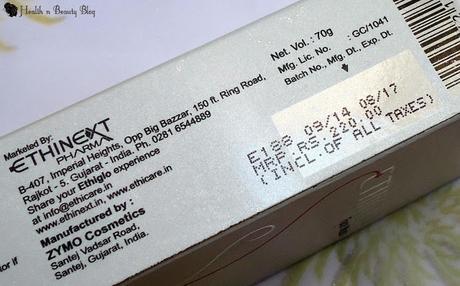 MY TAKE ON THE PRODUCT
The brand claims this to be a skin whitening creamy face wash. Though I am impressed by the creamy texture and the cleansing properties of this face wash - still whitening concept is something I hardly care for in any face product. I am just judging this product as a face wash and not as a whitening product here!
The face wash comes in an easy to squeeze white plastic tube with a flip cap. The outer carton contains all the necessary information regarding the ingredients list and other details regarding it. It is easy to dispense the needed quantity using the pack.
The face wash itself is a shining white colored creamy textured liquid with tiny pink droplets. It is quite creamy and doesn't run down when dispensed from the pack. 
Taking a pea sized quantity of this face wash on your wet hands would result in a good lather with little massaging. The lather feels creamy on the face too and within a minute of soft massage with it would result in cleansed and glowing skin. The face wash gets washed off easily too and gives a soft feel to the skin without any dry patches.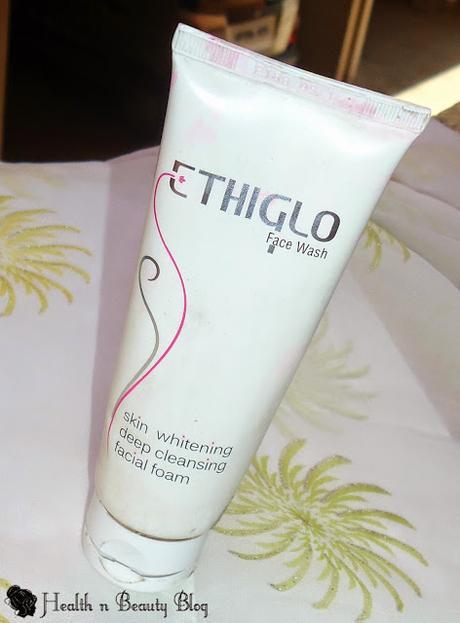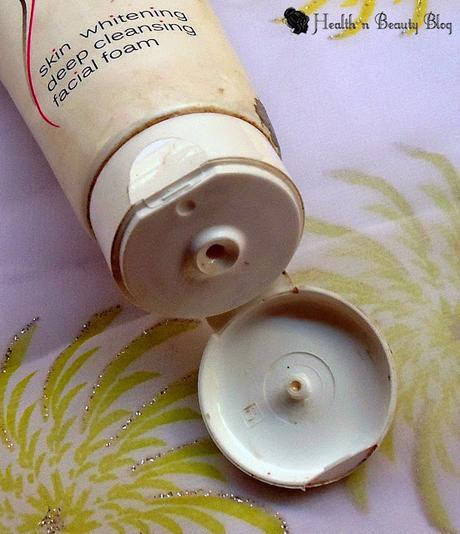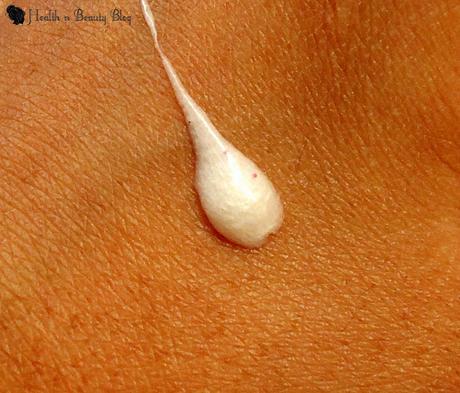 I have judged this face wash both in the winters a well as the warm weather here. Though it fairs beautifully these days, but in winters I did find a need to apply my favorite day cream immediately after cleansing my face using Ethiglo face wash. Though it did not give me dry patches or suck out moisture from my face, still a cream helped to do away with the little stretchy feel on my face.
The face wash has a nice sweet scent which is not overpowering. The scent doesn't stay long after wash so if you do not like sweet smelling face products, this would work for you too.
In these last 2 months, I have not seen any side effects using this face wash and it had helped me take care of the cleansing part of my CTM routine nicely. The face wash even removes the non water proof makeup easily. I do not need an extra makeup remover except if I am wearing waterproof mascara.
So overall, this is actually a nice face wash that gives a cleansed feeling and a short lived glow to your skin.
THE 'YAY' FACTORS
Creamy texture 
Non-drying 
Lathers well 
A little needed for each use 
Nice scent 
Removes non waterproof makeup easily
Makes the skin clean and bright 
Refreshes the face and doesn't leave dry patches
Useful packaging
THE 'NAY' FACTORS
         

Comparatively higher priced product

         

The whitening claim is debatable

         

Dry skinned gals can't do away with a moisturizer later in winters
Overall, this is definitely a good product from the brand that can be used on all skin types all the year round. Enjoy a cleansed re-energized skin in the morning using Ethiglo face wash.  
By Nids.
HnB Ed* - I have a tube of this and shall start using it soon in these summers only then. Nicely reviewed Nids! :)
And.... HAPPY BIRTHDAY!!! :D