"Here's to the crazy ones. The misfits. The rebels. The troublemakers. The round pegs in the square holes. The ones who see things differently. They're not fond of rules. And they have no respect for the status quo. You can quote them, disagree with them, glorify or vilify them. About the only thing you can't do is ignore them. Because they change things. They push the human race forward. And while some may see them as the crazy ones, we see genius. Because the people who are crazy enough to think they can change the world, are the ones who do"
Rob Siltanen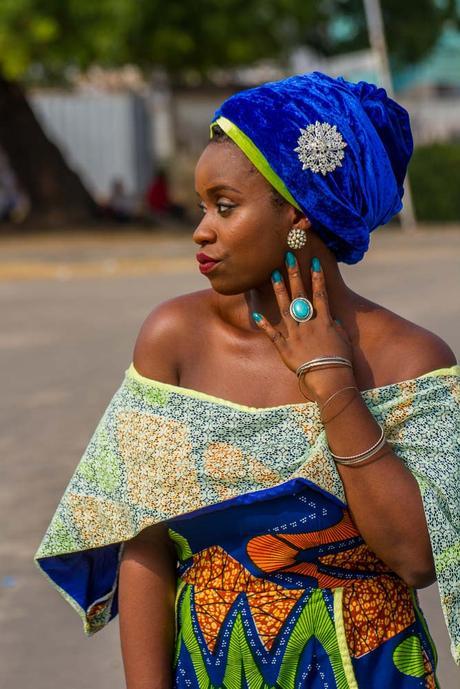 Hey beautiful people,It's been a minute and I just thought to share this style post after over two weeks of being away. Here's hoping this month has been good to us all and even as it comes to a happy end tomorrow, I'm still quite hopeful for a miracle.
Today's style post features this off-the-shoulder cape-style palazzo jumpsuit by
Binienu by Kaeto
. The off-shoulder-trend is one of several carryover trends from last year and trust that it's here to stay this year. There's just something about this particular trend that suits everyone such that Stylistas the world over have come to embrace it completely. Personally, I've acquired quite a number of these kinds of styles that moving on is quite frankly impossible.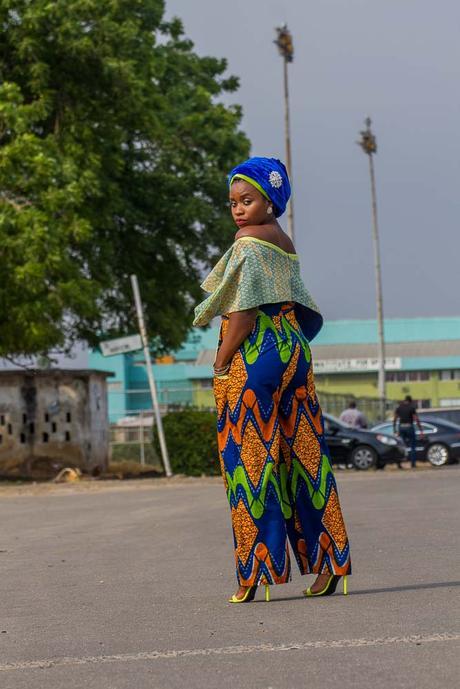 First off, I'm hopelessly in love with the print of this fabric which is so vibrant that it just couldn't help itself. You all know I love palazzos to death; they are key players in my current wardrobe and quite fortunately they make my life a whole lot easier. This jumpsuit incorporates all key elements that make for easy-breezy comfortable style with little or no headaches...print √, off-the-shoulder √√ and palazzo √√√. If you're all about comfort like I am, you will know just how much this three-in one combo means to me.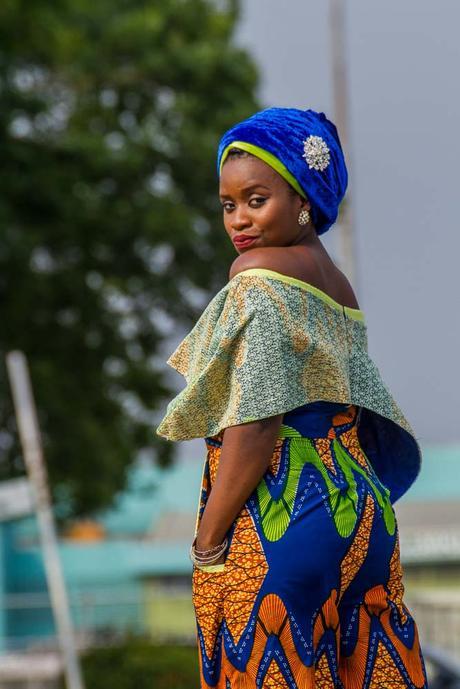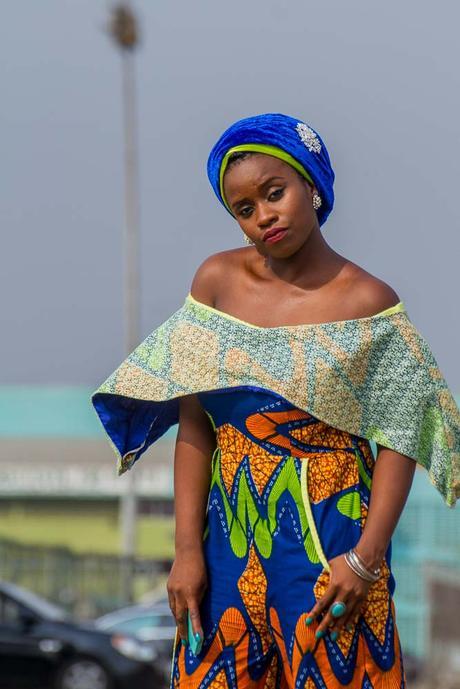 It's also comforting to know that there are several styling options for this outfit, whether laid-back casual style or dressed more elaborately for an event or regular day-out.  
I styled this number such that this particular look is suitable for a number of different occasions, Owambe inclusive. Have you ever tried to tie a turban on freshly braided hair? Oh sugar!!! It is such a terrible idea; it's no doubt a world of hurt at that particular moment such that the pain alone is enough to last a lifetime. I didn't realize how much of a bad idea this was until I started twisting and turning…point is "do not try this on new braids" because that's equivalent to murder.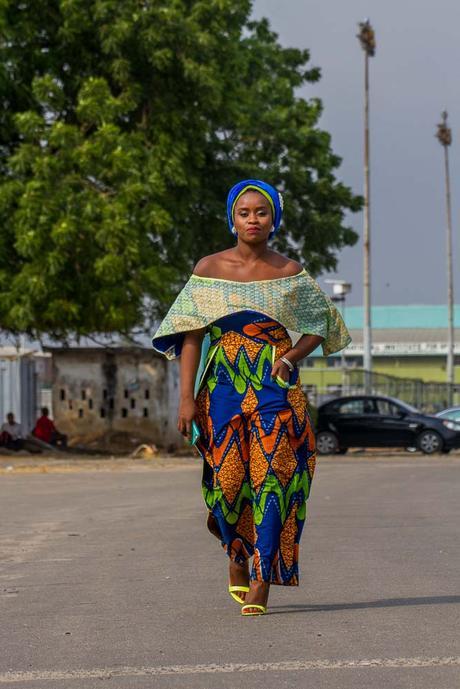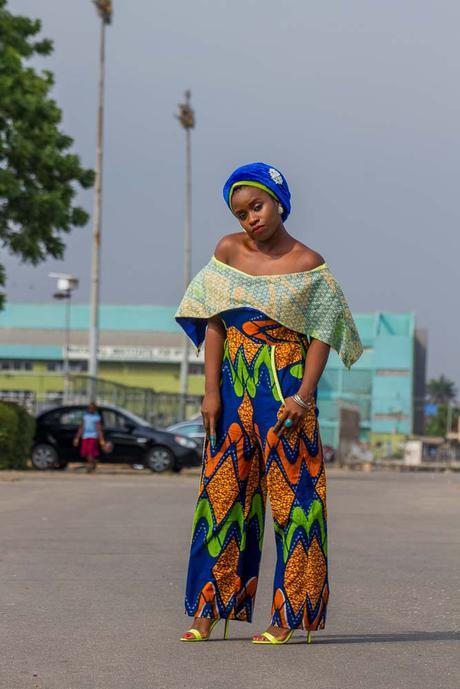 Ignore my neck please, I have no idea what went on here :) 
Anywho, I couldn't quite complain with the results afterwards even though I couldn't endure the turban being too snug because of the pain hence this loose version of a turban I have on. My accessories here are pretty basic, nothing fancy so as not to detract from the vibrancy of the prints. All things considered, this is such a great piece with so much potential however I've been feeling some type of way lately so I see myself wearing this more casually without the heels.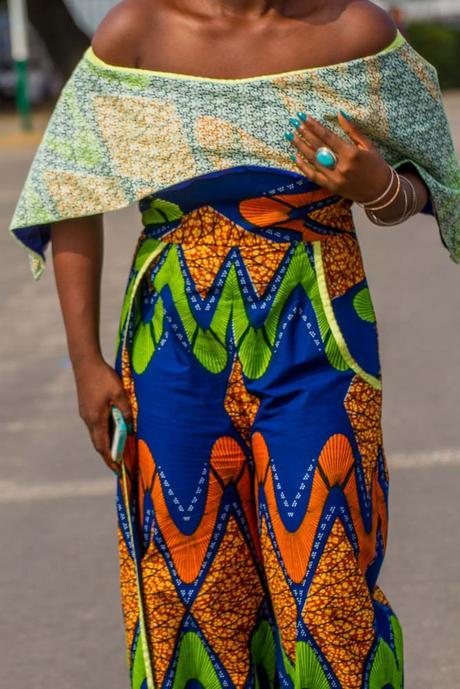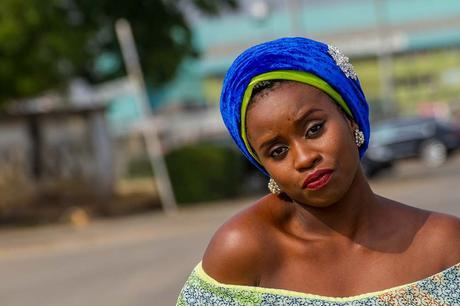 Photography by MarvinFresh Photography
Outfit Details
Jumpsuit 
- 
Binienu by Kaeto
Shoes
 - Primark
Earrings
- April by Kunbi Accessories
So guys that's pretty much the scoop with this ensemble and I think it is time I got out of your faces at this point. A big thank you to all those who responded to my blog review through comments and emails telling me what they will love to see in 2017, I promise I am currently working on delivering content that will suit your needs as well as the purpose of this blog. Thanks once again folks.
Until my next post,
Sugarcoated kisses from my cubicle,
Ify*
Let's Connect!
Instagram || Facebook || Twitter || Bloglovin || Pinterest
In case you missed some of my previous posts, please find direct links below:
Bubbles And A Blog Review
Ensemble || Flirty Christmas In Denim
Christmas Gift Guide
Ensemble || Some Halloween-Pumpkin Glam
Ensemble || Kente-Inspired
Style On A Budget || Desola Mako Of 'DeeMako.com'
Foodie Chronicles || La Spiga at Le Maison Fahrenheit
Ensemble || Black Out
Ensemble || Feathers And Denim
If Only I Were A Boy
Ensemble || Of Throwbacks And Bell Sleeves
Foodie Chronicles || 411 Restaurant & Bar
Weekly Wanderings || Lekki Arts And Craft Market