'Morning will come, it has no choice'
Marty Rubin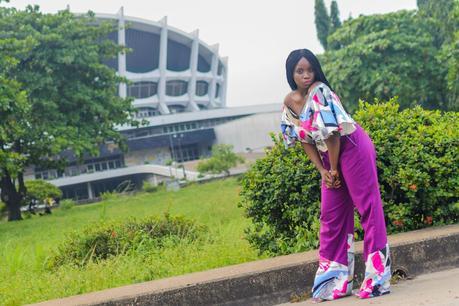 Hi folks...hello June!!!Here's wishing you beautiful people an amazing new month filled with tons of love, joy, laughter and everything warm and beautiful. It's funny how the year that started out just the other day seems to be wrapping up faster than I would have imagined, still I'm ever grateful for time spent doing the things that I love and making beautiful memories with the people that are most dear to my heart.
Today's post features an ensemble from the JeffUrban Clothing brand with a central magenta theme. I recently got reacquainted with the color magenta at a friend's wedding two weeks ago and this custom fit was borne out of this new found love. I've been stuck on this color since the wedding and it kind of feels like I've been seeing magenta through new eyes and I certainly love what I see.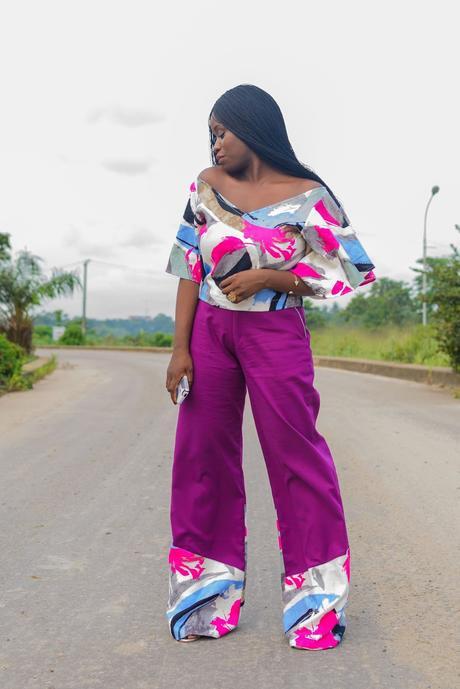 You know I'm all about the stress-free life so this palazzo and off-shoulder combo was borne out of a sheer desire for comfort which happens to be my daily mantra. Okay I confess, I don't know what's going on with me and the off-shoulder trend but I seem to have gotten myself into the kind of fix where half my current wardrobe is sporting this trend and trust me, I'm not complaining. Quite frankly, I'm all about the shoulders right now and I'm definitely unapologetic about it...somehow I feel this trend is here to stay and I love that.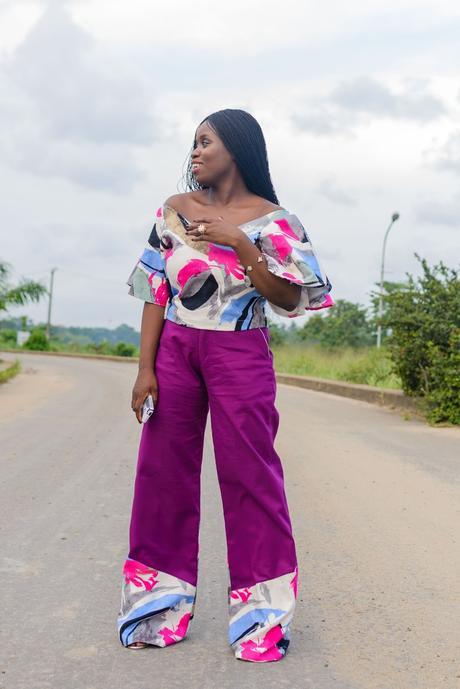 One of the best things I love about this clothing brand is the versatility in each piece I've been fortunate to own: I can re-rock them in several different styles and it makes every single thread in it worth every kobo. I'm that kinda girl who craves perfection in the littlest of things and it can be quite frustrating trying to communicate your exact needs in a chosen outfit to the brains behind a brand but that is one thing I never worry about when it comes to Jeffrey of JeffUrban Clothing...we seem to be in sync such that there is no language barrier of any sort.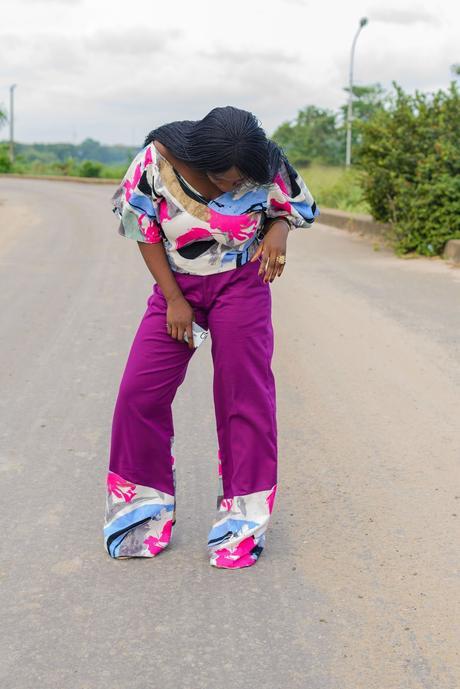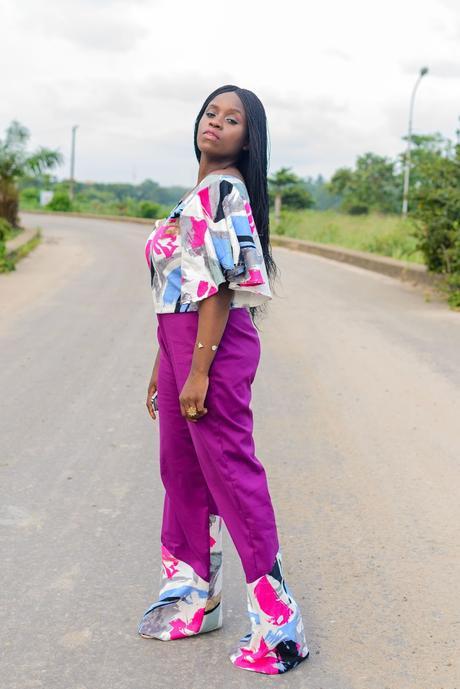 Weird thing is how at times when I have a particular idea spring up in my mind and I send him a message even at 1:00am in the morning (yes I'm weird like that), he would respond with a witty comeback about my vampire lifestyle and then together we build on that particular idea and it always turns out great...except for the part where you still owe me lunch or dinner (yes Jeffrey you've been called out and now the world can bear me witness lol). It's always fun working and collaborating with this brand and I can never run out of nice things to say about JeffUrban Clothing.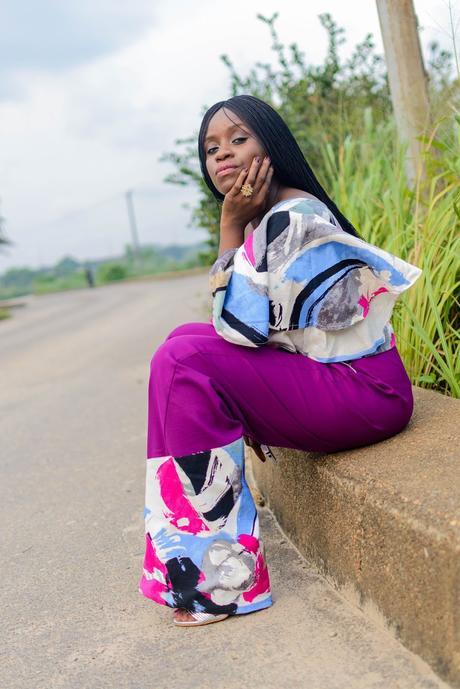 This off-the-shoulder crop with flared sleeves is quite conservative and thankfully it's not revealing seeing as I don't exactly have a slim build so I was quite happy with the fit. The print of the fabric was also a definite plus for me as it would certainly be fun styling it with other complementary bottom pieces like skirts and pants...same goes for the palazzo pants with the print panelling at the flared out ends. Picture a different combination with maybe incorporating a blue or a gray mix as in the print...take about perfection! Anyway, I'm going to be having major fun with this piece I can tell you that.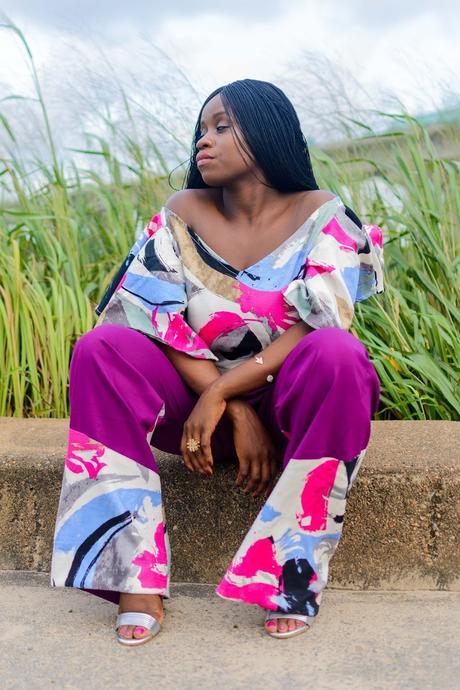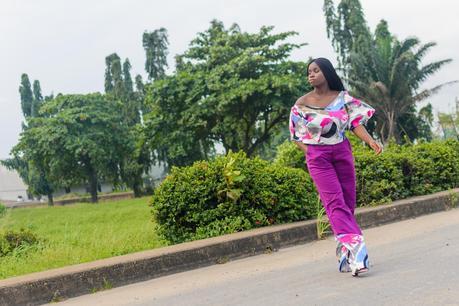 A major tip for today's ensemble is to take a walk on the wild side once in a while and invest in some pretty prints as this would definitely add some spice to your current wardrobe I promise. And while you're at it, try a little color to brighten up an otherwise boring day – you never know who is taking their cue from you so choose to be that ray of sunshine that somebody else needs. I can assure you that it is quite gratifying being different from regular perception.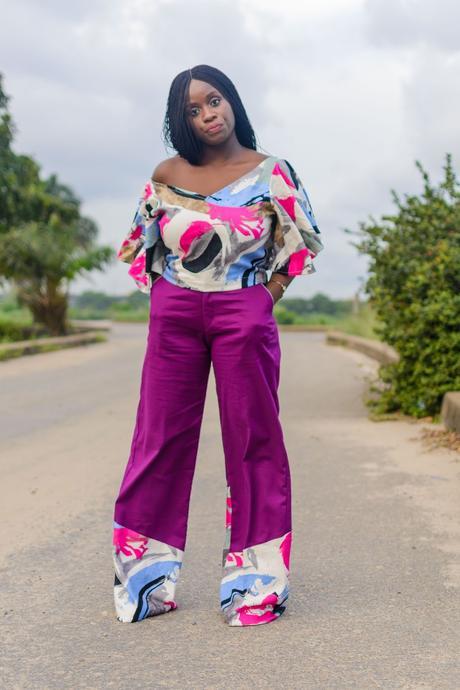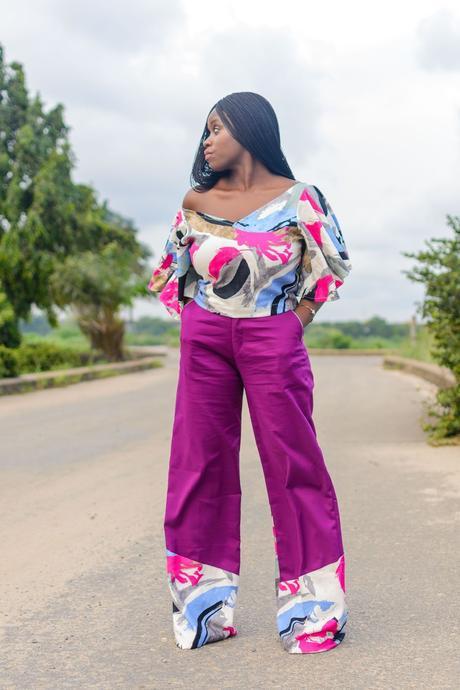 Photography by MarvinFresh Photography
Outfit DetailsMagenta Print Set - JeffUrban ClothingBangle & Ring - Mine (available on order)
Hope this was helpful, do have tons of fun playing in color and hit me with some feedback in the comment section below or you could reach out through any of my social media platforms on the side bar of this page. I've been getting tons of messages and dms about the braided wig I have on here, please send an email or a dm to place an order if you are interested in purchasing. Also you can shop my accessories by sending an email or a dm on Instagram.
Until my next post,
Sugarcoated kisses from Lagos,
Ify*


Let's Connect!

Instagram || Facebook || Twitter || Bloglovin || Pinterest
In case you missed some of my previous posts, please find direct links below:
Ensemble || Easy-Beezy in Burgundy
Product Review || Arami Skin& Hair Care
Ensemble || Pretty in TIFÉ
Ensemble || All Laced And Leathered Up In Urbanate-Binienu
Bubbles And A Blog Review
Ensemble || Some Halloween-Pumpkin Glam
Ensemble || Kente-Inspired
Foodie Chronicles || La Spiga at Le Maison Fahrenheit
Ensemble || Black Out
Ensemble || Feathers And Denim
If Only I Were A Boy
Ensemble || Of Throwbacks And Bell Sleeve