'Clouds come floating into my life, 
No longer to carry rain or usher storm, 
But to add color to my sunset sky'
Rabindranath Tagore, "Stray Birds"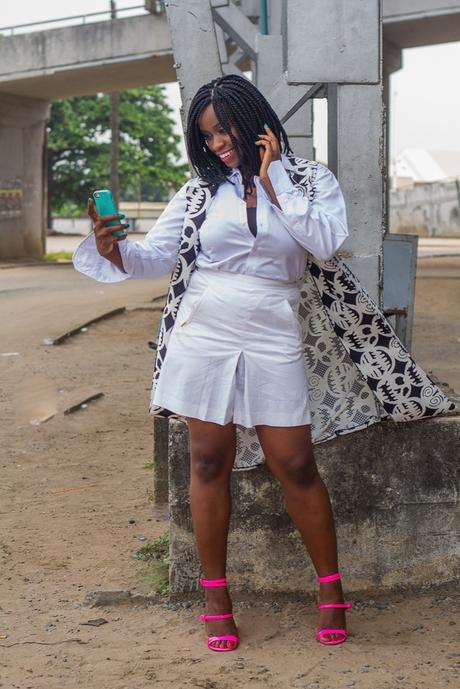 Hey beautiful people,

It's the end of the work week plus I hear we have a public holiday on Monday so cheers to a three day weekend! I look forward to a 12 hour sleep marathon and I'm hoping I can say goodbye to these bags underneath my eyes.


Today's style post features a basic black and white ensemble with a slight pop of color plus a Halloween pumpkin-print sleeveless blazer. Once again I'm wearing JeffUrban Clothing in this bold yet playful print and I'm totally in strong love with it.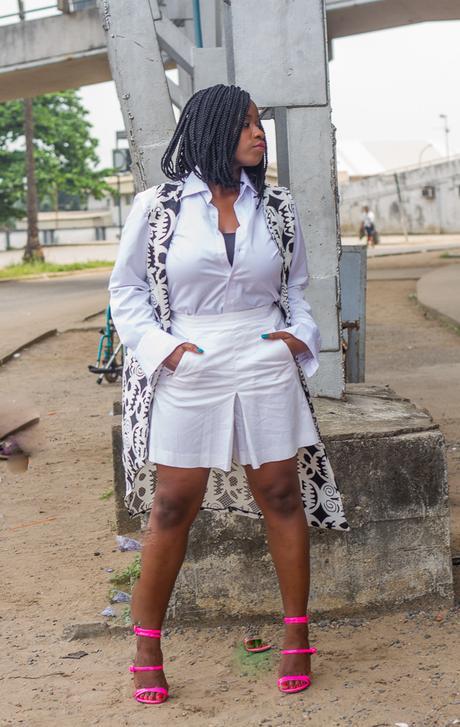 Sleeveless blazers are cute and trendy alternatives to making an otherwise boring outfit look chic and imposing. These classic pieces are pretty versatile and the styling options are diverse: From pairing it with a cute mini, midi or maxi dress to pairing it with matching pants or pairing it alongside a bodycon/flare skirt and a nice button-up shirt…the point is you can never be disappointed because 10 different outfit options can be borne out of a classic sleeveless blazer.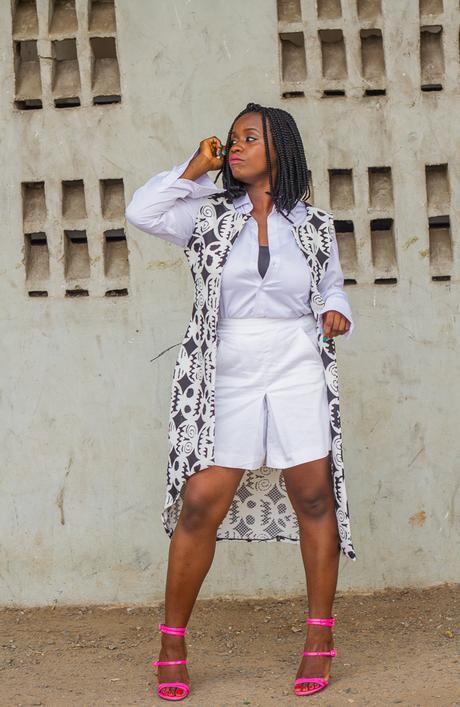 I opted to style mine alongside a crisp white button-up and a pair of skorts with the cuffs of the button-up left undone for that breezy feel. I'm particular in love with this skort because it brings back warm memories from my time in NYSC camp. I had similar skorts back then and one of those Supervisor ladies had a thing or two to say about them because she felt I was wearing a skirt sometimes…eventually she got tired of being on my case consistently.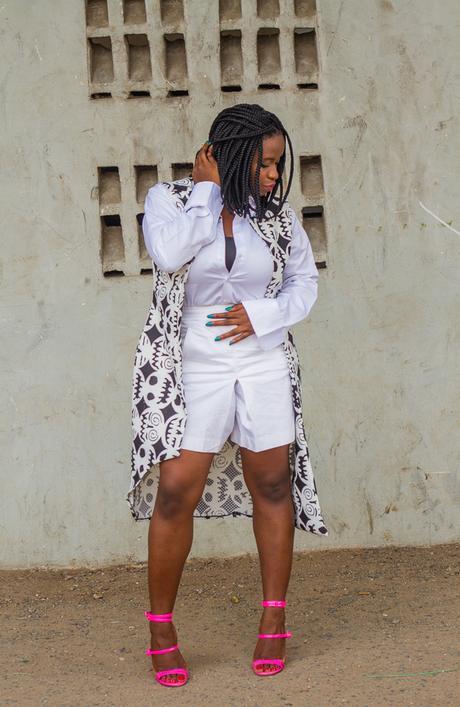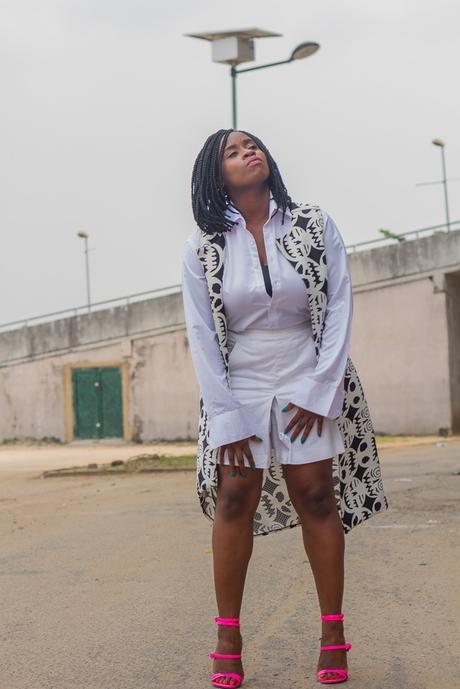 Skorts are traditionally a 90s trend that have refused to die a natural death. They are fun, fashion pieces that carry along with it waves of nostalgia for those fashionable years as well as happy memories from that time of our lives. Quite frankly, not everybody is that fond of 90s fashion but this trend is one that has refused to be watered down and now modern fashion has made it so much better…skorts come in several different designs in formal suits and separates, mostly incorporating that origami design.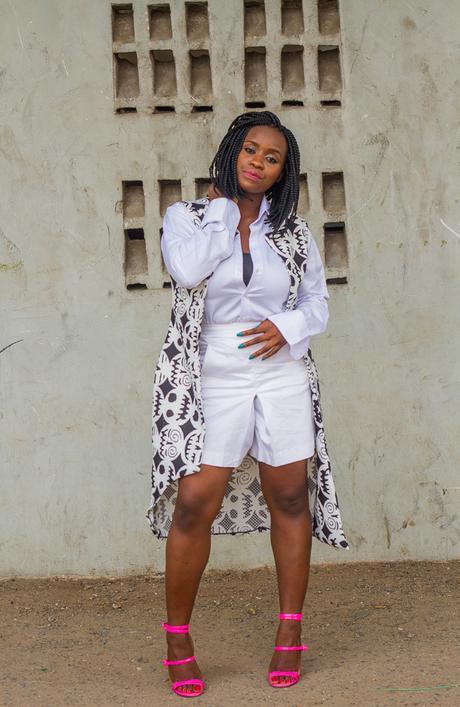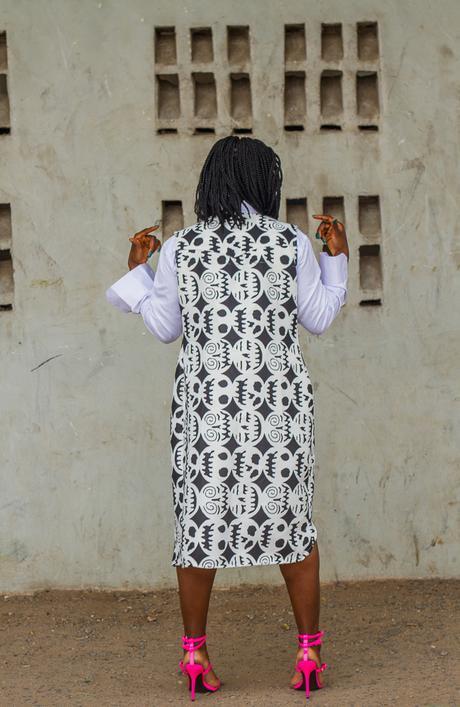 I've mentioned a number of times that accessories have a way of transforming an outfit into something timeless or into something ordinary, I'll choose timeless any day which is why I'm a regular shoe-lover and the more the 'pop', the better. I opted for these neon pink babies to bring together an otherwise monochrome ensemble for a less formal look plus I'm quite in love with the multi-straps of these heeled sandals.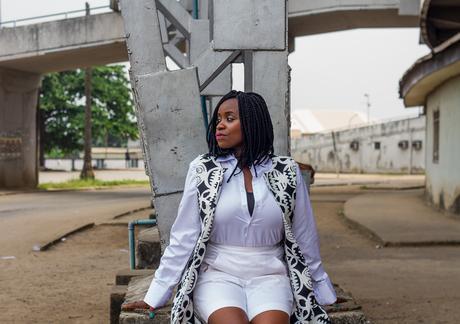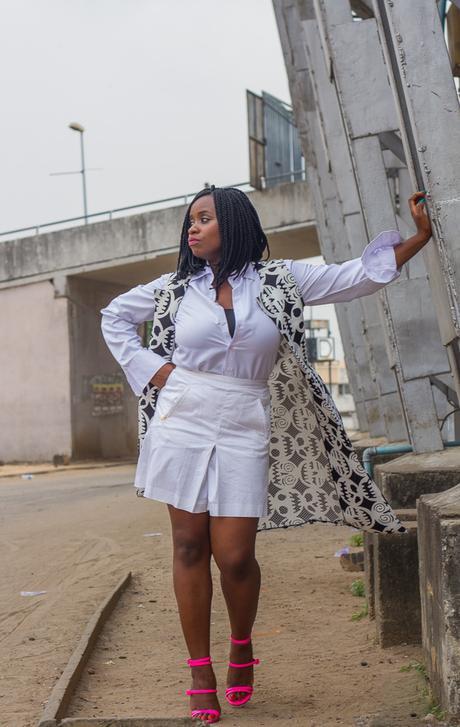 I know certain people are not comfortable with color but a major tip for today will be to start small and then build up to that level that quite suits you. You will find that you don't have to step out of your comfort zone all together but with little attempts here and there, you will wake up and realize that you already have the level of confidence you need to pull off a major departure from the norm. That said, do what makes you blissfully happy.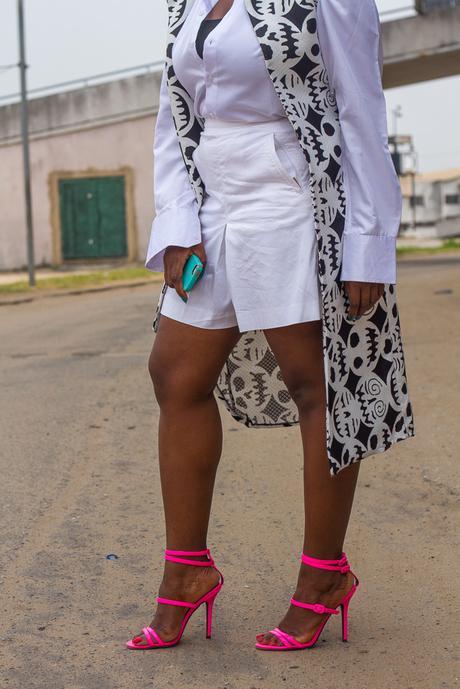 Photography by MarvinFresh Photography
Outfit DetailsWhite Button-up - Payporte
Skorts - Ralph Lauren
Halloween-Pumpkin Print Sleeveless Blazer - JeffUrban ClothingShoes - Payporte
I'm hoping this long holiday brings you all the joy in the world, do make awesome memories and have a ton of fun, you're allowed to.
Until my next post,
Sugarcoated kisses from my cubicle,
Ify*


Let's Connect!

Instagram || Facebook || Twitter || Bloglovin || Pinterest
In case you missed some of my previous posts, please find direct links below:
Ensemble || Kente-Inspired
Style On A Budget || Desola Mako Of 'DeeMako.com'
Foodie Chronicles || La Spiga at Le Maison Fahrenheit
Ensemble || Black Out
Ensemble || Peplums In October
Ensemble || Feathers And Denim
Ensemble || Kimono Sunshine
If Only I Were A Boy
Ensemble || Of Throwbacks And Bell Sleeves
Foodie Chronicles || Sakura Restaurant
Foodie Chronicles || 411 Restaurant & Bar
Weekly Wanderings || Lekki Arts And Craft Market