'Hold fast to dreams,
For if dreams die,
Life is a broken-winged bird,
That cannot fly'
Langston Hughes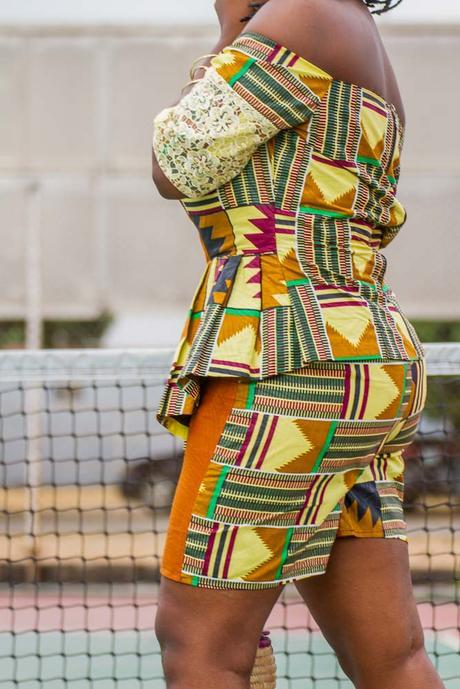 Hey folks,Happy Hump day!!!Someone randomly called out to me on the hallway today at work saying "It's officially 18days to Christmas" and I smiled saying "Such enthusiasm!" not wanting to give away the extent of my own enthusiasm. I literally can't wait for Christmas, I catch myself smiling sometimes because I honestly can't wait for the festivities to begin.
I'd get that warm and fuzzy feeling every once in a while, mostly because I know this is going to be a memorable Christmas plus my best girl is finally coming into town for Christmas…what could possibly be better than that? Christmas presents maybe but trust that I have my own Christmas wishlist and I would be sharing that pretty soon with you guys. 
In today's post I'm sharing some love for traditional prints in this case, the popular Ghanaian Kente fabric. I was gifted this fabric by a sweetheart of mine and I wanted to make an outfit that I can do plenty with, hence this shorts set. Yes, my love for shorts continues but I promise it's going to be a relatively respectable affair.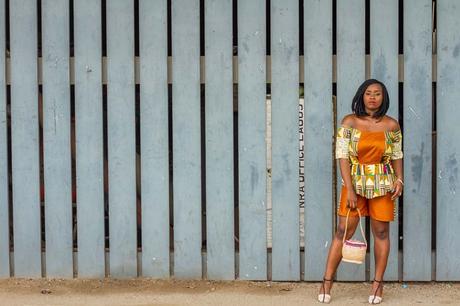 This short set was custom made by my friend who runs the womenswear brand Binienu by Kaeto, this brand speaks to that confident woman who is not afraid to stand out and try a couple new things once in a while. They make women clothing ranging from jumpsuits to dresses, playsuits and many other clothing items in lovely prints and unique designs. Honestly, I'm yet to witness a day in Kaeto's presence where she isn't bursting with loads of ideas or sketching something that just came to mind or just plain sketching…she was born fashion-ready so this is yet another brand that you'll be glad you tried out and I'm quite proud of her for how far she's come and how much of a hard-worker she is. The brand has a website so you can check that out by clicking here.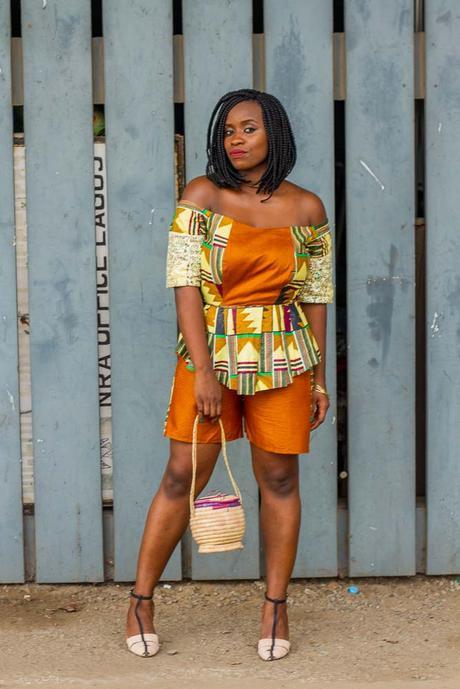 The great part about this set or sets in general is the added bonus of styling them as separates in an entirely new combination for that desired oomph. I see myself wearing this off-shoulder peplum top with another palazzo pant in an acceptable color scheme or probably with culottes or even a skirt. The point is I'm never one to have a dull moment when it comes to styling pieces or recreating different looks in several different ways so I plan to get a good wear out of this entire set.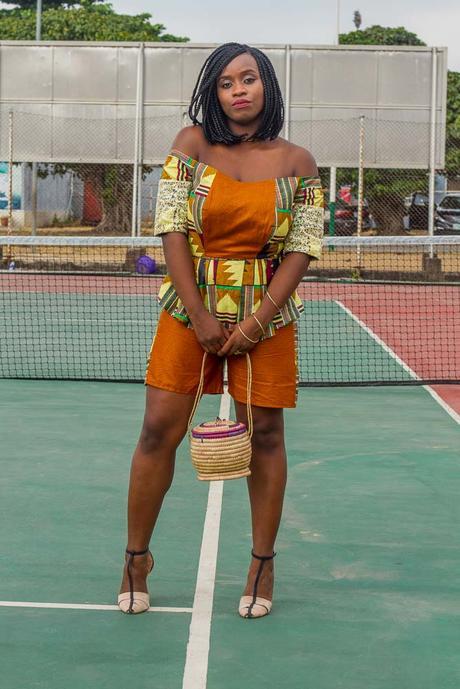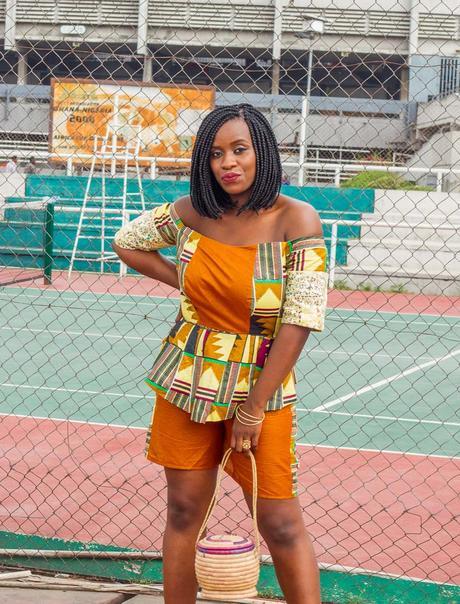 I'm quite crazy about the peplum detailing in the front of the top and I love how it manages to conceal some little pockets of fat here and there…yes #TeamFitFam is not as easy as it sounds trust me, I've backslid recently but I promise to get back on top of things as soon as possible.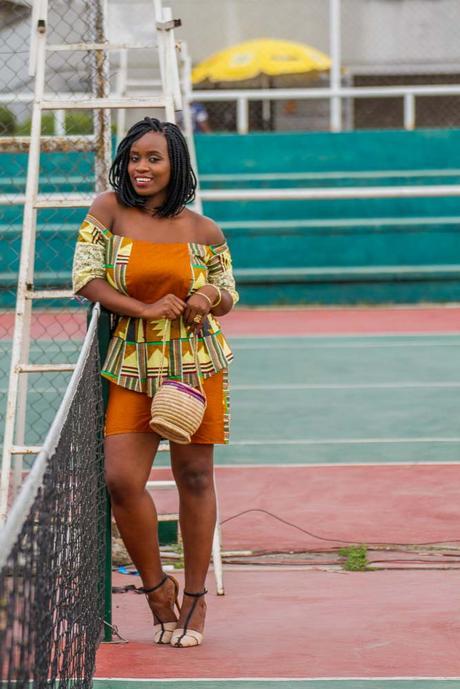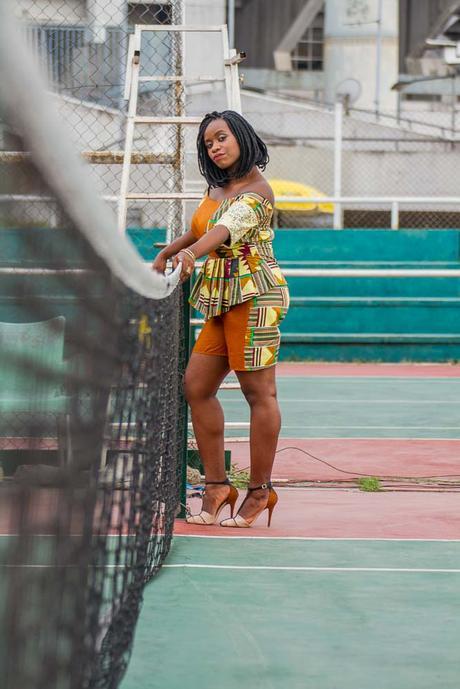 Who else agrees that the off-shoulder trend seems like it's here to stay? Honestly I doubt this trend is going anywhere plus I'm not complaining, I'm quite in love with it and with the right ones I find I can get away with not looking so fat which I'm most grateful for.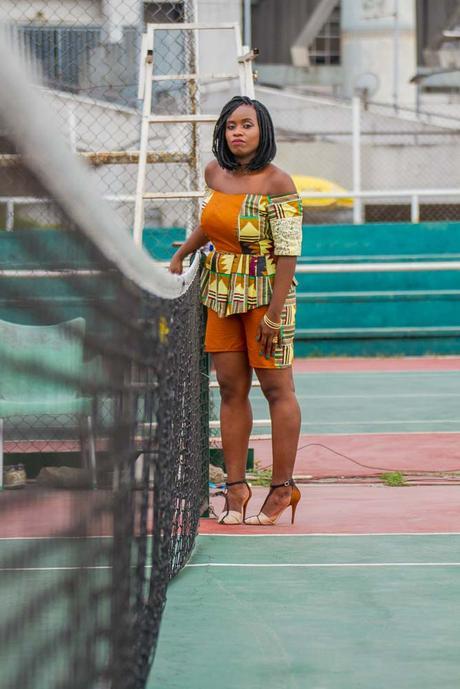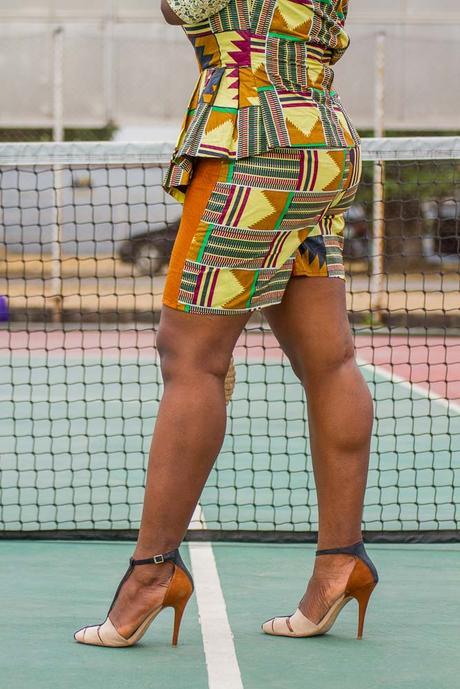 Photography by MarvinFresh Photography
Outfit DetailsShorts Set - Binienu by KaetoShoes - Zara
Raffia Pouch and Choker- Lekki Art & Craft Market
Bangles and Ring- April by Kunbi Accessories
Literally running out the door right now so I'll catch up with you folks in my next post so please stick around.
Until then,
Cherry kisses from yours truly.
Ify*


Let's Connect!

Instagram || Facebook || Twitter || Bloglovin || Pinterest
In case you missed some of my previous posts, please find direct links below:
Style On A Budget || Desola Mako Of 'DeeMako.com'
Foodie Chronicles || La Spiga at Le Maison Fahrenheit
Ensemble || Black Out
Ensemble || Peplums In October
Ensemble || Feathers And Denim
Ensemble || Kimono Sunshine
If Only I Were A Boy
Ensemble || Of Throwbacks And Bell Sleeves
Foodie Chronicles || Sakura Restaurant
Foodie Chronicles || 411 Restaurant & Bar
Weekly Wanderings || Lekki Arts And Craft Market