'The most wasted of all days is one without laughter'
Nicolas Chamfort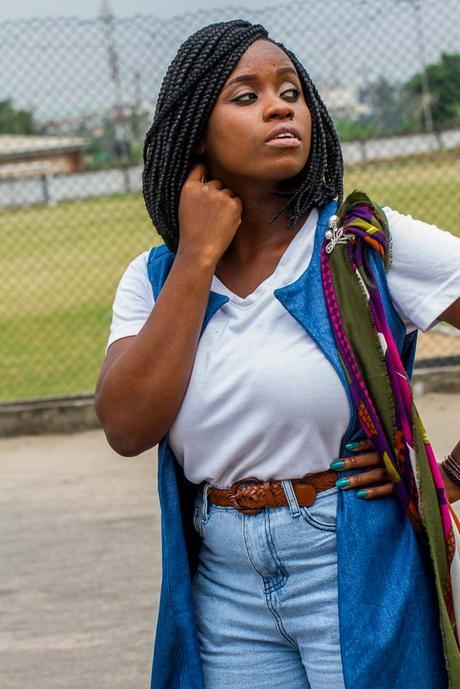 Merry Christmas folks!!!
There's so much to be thankful for today and while it feels like it's been an endless year, I'm not quite ready to see it go just yet. This year has been incredibly intense and quite beyond words. I met a lot of beautiful people this year, forged amazing alliances, and I learned a lot about being me this year. Quite frankly, I haven't felt all about Christmas in two years now until this Christmas rolled by and now I find myself pretty psyched about the holidays.
Yes, there have been the usual Christmas errands to run alongside all the festivities; still I couldn't help but check in with you folks to wish you the best of this season. This is me speaking beautiful things into our holidays alongside tons of love, light, laughter, grace and gifts of course. While I'm still in my Christmas groove, I just thought to share this ensemble with you folks and I apologize if I sound awfully chirper today, I just woke up feeling really chatty but I'll try to keep my ramblings to an acceptable level.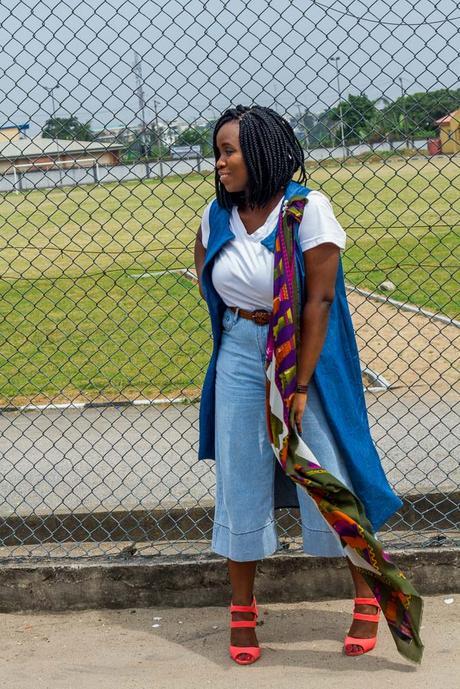 It's all about denim today and the casual-classy vibe of the Christmas season. There's going to be plenty to eat this holiday so while you're going for your next meet-up/house party, it's important to dress befitting of the occasion. I for one plan on wearing comfortable clothing with enough room just in case I wind up eating a lot so you'll find me in really loose clothing this holiday.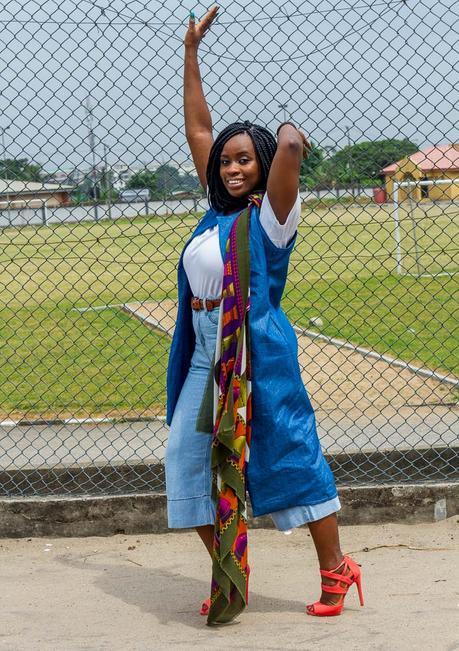 This denim delight is another spin on the popular double-denim trend. I opted for yet another sleeveless blazer courtesy JeffUrban Clothing and I threw in a white tee for a more neutral feel to the entire look. In my previous post here, I raved about sleeveless jackets and mentioned just how versatile these pieces are so be sure to add a couple to your current wardrobe situation. I copped this cropped denim culottes off Payporte a while back alongside a couple others in similar designs and I hadn't gotten around to wearing this particular one until now. I like the comfort it offers and I'm quite partial to the cut, giving the entire outfit that easy, effortless feel.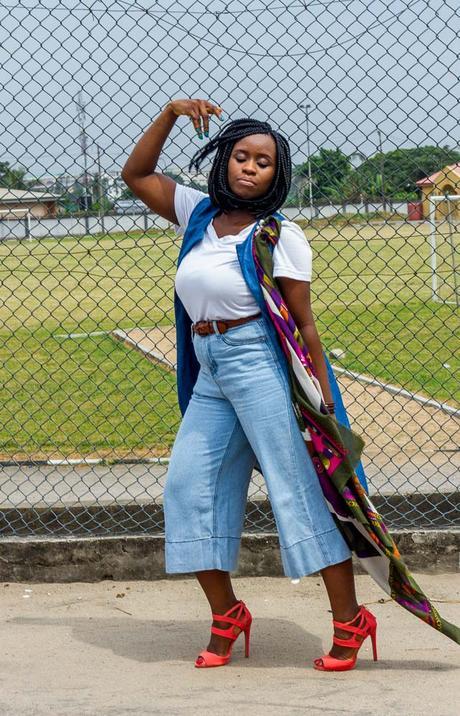 I threw in this fun print scarf for good measure and I accessorized using this pretty brooch that was sent to me alongside some other goodies by Style by Jedidiah in collaboration with Alice of Colours and Grey, these are some of the people who made my year epic and I can't help but be grateful that we crossed paths this 2016. Oh I promised I'd keep the ramblings away so I'll gush about the phenomenal people from my 2016 some other time…now back to the outfit.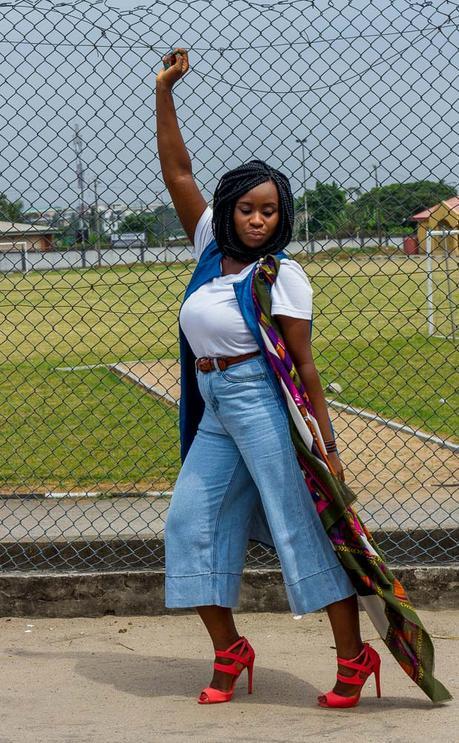 Yes, I hardly wear jewelry these days but when I do I don't wear that much plus this hair-do has helped me a great deal – I haven't had to wear earrings for some weeks now so this outfit didn't require that much from me. I did however bring a little pop into the mix all thanks to these coral sandals that had been gathering dust in my wardrobe for a while now. These babies are quite comfortable but I guess lately I've been all about slides and brogues.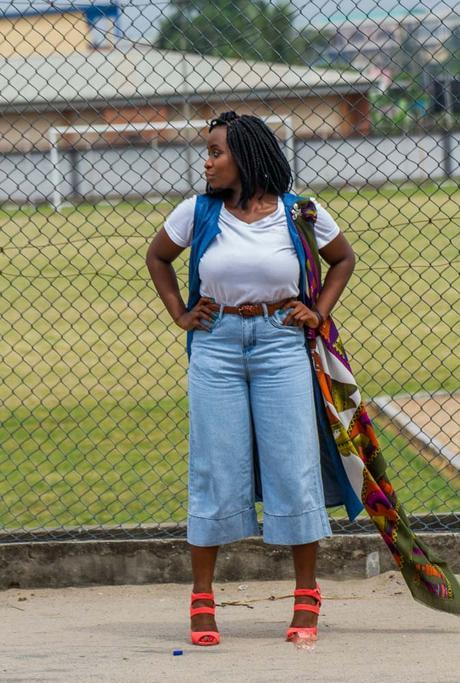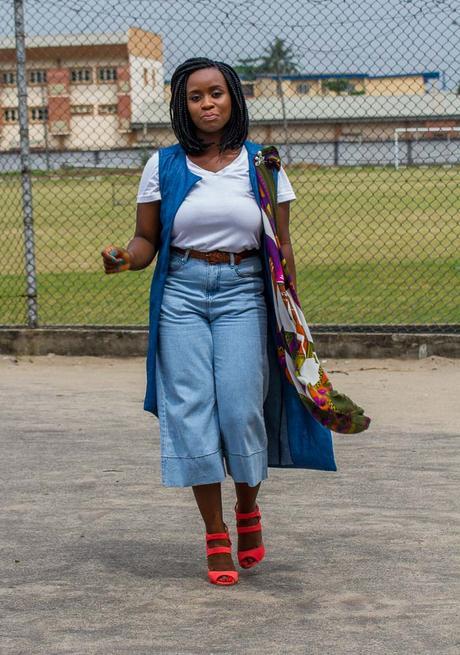 This outfit and the fun vibe in them currently express the joy I feel with this year coming to an end alongside all the beauty that was encountered with each day. I probably didn't have the best of time every second of the year but still everything was different and in an exceptional way and I can't help but be happy and grateful.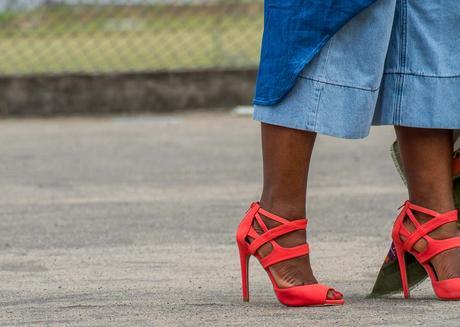 Photography by MarvinFresh Photography
Outfit DetailsWhite Tee - Ralph Lauren
Cropped Denim Culottes - Payporte
Scarf - Cartier
Denim Sleeveless Blazer - JeffUrban ClothingShoes - Payporte
Brooch - Style by Jedidiah
Bracelet & Belt - Jumia


It's time to get back to the festivities at my end so I'll leave you folks to enjoy things as well. Here's wishing you a Merry Christmas once again and an even better year ahead. Oh and if you still haven't gotten someone a gift for the season, do check out my previous post using the link provided below - I shared some pretty helpful Christmas gift ideas.




Cherry-coated kisses from me to you.




With Love,




Ify*




Let's Connect!

Instagram || Facebook || Twitter || Bloglovin || Pinterest
In case you missed some of my previous posts, please find direct links below:
Christmas Gift Guide
Style On A Budget || Tuke Morgan Of 'TukesQuest.com'
Ensemble || Some Halloween-Pumpkin Glam
Ensemble || Kente-Inspired
Style On A Budget || Desola Mako Of 'DeeMako.com'
Foodie Chronicles || La Spiga at Le Maison Fahrenheit
Ensemble || Black Out
Ensemble || Peplums In October
Ensemble || Feathers And Denim
Ensemble || Kimono Sunshine
If Only I Were A Boy
Ensemble || Of Throwbacks And Bell Sleeves
Foodie Chronicles || Sakura Restaurant
Foodie Chronicles || 411 Restaurant & Bar
Weekly Wanderings || Lekki Arts And Craft Market