'Timidity is the silent acceptance of bondage'
Constance Friday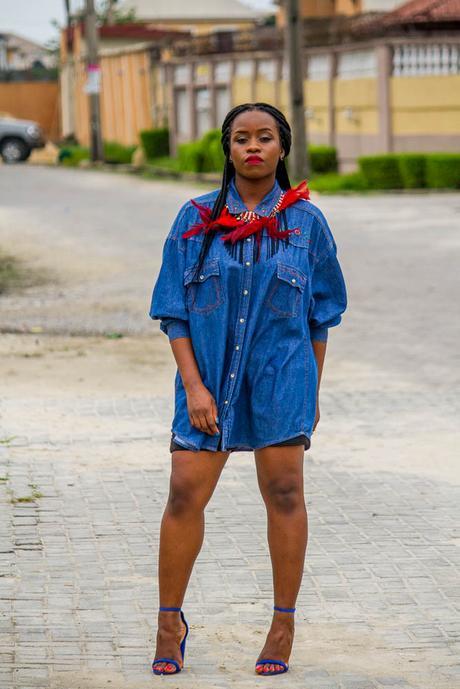 Hey beautiful people,It's yet another Thursday and I'm quite sure most of us are already counting down to the weekend; you can bet my guilty hand is raised high with pride in this particular instance.
We are talking comfortable fashion today and I can't stress enough just how important comfort is to me when I'm throwing on any piece of clothing. First off I'm a pretty restless human being, I kid you not - I literally find it difficult to sit in one position for more than 30minutes at a stretch and my friends laugh about this all the time. I find that I can only endure sitting down for a long time when I don't consciously realize that I'm sitting. It's quite simple actually - whatever is going on at that moment has to be totally riveting such that my mind tricks my body into staying put otherwise I'd just keep on fidgeting until I get up to supposedly stretch my legs.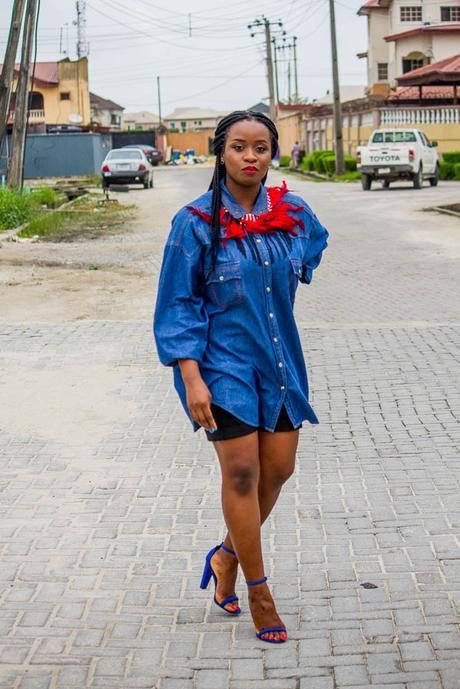 It's as a result of this same weirdness that half the time I avoid clingy clothing, well that and the fact that tight clothing sometimes triggers a very weird itching episode that could just as easily lead to me scratching off my entire skin hence all the scars on my legs...silly allergies. The best part however is that no matter how loose the fit of the clothing, it never looks awkward thanks to the fact that I'm a little extra at the top (which I don't particularly enjoy half the time) and that makes most baggy outfits work for me.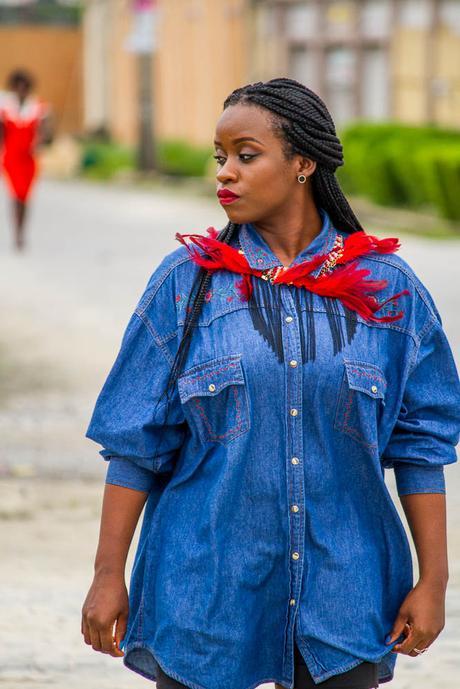 I might not wear denim so often but every once in a while I venture towards that direction. This boyfriend button-down denim shirt was a thrift-find and a really good one might I add. It could be worn as a shirt-dress like I do with most of my huge shirts as long as they are at a respectable length and not too scandalous, after all we are currently in Lagos filled with random individuals judging you as you walk past them on the streets.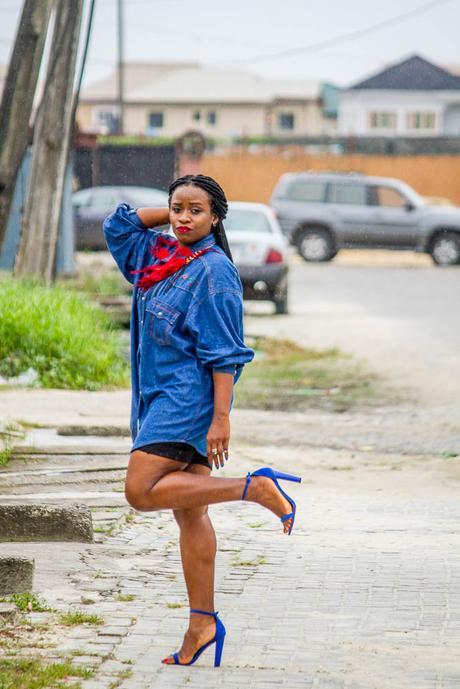 Honestly, Lagos people are very unforgiving especially for people like me who can't drive and are either taking the bus or taking a taxi, you'll be surprised how boldly people walk up to you to comment about your clothing or randomly shout it out at you while you pass by. Personally, if I feel comfortable with what I'm wearing, no bold individual on the street can shake me: I'm sorry but that's who I am.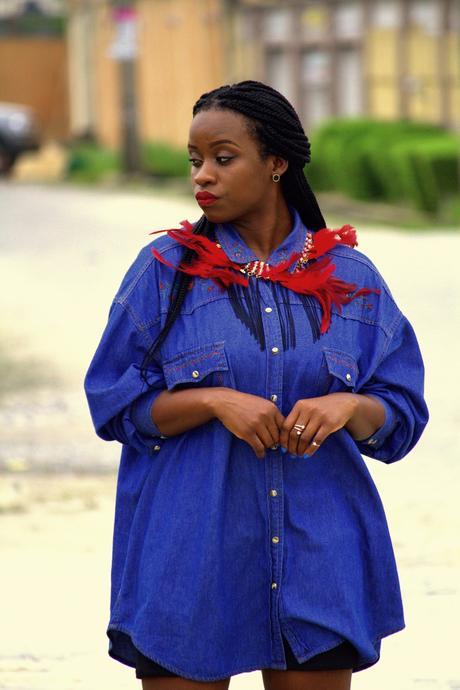 It's no news that shorts are one of my favorite pieces of clothing in the world, I try to always keep them at a fairly respectable length. My mum's not a big fan so I try not to push it, however my flaming love is not going anywhere. I find that it is this same desire for comfort that guides my choice in clothing all the time. Boyfriend tees, kimonos, shift dresses, skater skirts, palazzo pants…you'll find me in these on a regular.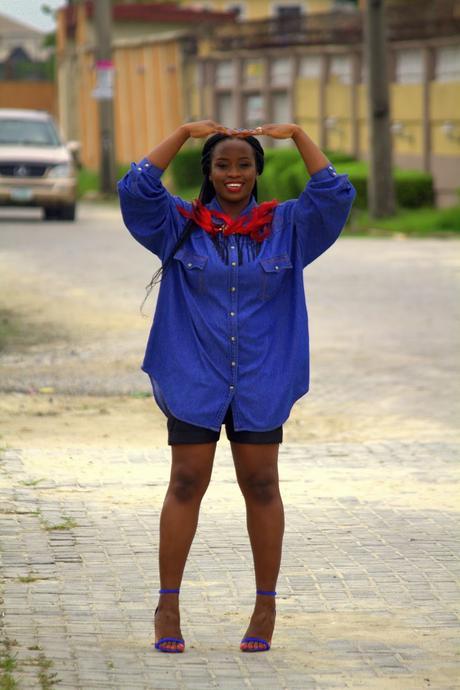 This outfit can be reworked to suit quite a number of purposes actually. If it's more or less a chilled day and you're looking to be on the relaxed side then you can certainly loose the heels, pop open that collar with hoops or studs in your ears as far as accessories go. This look coupled with that feathered necklace however, could do for a more serious engagement like say Sunday brunch, a Music festival or a Stage play. Like I always say, "it's all about versatility" because you don't want to keep wearing an outfit the same old boring way every single time - it'll get old pretty quickly.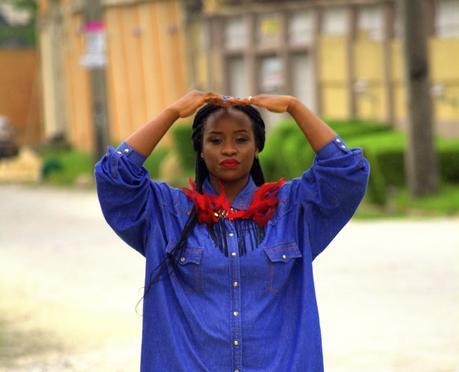 During this shoot, it was one of those rare days when sun was shining and rain was falling slightly so it was quite breezy with the feathers on the necklace refusing to stay in place such that you can't see the real structure with it constantly in motion. Rain drops kept getting into my eyes but you can't really tell because I'm wearing dark colours so it will be difficult to notice the droplets on my shirt. All things considered it was a really fun day amidst the confusing weather and I quite like how it turned out.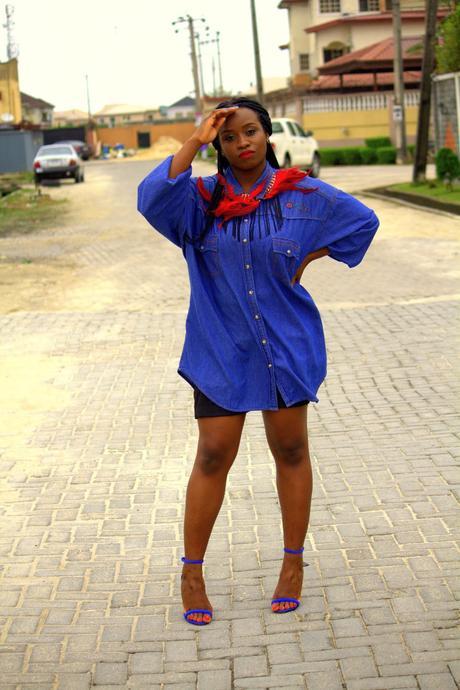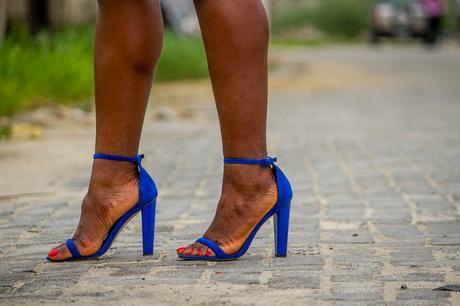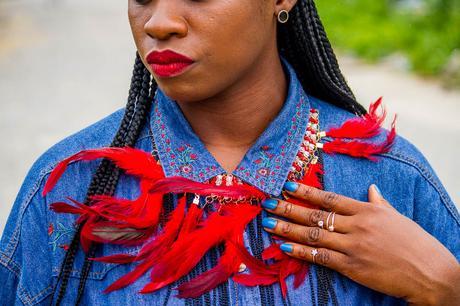 Photography by MarvinFresh Photography
Outfit DetailsBoyfriend button-down shirt - thrifted
Shorts - old & tailoredShoes - Asos
Necklace - MajuEarrings & Rings - Forever21
I'm hoping you folks have a hit-list of things planned for the weekend, I'm still stuck on the fact that the year is pretty much over and yet it feels like it just started the other day…life as we know it to be lol. Anyhow, I'm heading out now and I'm sending so much love your way amidst a lot of warmth. You could always share your thoughts in the comment section below and let me know how you would wear this.
Until our next pow-wow,
Kisses from Lagos,


Ify*





Let's Connect!

Instagram || Facebook || Twitter || Bloglovin || Pinterest
In case you missed some of my previous posts, please find direct links below:
Style On A Budget || Ifeoma Amadi of 'WhoWhatFab'
Ensemble || Kimono Sunshine
If Only I Were A Boy
Ensemble || Of Throwbacks And Bell Sleeves
Foodie Chronicles || Sakura Restaurant
Currently Loving || Purple Lipsticks
Ensemble || Walking In Plaid
Ensemble || Monochrome and Print
Foodie Chronicles || 411 Restaurant & Bar
Ensemble || Go Gold
Weekly Wanderings || Lekki Arts And Craft Market
Ensemble || Of Nudes And Black
Ensemble || Boho Loving
Ensemble || Shades Deep