'God has placed you here for a purpose,
Whatever it might be;
Know He has chosen you for it and labor faithfully'
Anon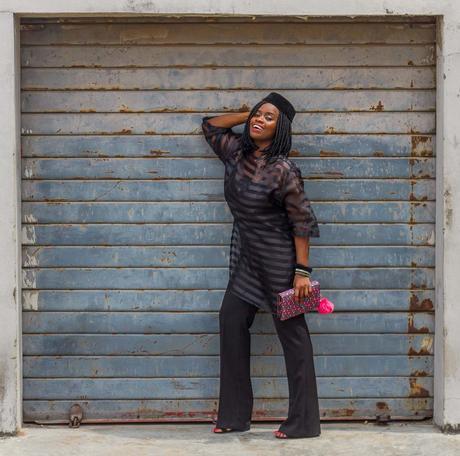 Hey folks!!!There isn't going to be an "it's been a minute" kind of intro because quite frankly I don't see the need to belabor the obvious, I've been away for way too long and that certainly wasn't part of my plan. It is however okay to hope that November has been great for you beautiful people, it's been one surprising roller-coaster for me but I'm quite grateful that I'm still standing today.
I wanted my first post back to be something fun so I decided to put together an outfit post before diving back into sharing all the backlog of articles I had planned…like some reviews from Restaurants visited during Mastercard Restaurant Week (I will share those in my next post this week) which ended last week and I'm feeling a certain level of nostalgia.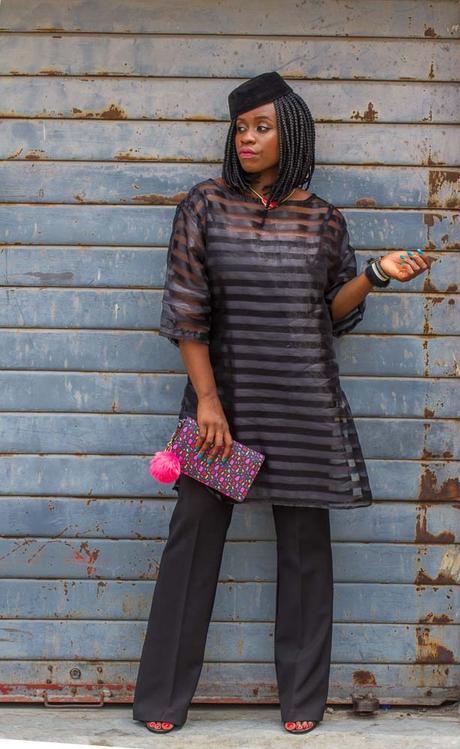 So where have I been you might ask? Well for starters I've been up and about…it's been work mostly and I've been slightly unwell these past few weeks. I'm doing okay now, quite grateful for good health and I'm currently trying to get back in the swing of things. I figured what better way to start or rather end November than in one of my favorite colours so here we go with this black ensemble.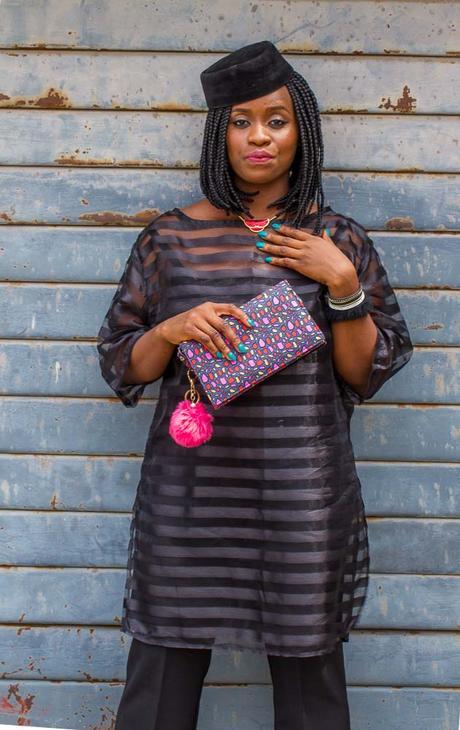 This black sheer tunic is yet another piece from JeffUrban Clothing, if you've been following my blog you'll know I raved about the brand in some of my previous posts here and here. Staying true to my aesthetics as always, I opted for comfort will a twist hence oversized palazzo pants, with comfortable sandals and this striped sheer number. Personally I can never overemphasize the importance of comfort when it comes to my style and it's also quite important to me that I purchase items with that element of versatility so that on days when I choose to be a repeat-offender, I'll be doing so in major style *insert cheeky grin*.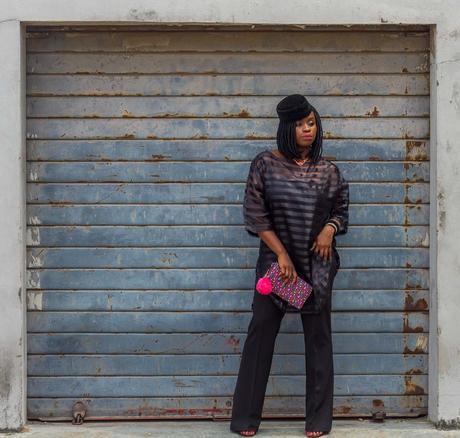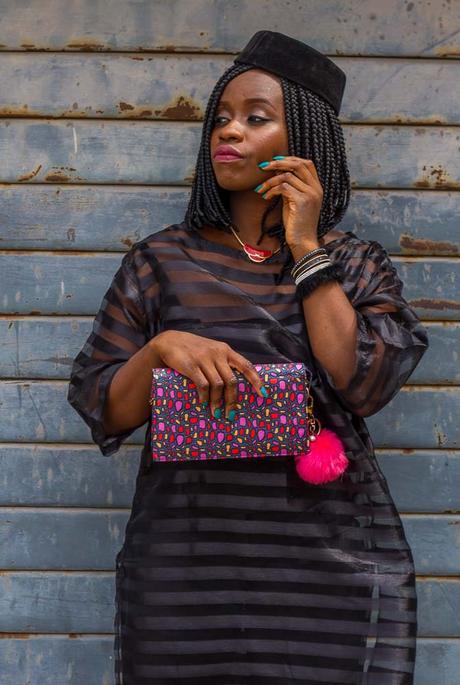 This sheer tunic can be layered on top of a cute bodycon dress, a shift dress or if you're about "that shorts life" like me, you know the drill. The only question would be whether you prefer to show some skin underneath the sheer blouse or if you would much rather prefer a classy, Victorian take on the sheer movement, I'm all about the latter.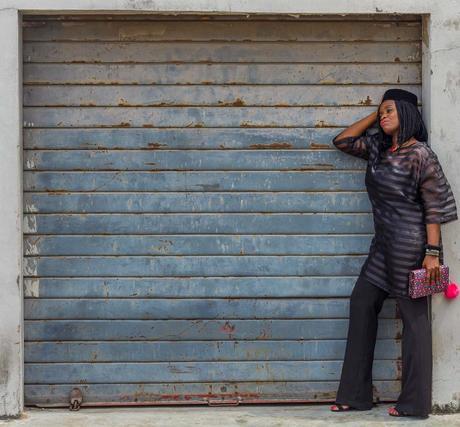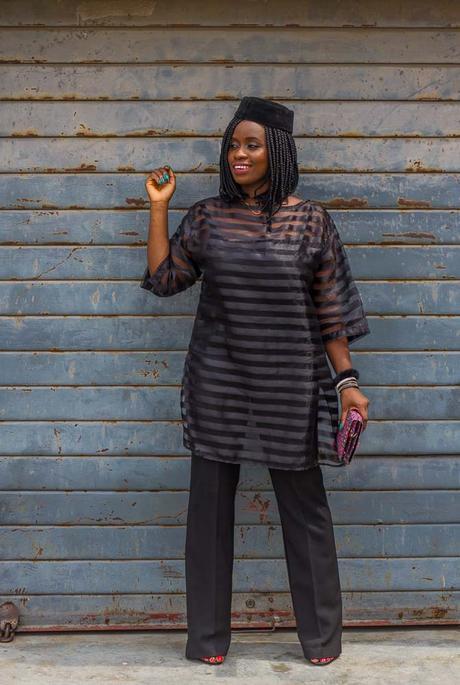 For some people, black might be a tad boring so you can switch things up by going for a more vibrant color or you might want to stick with black and add that much needed drama to your accessories hence the Fez hat, purse and pompoms in shades of black, pink, red and prints. I'm all for drama just in case you were wondering so this outfit was borne out of an utter desire to be different while being dramatically stylish and yes - that pretty much sums up what I'm about on a regular.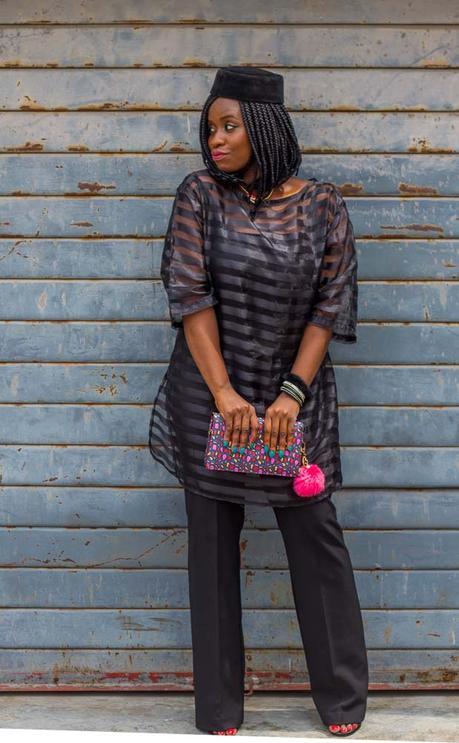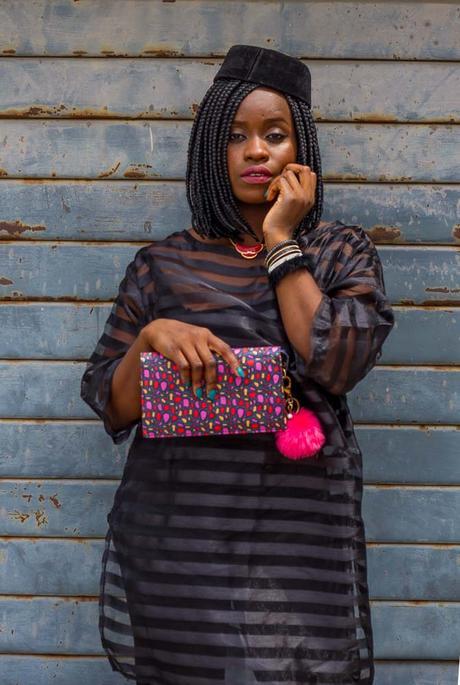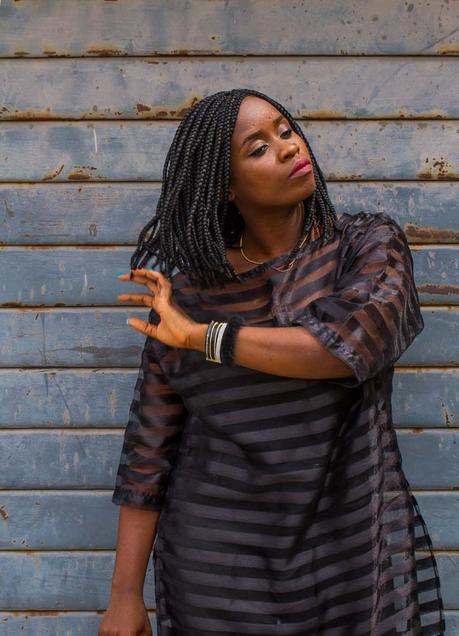 Photography by MarvinFresh Photography
Outfit DetailsSheer Tunic - JeffUrban Clothing
Palazzo pants - Custom-madeShoes - Truffle via Asos
Purse - Lekki Art & Craft Market
Bag Charm - AccessoriesNG
Bracelet - Maju
Fez Hat - Custom-made
In other news - I'm back to bob braids, I haven't had one installed in over a year so it seemed kind of appropriate to try one again. At the end of the day, it was major fun twirling in front of a camera in this ensemble and as always we had such a good laugh doing this shoot. If you'll love to collaborate with me, please send an email across to

[email protected]

or hit the email link in the sidebar.
Until my next post,
Sugarcoated kisses from my cubicle.


Ify*





Let's Connect!

Instagram || Facebook || Twitter || Bloglovin || Pinterest
In case you missed some of my previous posts, please find direct links below:
Ensemble || Peplums In October
Ensemble || Feathers And Denim
Ensemble || Kimono Sunshine
If Only I Were A Boy
Ensemble || Of Throwbacks And Bell Sleeves
Foodie Chronicles || Sakura Restaurant
Foodie Chronicles || 411 Restaurant & Bar
Weekly Wanderings || Lekki Arts And Craft Market