'You'll learn, as you get older, that rules are made to be broken. Be bold enough to live life on your terms, and never, ever apologize for it. Go against the grain, refuse to conform, take the road less traveled instead of the well-beaten path. Laugh in the face of adversity, and leap before you look. Dance as though EVERYBODY is watching. March to the beat of your own drummer. And stubbornly refuse to fit in'
Mandy Hale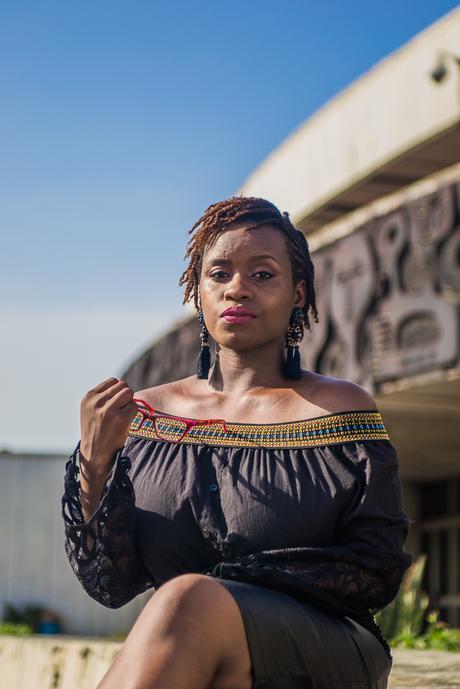 Hey beautiful people,It's been a whole minute, how you been? Here's hoping the past Easter four-day weekend was good to you and somehow you were able to get into as much trouble as is healthy and befitting for a short holiday like Easter break. Even as this weekend winds down, I'm certainly looking forward to the holiday next week and I'm pretty sure someone feels the same.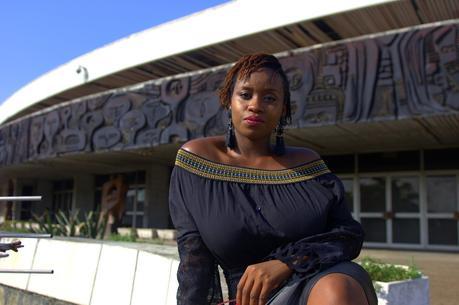 I'm just checking-in after a long hiatus which I sincerely apologize for, I had a plethora of activities going on these past two months and I honestly was just trying to keep up with my daily dose of oxygen. Anywho, I'm officially back with yet another ensemble post featuring a collaboration with Urbanate Binienu.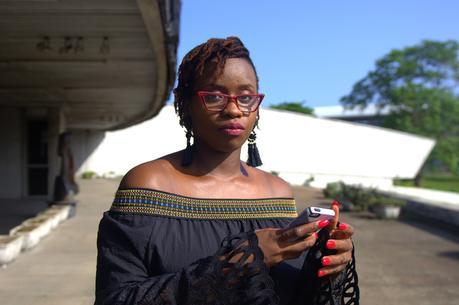 If you are an avid follower of my blog (quite grateful for you all), then you have probably heard me rave about the

Urbanate Binienu

brand here and here. Well, I'm not trying to belabor the obvious but truth be told I'm quite partial to this brand. They cater to the timeless woman who is not afraid to be called feminine. I will be styling several other pieces from this brand in subsequent posts so kindly stick around as we explore all things beautiful.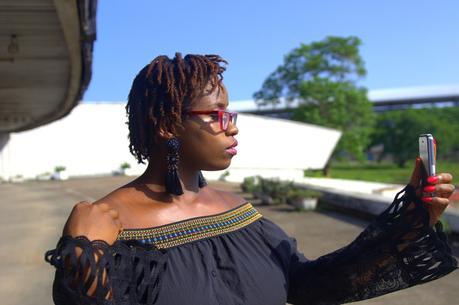 I'm starting out with this leather skirt with lace paneling which fit like a glove weirdly enough. I've never been one for skin-tight clothing but I have to say this skirt really did a number on me. I'm ever so conscious of tight-fits because this girl right here can never be called 'skinny' with all my little pockets of fat here and there. I have not worked-out in a really long time and I have actually put on some extra weight so I currently dress-up to hide all my many secrets. Surprising though, I've been leaning towards off-the-shoulder tops lately, seeing as how my shoulders are the only part of my body that still give me some certain level of consolation. This off-the-shoulder number from Maju made a perfect combo with the leather skirt as they both fit perfectly together.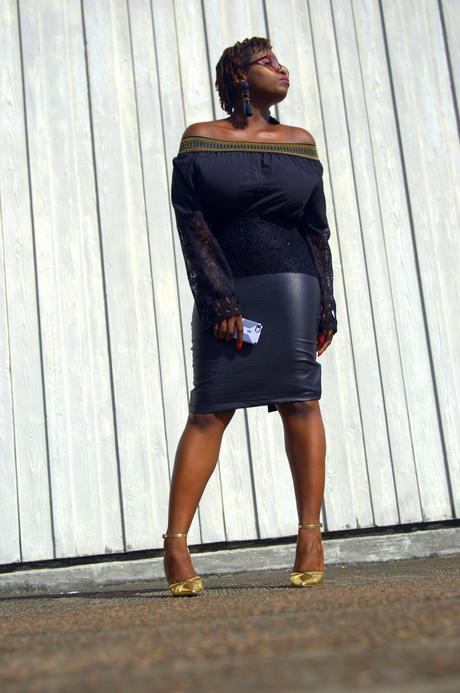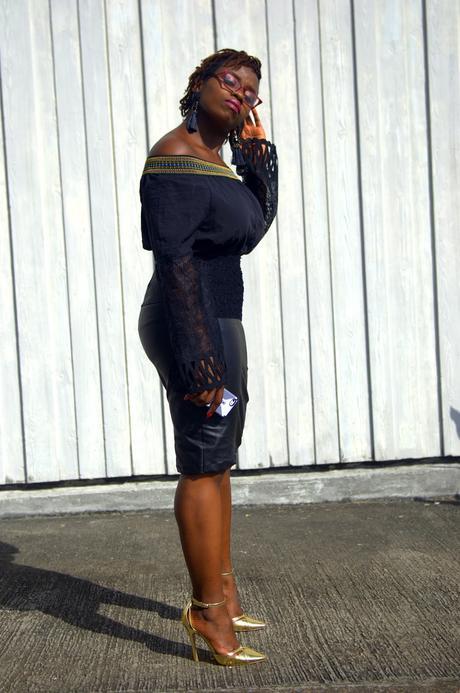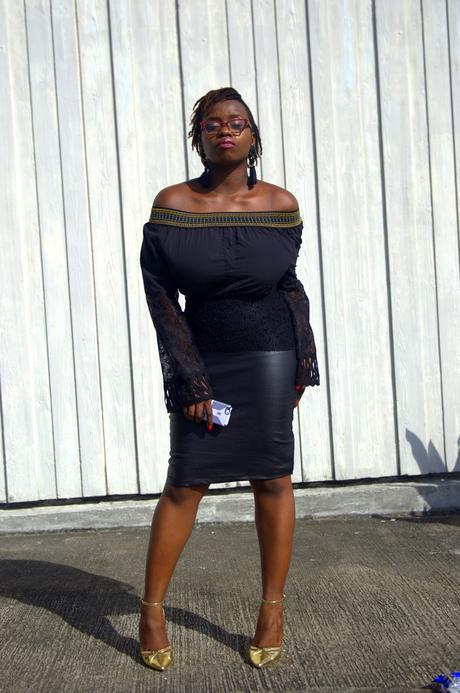 Some people might wonder how to pull off wearing a leather skirt in Nigeria but honestly I feel it's pretty basic – date-night looks, casual-day looks, lunch with your girls...whatever the occasion, leather skirts and outfits can be styled to suit whatever needs. The only exceptions might be for the corporate world setting where articulated dress codes might restrict wearing leather outfits. Other than that, I'd say anything else is within the realm of possibility.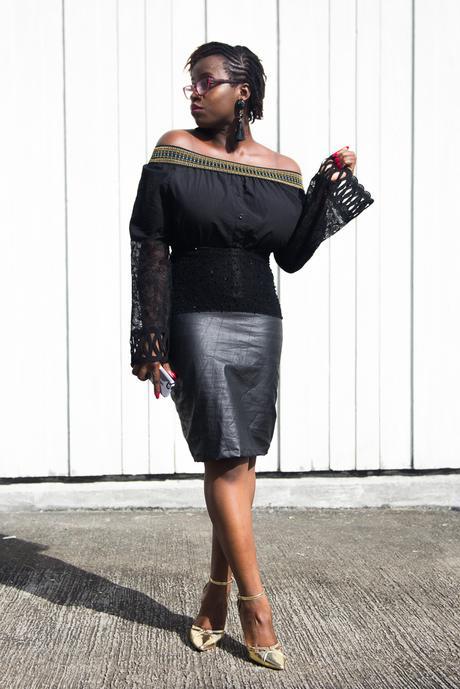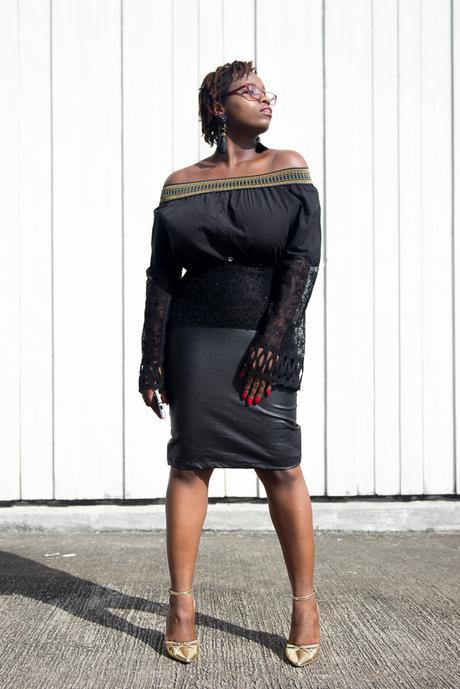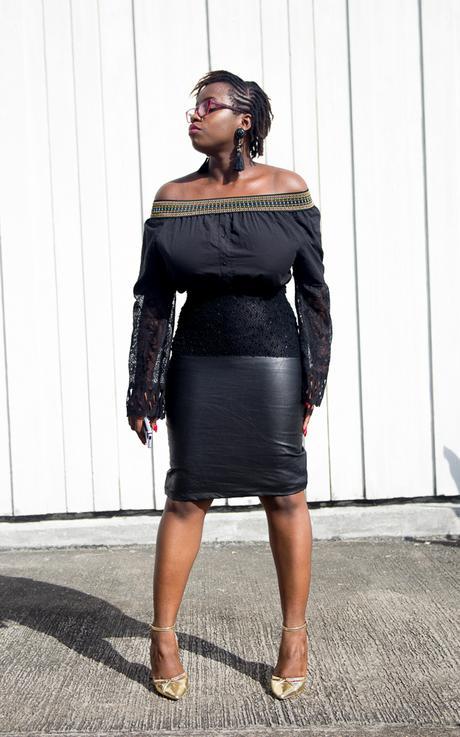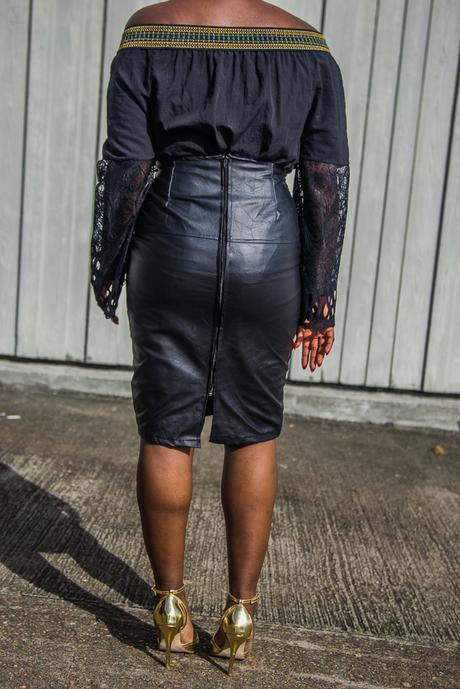 A quick-tip to remember when styling leather pieces is to pair them with corresponding pieces that will complement the leather and not pieces that would overshadow it as that might make your entire outfit look a little less than average. In this instance, I went for an all black look because you know I'm a lover of everything black and I really love the lace paneling on the skirt so I decided to go with some extra lace on my blouse and the sleeves of this off-the-shoulder goodness really did bring the entire outfit together.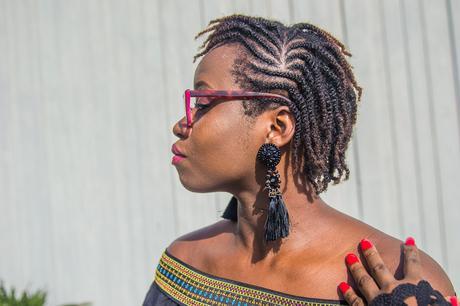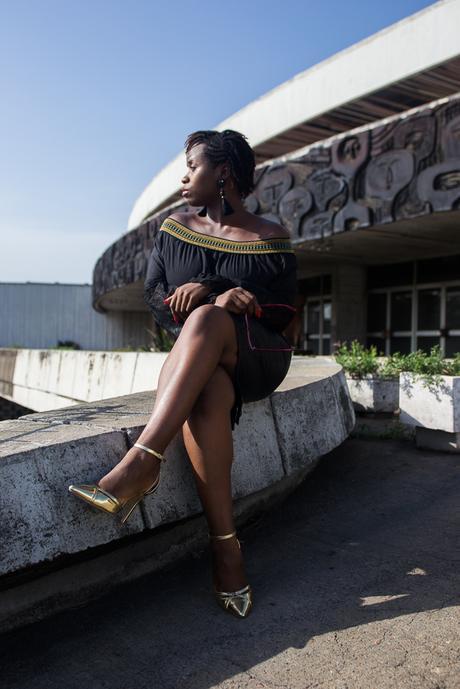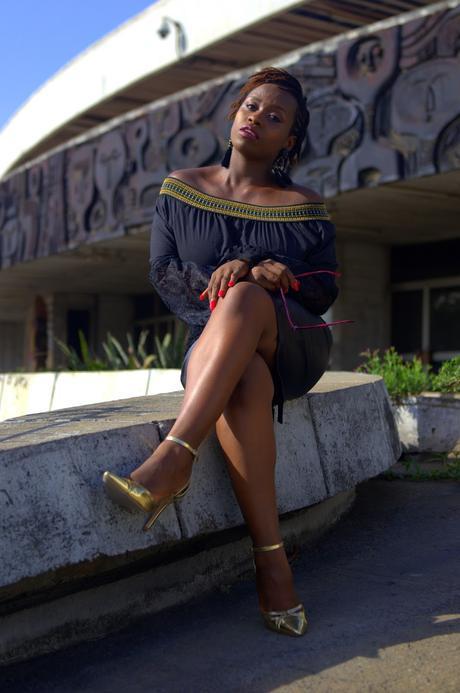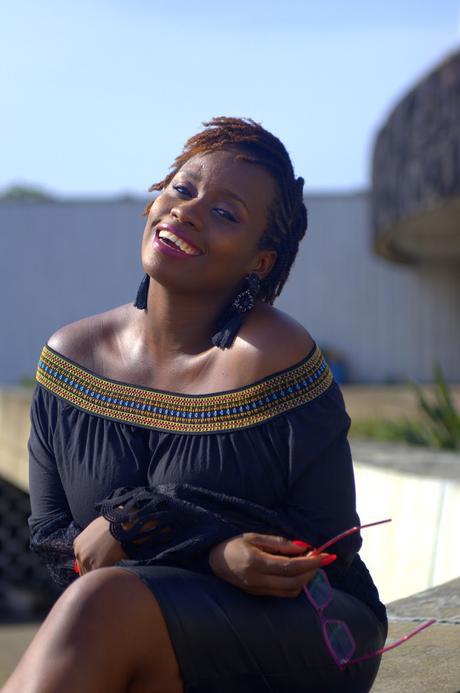 I kept my accessories pretty basic with these edgy tassel earrings that I've been loving lately and of course, my new pair of reading glasses because I'm quite partial to these new frames – I don't feel the least bit awkward wearing them anymore. Also, I went for these pair of heels because of the gold embroidery on the off-the-shoulder blouse which meshed well together.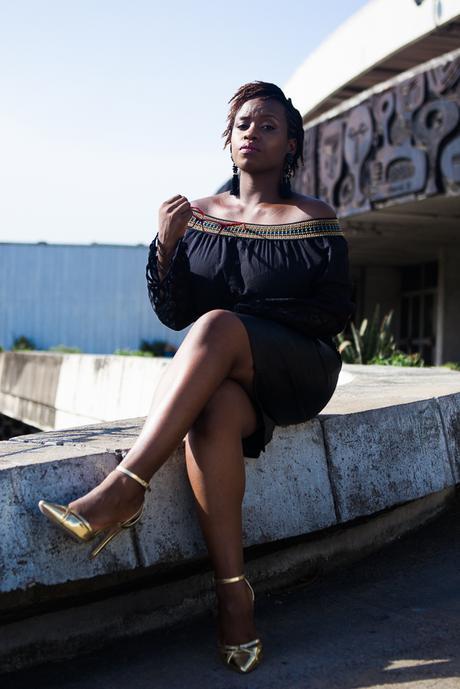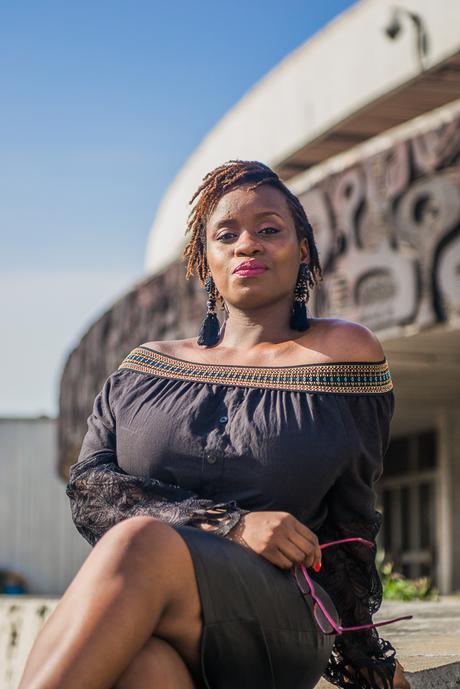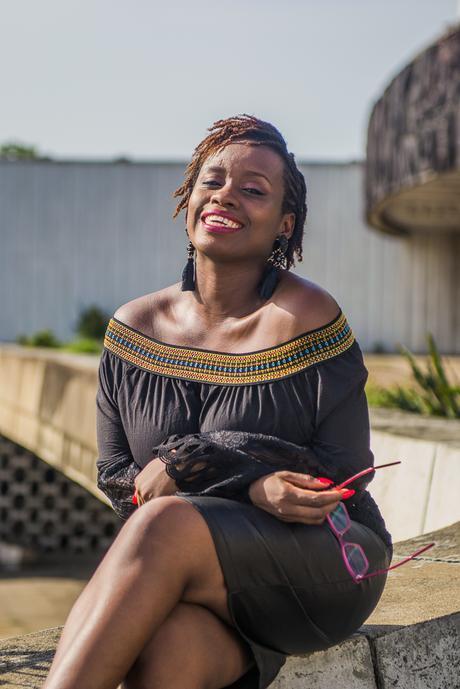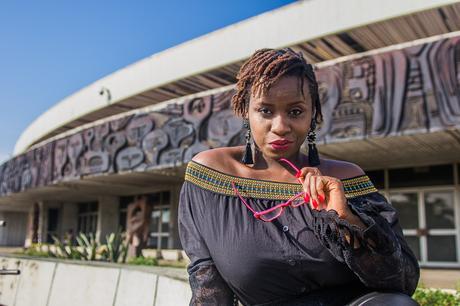 I think I was having one of those powerful-woman moments in this getup and it was quite a different yet exhilarating feeling. It might always seem wildly impossible to venture a little out of your comfort zone but sometimes the results might be remarkable, so much so that it doesn't hurt to try it out again. For example – my new mini-twists which I was reluctant to try out initially and which now I'm currently crazy about, there's no doubt I'm going to be installing mini-twists for the next two months before I even think of using hair extensions again.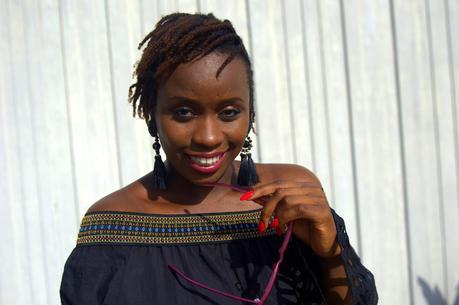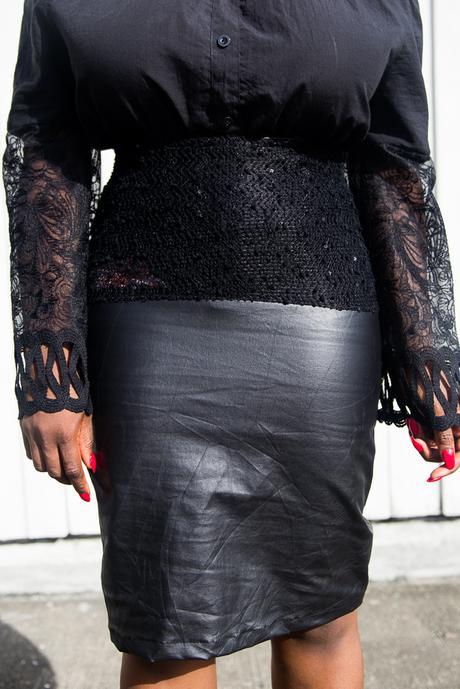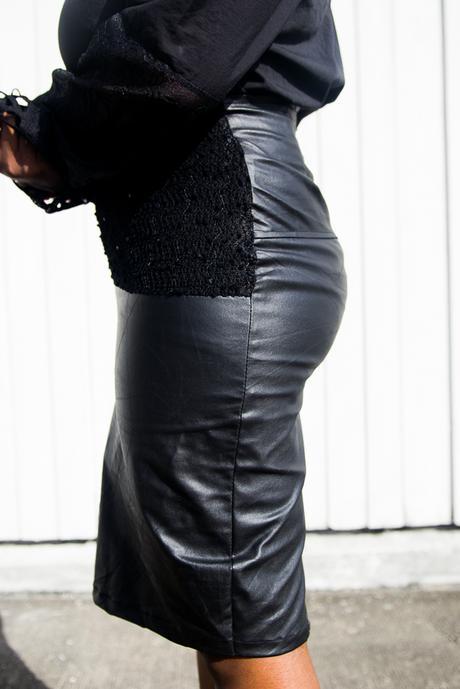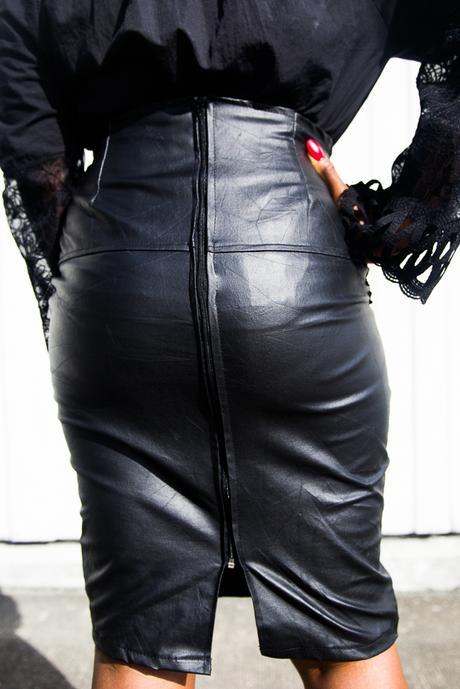 Always remember to make your fashion your own because it's really all about you if you think about it. You can purchase this skirt alongside others using the links provided below and style as desired, feel free to share details in the comment section below of how you would love to style this because I'd certainly love to hear your thoughts.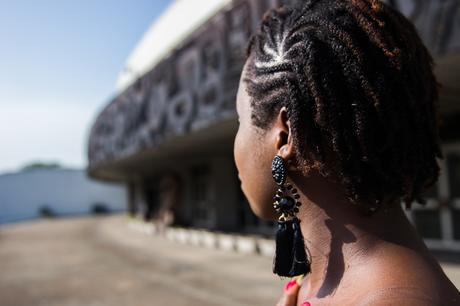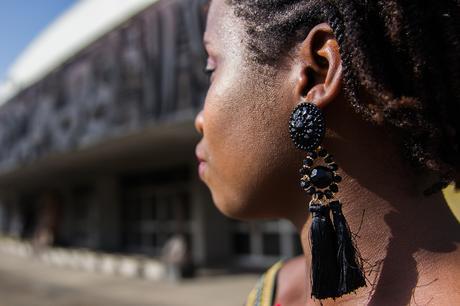 Photography by Omoregie Osakpolor Photography
Outfit DetailsLeather Skirt - Urbanate Binienu
Off-the-Shouder Blouse - MajuShoes - Asos
A lot more content coming this way so kindly stay glued to me and my blog as we explore more awesomeness in beauty and fashion. Until my next post, I do have to say that it feels good writing again and I'll catch you all sooner than you think.
Love,
Ify*




Let's Connect!

Instagram || Facebook || Twitter || Bloglovin || Pinterest
In case you missed some of my previous posts, please find direct links below:
Bubbles And A Blog Review
Ensemble || Some Halloween-Pumpkin Glam
Ensemble || Kente-Inspired
Foodie Chronicles || La Spiga at Le Maison Fahrenheit
Ensemble || Black Out
Ensemble || Feathers And Denim
If Only I Were A Boy
Ensemble || Of Throwbacks And Bell Sleeves