Hello there, it's right after the Ireland game. It's that time when the cricketing fraternity is soaked in a pool of thrill. It couldn't ask for more cricket. Since England began their campaign, it has kept media, experts and everyone else puzzled. Before the India-England tie, Bangladesh could advance to the quarters by beating West Indies or England, according to Indian newspapers. It was the highly anticipated game and did it live up to the expectations? Well, it couldn't have been better.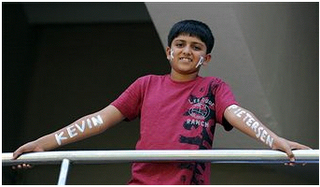 An Indian fan with the name of England's new opener painted on his arms
India vs England 
Scoring 338 gave India an edge. Sailing smoothly made England favourites. Everyone has been referring to Zaheer Khan's 3 wickets as the turning point. But in reality, the 42nd over, in which England only managed 2 runs, turned it all around. The wickets were just the presentation of it. Before it all happened, I thought they need not take the powerplay as opposed to what Sunil Gavaskar suggested. Wickets have been lost a lot of times in the batting powerplay. You just don't need to change anything when everything is going your way. It's not only that the struggling 42nd over prompted England to take the powerplay. It was more like England scored only 2 runs because they were going to take the powerplay. Anyways, it was an even battle and losing for any team, wouldn't have been anything less than humiliation. But now, England shall be more satisfied. Why? Because they didn't let India defend 338, that too at home. And in the end, when it seemed like England's boat was sinking, it was the three 6s by Swann, Bresnan and Shahzad that turned a loss into a tie. That does give you a lift.
England vs Ireland
All 3 matches England has played so far, have been hard fought. The India one was the most thrilling and against Netherlands, though they gave a fight, England was never going to lose it. And today England's performance was disappointing and the result, shocking. From 111/5 in 24.2 overs, needing over 8 runs per over, Ireland came back to stun England. Every World Cup has it's fair share of upsets and this was one of it.