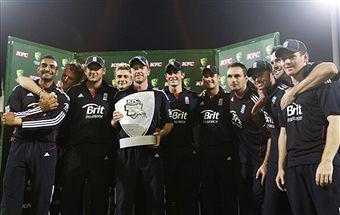 The English played like 20 year old reckless beings
Kudos to Alastair Cook and Paul Collingwood. To Alastair Cook, for facing the challenge and coming out as the top performer of the Ashes 2010 by quite a distance. And to Paul Collingwood, for quitting Test cricket. England were reluctant to drop him and he had his chances but the continuity of his tough times have been too long in recent times. He has made it easy for himself and for England. Many cricketers want to end their career on a high, so as to be remembered. And not just remembered, but remembered as successful. But this was the right time to go. He is 34 and will continue to be England's captain in the shortest format and play in One day Internationals and IPL.
The Indian Premier League is a funny thing and provides a lot of stories for the media. Recently, the auction for the 4th edition.  Kevin Pietersen (previously Royal Challengers Bangalore) will play for Deccan Chargers, Stuart Broad (IPL debutant) for Kings XI Punjab, Eoin Morgan (previously Royal Challengers Bangalore) for Kolkata Knight Riders, Paul Collingwood (previously Delhi Daredevils) for Rajasthan Royals, Owais Shah (previously Delhi Daredevils and Kolkata Knight Riders) for Kochi, Dmitri Mascarenhas (previously Rajasthan Royals) for Kings XI Punjab, Michael Lumb (previously Rajasthan Royals) for Deccan Charger. The list of the unsold is obviously long. But some unknown players have been 'bought' for huge amounts while Graeme Swann, Matt Prior, Luke Wright, Ravi Bopara, Chris Gayle, James Anderson etc. have gone unsold. And in this bid for humans, it is a humiliation for the unsold. Sourav Ganguly and Brian Lara have also gone unsold but I don't think there is anything wrong in ignoring past heroics. James Anderson is a must-have in Tests but not in Twenty20s. The schedule of the English and ego-clashes of BCCI and ECB must have also been considered.
Meanwhile, in the cleaner form of cricket, England have made a record of winning 8 Twenty20 Internationals in a row, overtaking Pakistan and South Africa. The last time England lost a Test series was in Feb-Mar '09, one day series/tournament in Sep-Oct '09, Twenty20 series/tournament in June '09.