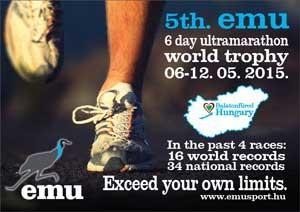 The Emu 6 Day Race 2015 is taking place in Balatonfured in Hungary on the shore of Lake Balaton. Some of the best multiday runners in the world gathered just over 58 hours ago to race for 6 days in as ideal conditions as the organisers can practicably arrange.
76 runners made the starting line  and currently Joe Fejes, the American 6 day record holder has a clear lead over Ireland's Eoin Keith who has a small lead over Didier Sessegolo. Joe's 48 hour split of 379,821 km was the best in the world so far this year.
In the women's race, Sumie Inagaki (342 km) from Japan in her first 6 day race leads Silke Gielen from Germany (320 km) and Sonia Lutterotti in third place, who has set one of ten new 48 hour age group records.
Top 3 men and women results at 2:10:19:00
Pos Name Country Km
Men
1 Joe Fejes USA 445
2 Eoin Keith IRL 374
3 Didier Sessegolo FRA 369
Women
1 Sumie Inagaki JPN 342
2 Silke Gielen GER 320
3 Sonia Lutterotti ITA 306
Race website: Emu 6 Day Race
Facebook: Emu 6 Day Race includes photos and up-to-date news.